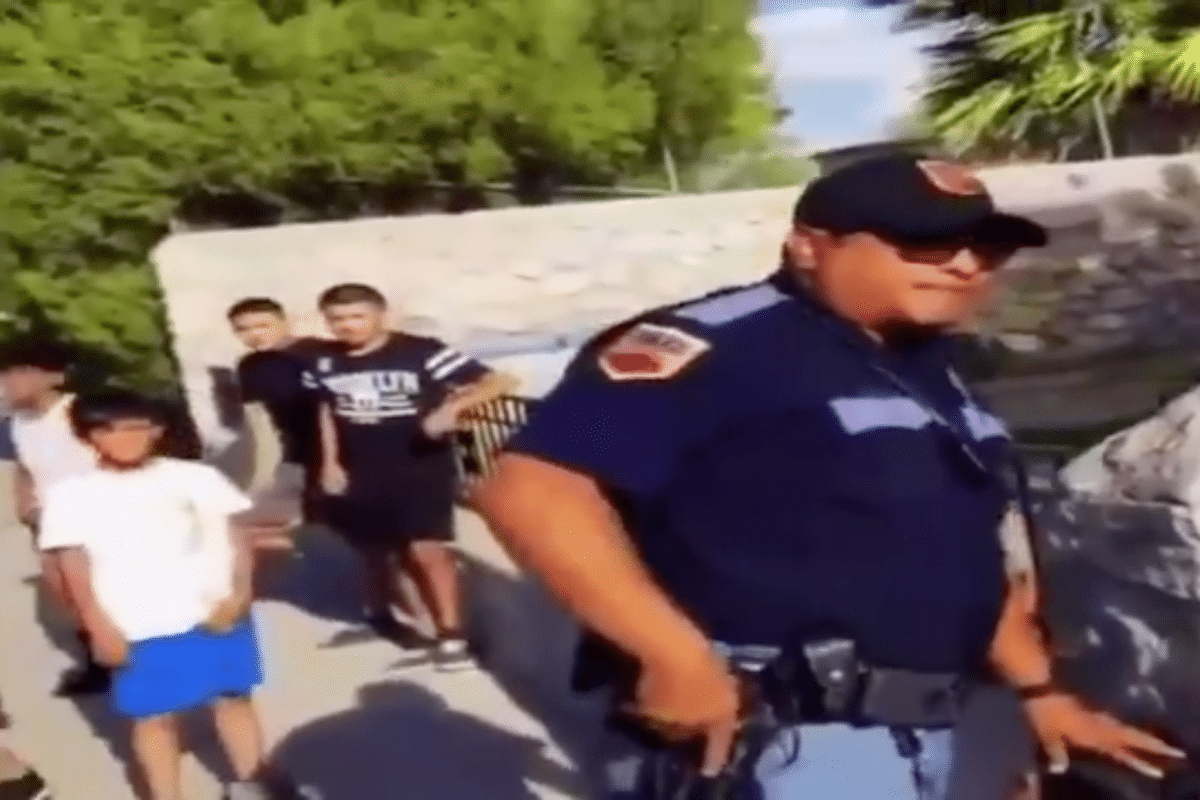 El Paso Police officer pulls gun on teens, with two teen brothers, 

Jacob and Julian Saucedo arrested as their mother Elisabeth Flores now demands answers. 
A Texan mother has told of her fears following an El Paso police officer being recorded on video pointing his gun at her two children amongst other 'confrontational' kids.
The incident according to the teen's mother, Elizabeth Flores, 33, occurred Thursday afternoon on the 6700 block of Sambrano in Central El Paso. Two officers responded to the scene after a call was made for criminal trespassing, at that time the altercation occurred between the officer and the group. 
One of the two El Paso officers is seen taking out his gun after a gathered crowd of teens taunted the cop with foul language upon him making a seemingly violent arrest of their friend, which appeared to show the officer choking a teen boy.
A violent arrest which turned more violent as one of the onlookers recorded the unfolding incident.
In the video, the officer can be seen detaining a young boy, since identified by Flores as her middle son, Jacob Saucedo, 15, as a crowd forms around him, yelling insults.
'Hey, you can't do that to him!' one of the children yells. 'Pu**y-a** motherf*cker!'
The cop reacts with rage, appearing to kick the boy he is arresting and then pulling his gun at the children and then taking out a baton. At one point he pushes a young woman who tries to talk to them.
'It's all good,' says the teen who is recording, identified by Flores as her oldest son, 17 year old, Julian Saucedo, 'We're going to put a report on these two fools. It's all good.' 
It's at this moment the officer approached the 17 year old demanding the boy hand over his cellphone which he'd been using to record the unfolding scene.
ICYMI: The family at the center of a viral video involving an El Paso Police officer tells KTSM what happened moments before the video was recorded.

Full story: https://t.co/L92ZFzVRyC pic.twitter.com/9rxlIIXplj

— KTSM NewsChannel 9 (@KTSMtv) July 8, 2018
Did El Paso police officer violate police procedures?
The incident which was posted on Facebook, Friday night and as of Sunday night viewed 4.7 million times, led to the El Paso Police Department over the weekend launching an internal investigation into the officer and whether he violated any police procedures.
To date the non publicly identified cop according to an El Paso police press statement has been placed on desk duty. Police revealed the un-named cop having been with the department for four years.
The incident led to two Flores' two sons being taken into custody, with the eldest son charged with interfering with a police investigation. 
According to the elpasotimes, Elizabeth Flores believes her son, Julian was arrested after he took out his cellphone and began filming the the un-named police officer brandishing a gun at the gathered group.
It was while filming the un-folding incident that cops turned to Saucedo who then passed  his cellphone to his mother who continued to record the unfolding incident.
But it gets worse.
Mother claims El Paso Police are trying to intimidate her. 
According to the mother, the officer then went after her, chasing Flores as she ran, with the officer telling her he knew where she lived.
'He was trying to get the phone, because he said it was evidence,' Flores told via the elpasotimes, 'that now it's his evidence, that he needs the phone.'
'I go, 'This is my property. This is my phone."
Flores said she ran because she felt the officer was going to try to arrest her over the video or erase it.
Flores said she felt the officer's statement about knowing where she lives was a threat and said she believes police are trying to intimidate her.
While the mother said she understands the officer was responding to a call and was trying to do his job, the woman voiced concerns as to how the officer was 'carrying out his job', with Flores saying, 'I don't know why he got so aggressive as soon as he got here.'
'I don't know if the cop had a bad day,' she said, or whether he doesn't like her family.
While the involved El Paso police officer as of Saturday night has been placed on administrative duty, Flores said that as of Sunday evening, she had not been interviewed by police. She also said that her requests Thursday to speak to a police supervisor were ignored.
Come Sunday night, Jacob Saucedo was released from the El Paso County Juvenile Detention Center, with Flores saying that she was trying to raise $100 to reach the $300 bond needed to get Julian Saucedo out of jail. A check of detention records Sunday night showed that he still was in jail.