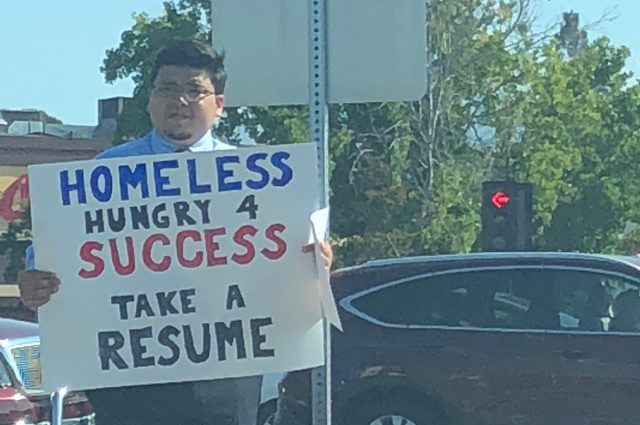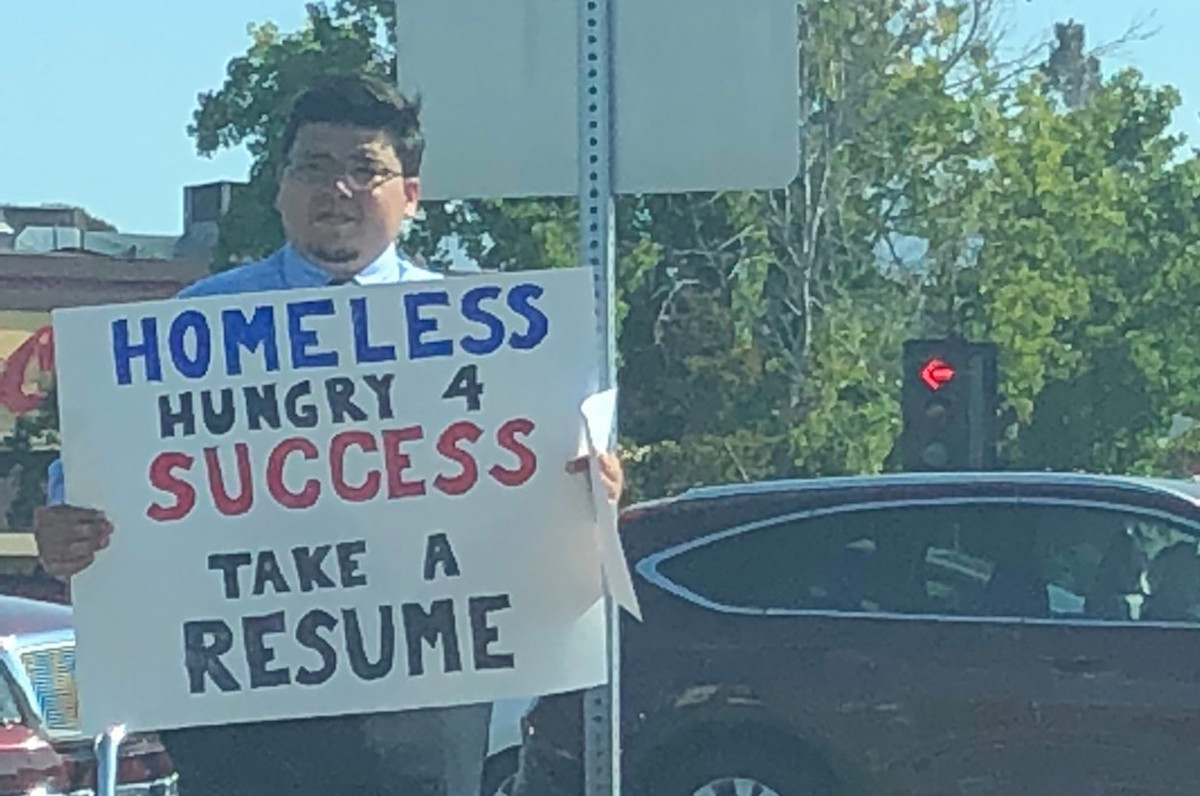 David Casarez, Homeless Mountain View, web developer hands out resumes (by street) gets hundreds of job offers after Jasmine Scofield (FullMakeup Alchemist) posts photo on twitter. 
Going viral is the saga of an out of work California web developer who upon waking up Friday morning from his Mountain View park bench decided to change his life when he put on a nice shirt and tie and carried a placard announcing he was homeless by a busy median traffic stop.
Read the placard, 'HOMELESS, HUNGRY 4 SUCESSS. TAKE A RESUME.'
Next to him David Casarez, 26 had a stack of resumes highlighting his experience in web development.
The strategy turned out to be a winner for Casarez who found himself soon being inundated by job offers not necessarily by passing motorists but by social media denizens after a tweeted photo of him 'hustling' went viral.
By Saturday afternoon, Casares was flooded with more than 200 job offers reported KRON-4.
Told Casares via the nypost, 'Google reached out to me,'
Adding, 'So many other companies. Pandora. A bunch of startups,'
'A product manager from Bitcoin.com was wondering if I could work remotely of if I want to relocate to Tokyo,'
While adding, 'But tonight, I'll be back on my bench in Rengstorff Park.'
The offers followed after the out of work developer only days before had gone begging for cash by a nearby Starbucks. 
Casarez resume reads as the following: he grew up in the border town of Laredo, Tx.
He earned a bachelors in management information systems from Texas A&M University, landed a good web developer job at General Motors in Austin, but then cashed out his 401-K and drove to Silicon Valley to pursue the dream of his own tech startup — only to run out of cash (raise your hands kids…) in June.
'I'd been living in my car for more than a year,' he said of his 2015 Ford Transit Connect utility van.
'No one was hiring. I had an interview with Apple in January, but the job was filled internally,' he said.
Casarez says he did some freelancing — a few web design and logo design jobs.
But a month ago, his van was repossessed, and had been sleeping in the park since.
But Casares aimed to change his situation.
On Friday upon waking up, Casares dressed as best he could — 'To be presentable to my future employers,' he told — and set out with his new sign and a stack of resumes in a FedEx envelope.
Explained the out of work developer, 'It was basically a make-or-break moment,'
'I wanted to keep my head up high, keep looking forward and see what opportunity would come next,'
'I was thinking you know, like this was like my last stop. If this didn't work, I'd go back home and give up on my dream.'
Today I saw this young homeless man asking for people to take a resume rather than asking for money. If anyone in the Silicon Valley could help him out, that would be amazing. Please RT so we can help David out! pic.twitter.com/ewoE3PKFx7

— FullMakeup Alchemist (@jaysc0) July 27, 2018
David Casarez becomes social media sensation:
Casarez had only been standing on the median at El Camino real and San Antonio Road for a couple hours when a passing driver named Jasmine Scofield (FullMakeup Alchemist) stopped and asked if she could take his picture and post it online.
Sure, Casarez told her.
'Today I saw this young homeless man asking for people to take a resume rather than asking for money,' she tweeted at around 5 p.m. on Friday.
'Please RT so we can help David out!'
'Please RT so we can help David out!'
By mid-afternoon Saturday, Scofield's photos of Casarez and his resume had been retweeted more than 50,000 times, and liked nearly 70,000 times.
"It's been happening very quickly, and I'm in shock," he said. 'I wasn't expecting that kind of response,' he added. 'It kinda blew up.'
Welcome to a brand new America where one can find themselves halfway on their way to uberdom only to end up by a park bench by lunchtime and maybe back at the Ritz Carlton knocking them back later that evening….or not.
Thank you all for the overwhelming amount of support you have given me! No amount of good deed on my part could ever repay that debt. I am responding to each and every one of you who have come across my inbox with a carefully crafted response. Thank you for the support!

— David Casarez (@DavidCasarez17) July 28, 2018
Rather than ask for money David Casarez hands out his resume to people in Silicon Valley. He came to Silicon Valley with big dreams to be in tech. Currently he's sleeping in parks & trying to get freelance work. If you know anyone in the Silicon Valley, let's help David out! RT!! pic.twitter.com/IoPtfa3aKj

— Simar (@sahluwal) July 28, 2018
Hello, I am VP Engineering at AncestryDNA and also an Aggie, class of 93. I would love to interview David Casarez for a Web developer or QA automation position. Can you please put me in touch with David ?

— Paddy (@DeshmukhPaddy) July 28, 2018
Is the same David Casarez waiting in line for an IPhone X? Yeah let's check the facts. Is he homeless by choice? Jobless by choice. There are thousands of homeless in Cali without the resources and tools this guy has. No phones, no degree, no email, and really need our help. pic.twitter.com/7QiRGI8fk8

— Austin (@A_A_Rod) July 28, 2018