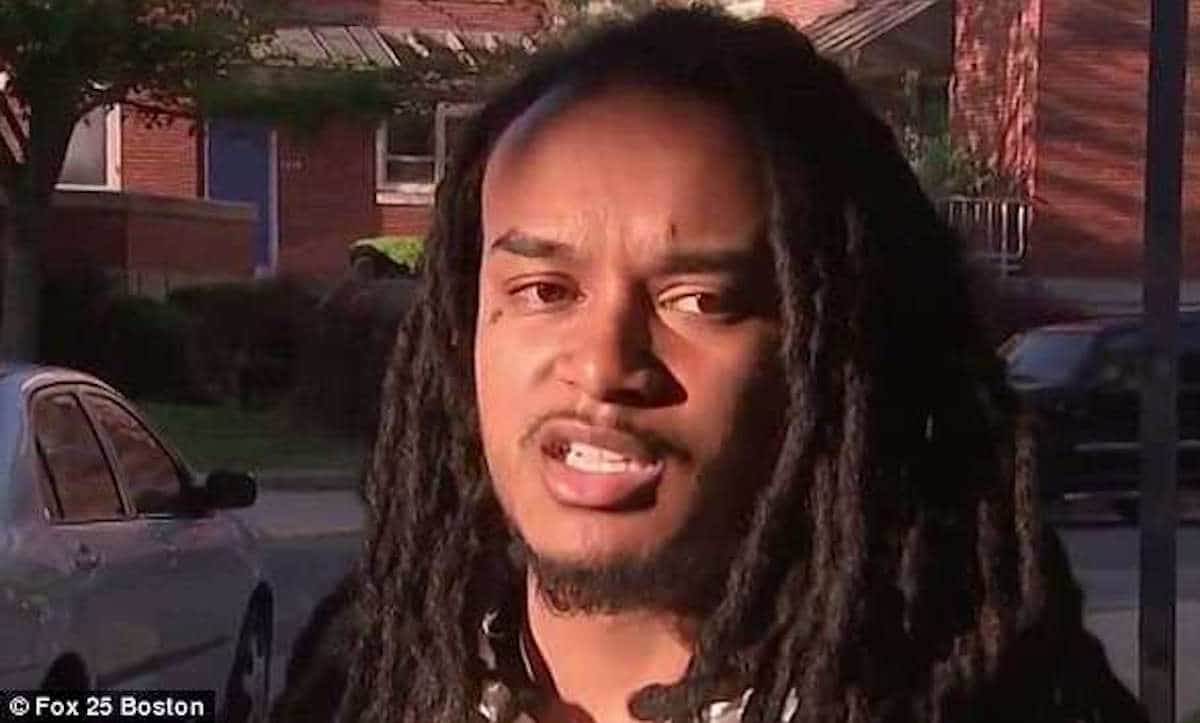 Phocian Fitts a Boston career criminal unwittingly admits on FOX 25 Boston live TV fatally running over and fleeing over an 80 year old man. Immediately arrested after interview. 
A Boston area man may want to think twice about what he says next time he's on live TV after revealing he had earlier that day mowed down an elderly pedestrian and then fled the crime scene. Immediately upon ending the interview, 23 year old man, Phocian Fitts was arrested.
The man's arrest followed Fitts confessing to being the driver in a nearby fatal hit and run who had left the crime scene.
WFXT-TV. reported local cops saying an 80 year old local man was crossing a pedestrian crossing just off Commonwealth Avenue just before 1:00pm on Wednesday.
The man, identified as former Stoneham High School teacher Theodore Schwalb was hit by a car, whose driver then sped away.
The victim was taken to a nearby hospital, where he was pronounced dead.
At some point during the day, Fitts, a 23 year old resident of Brighton was tracked down by a reporter with WFXT-TV where he agreed to answer some questions on live TV.
Asked about the hit and run, Fits, who as it later turns out has a slew of prior criminal arrests, responded, 'I just want to say one thing right… accidents happen,'
Adding, 'I was listening to my music and as I was driving I was driving too quick… I was driving too quick to the point where I couldn't really stop and it was a green light.'
'As the guy was walking, the light was green, I'm driving and pressing the horn, pressing the horn beep beep, it was either I was going to die and crash into a pole.
Reiterated the 23 year old, 'When it came down to it accidents happen.'
Sources: statements made by driver in fatal hit & run in exclusive #Boston25 report led to arrest minutes later. Police initially led Phocian Fitts go today after police questioning pic.twitter.com/626Topmnf7

— Drew Karedes (@DrewKaredes) June 7, 2018
Phocian Fitts: 'I obviously didn't do anything wrong, it was either him or me…'
Fits then said he saw no reason (obviously- that is where the hit and run part comes in…) to apologize 'cause he didn't do anything wrong.'
Told the unrepentant man, 'Right now, I'm not worried about nothing, I'm not a stone cold killer.'
Or are you?
'I didn't do nothing on purpose. People hit and run people all the time, it just happened to be an unfortunate situation where I was driving,' Fitts continued. 
Fitts, however, made no apologies for driving off after 'inadvertently' hitting his victim.
'First off, I was scared and worried because I didn't know what can happen, that's why I left I said God forbid, I hope he's OK,' said Fitts.
But it only got better grimmer….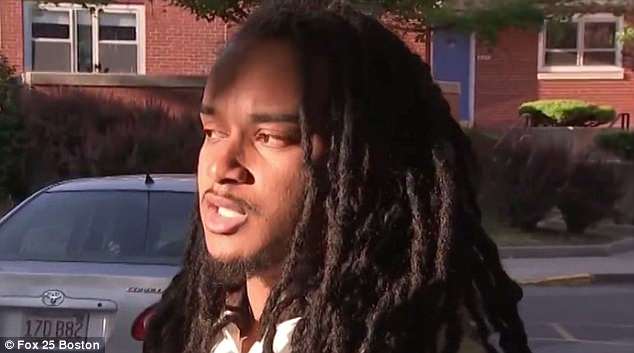 Phocian Fitts: 'I'm a real gangster. It is what it is.' 
'I'm a real gangster… I'm a real gangster not in a bad way I'm a gangster because I help out the community and I look out for the youth.
'I know that's why everybody got my back my family. I'm not scared. it is what it is.'
Investigators are combing through surveillance footage to corroborate Fitts' claim that he had a green light.
Meanwhile, a witness to the hit-and-run described the 'grisly' scene.
'I heard a loud bang then I saw a person in the air,' the witness told WFXT-TV.
Adding, '[The victim] had a pool of blood around his head.
'There was a registered nurse there and she had been working for 20 years.
'They were checking his pulse and checking his vitals and nothing,' 
Investigators said that initially there wasn't enough evidence to arrest Fitts. But that was before Fitts volunteered to give his amazing unrepentant TV interview. 
Fitts is scheduled to appear in Brighton District Court, where he will be charged with motor vehicle homicide and leaving the scene of an accident after causing death. Indeed.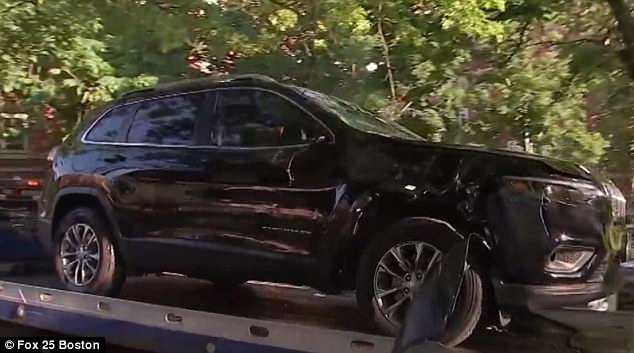 Phocian Fitts: 'Karma knows where to find me.'
"Right now god is good.," replied Phocian Fitts when I asked if he was worried about being charged. Unseen footage from our exclusive interview that led to hit & run driver's arrest #Boston25 at 10 pic.twitter.com/uOljOqRrsN

— Drew Karedes (@DrewKaredes) June 8, 2018
23 yr old #PhocianFitts is so confident that he did nothing wrong when he hit & killed an 80 yr old man that it makes me cringe in disgust. The shocking lack of remorse that he KILLED an elderly man is horrifying. https://t.co/lS8OiH6N8J

— Mary Pat Ryan (@MaryPatRyan) June 8, 2018
Phocian Fitts: " "People hit and run people all the time…" Yes and those people are called "criminals".

— Matthew Petryszak (@MATTP1949) June 7, 2018
Suspect in Allston hit and run that killed an elderly pedestrian no stranger to the law. Phocian Fitts served six months for armed robbery, previous charges of larceny and assault.#wbz

— Beth Germano (@BethWBZ) June 7, 2018
Phocian Fitts looks so full of himself that I can't even, and I'm too old to 'can't even!' Straight up douche ? @GregHillWAAF @DanielleMurr @MikeHsuAAF pic.twitter.com/V5X5Bj3UQ2

— Bella Donna ? (@DonnaMLanglais) June 7, 2018