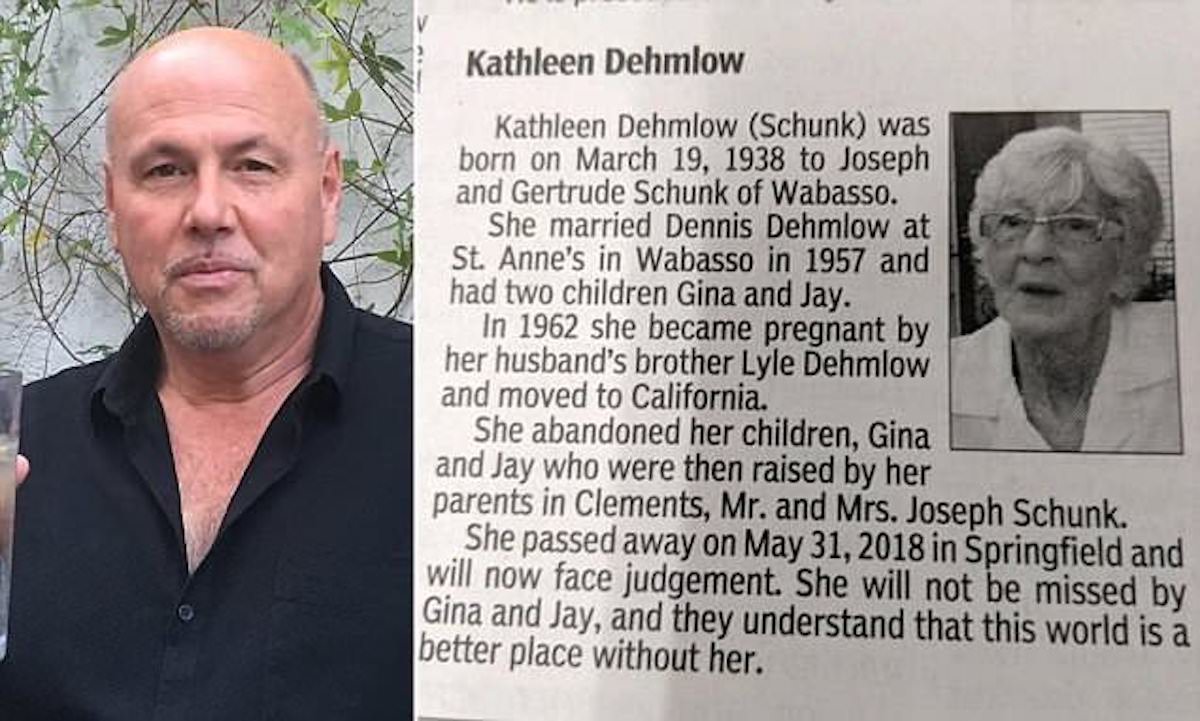 Kathleen Dehmlow Springfield obituary: The children of Dehmlow, Jay Dehmalo and his sister, Gina explain their need to have closure and wanting to get the 'last word in' following years of torment and family dissent. 
The children of a Springfield, Minnesota woman who died last wek and who then posted a scathing obituary of their mother in local press have revealed what inspired them.
The tell all follows recently deceased 80 year old, Kathleen Dehmlow, passing away on Thursday and her 58 year old son, Jay Dehmalo and the mother's 'abandoned' daughter, Gina, 60, wishing to 'get the last word out'.
In an exclusive via the dailymail, Dehmalo and his sister, told of seeking to express the abandonment, abuse and heartache that lay behind brother and sister's decision to get up close and personal. Too personal as it seemed for some- given the scathing comments on social media- which were equally balanced by those who congratulate the children, for 'telling it the way it was'.
The brother and sister's obituary appeared last Thursday in the Redwood Falls Gazette last week, with the siblings candidly describing how the Minnesota woman 'abandoned her children' to be raised by their grandparents when she became pregnant by her husband's brother.
It stated: 'She passed away on May 31, 2018 in Springfield and will now face judgment.' 
The obituary said that she would not be missed by the children she abandoned and that, 'this world is a better place without her'. 
Paragraph 1: ok
Paragraph 2: ok
Paragraph 3: wait
Paragraph 4: OH
Paragraph 5: *airplane flies overhead with a banner reading WELCOME TO HELL MOM* pic.twitter.com/ppV45htrda

— Stu (@RandBallsStu) June 5, 2018
In the exclusive, Jay Dehmalo, a retired army veteran and former professional boxer explained why he and his older sister, Gina, had felt moved to publish such an obituary.
'You can't believe the dysfunction of the family,' said Dehmalo, who now lives in Avon Lake, Ohio, a suburb of Cleveland. 'They'll never know what we went through but it helped us [to write this]. We wanted to finally get the last word.'
According to Dehmalo, it was Gina's idea to write the obituary upon learning from a cousin that her mother was on her deathbed. 
She had no desire to see her but asked for a picture that was duly published along with the words penned by her brother.
And the mystery behind Kathleen Dehmlow's obituary takes another turn.

cc: @RandBallsStu @jalbus @johnmoe @MyLittleBloggie @kryssypease pic.twitter.com/8SXSlcRq3w

— Lindsay Guentzel (@LindsayGuentzel) June 5, 2018
Jay Dehmalo and his sister admit having initial reservations posting their mother's obituary: 
The obituary, which ultimately appeared exactly as he wrote it, was actually rejected by one Springfield newspaper on the grounds that it was too offensive to print.
But according to Dehmalo – who changed his last name to distance himself from his past and his family – his mother's abandonment was so complete that childhood friends have reached out to him on reading the obituary shocked to discover his mother wasn't already dead.
Told the son: 'I've got calls from buddies who've said, "We didn't know she'd left you. We thought she'd died in a car crash or something".'
Dehmalo, a father of one, admitted he and his sister having 'reservations' about going through with the obituary – conscious that it could stir up the ill feeling that has clearly stalked this family through the decades.
And stirred up discontent the obituary did, with Kathleen's surviving sister, Judy, saying her nephew's obituary was 'nasty' and had 'hurt the family tremendously'. 
'Why do people want to talk about it?' Judy told via the dailymail. 'It's not important.'
That's not the way Dehmalo and his sister, who now lives in Florida, saw matters, stressing that it 'was very important that some portion of the truth should emerge,' after being hidden for years.
Told the son: 'Not important? Sure. We were both molested but that's not important. They have no idea what we went through and back then, in the '50s and '60s, nobody talked about anything.'
Adding: 'You could write it all down in a book or turn it into a movie and people wouldn't believe what we went through.'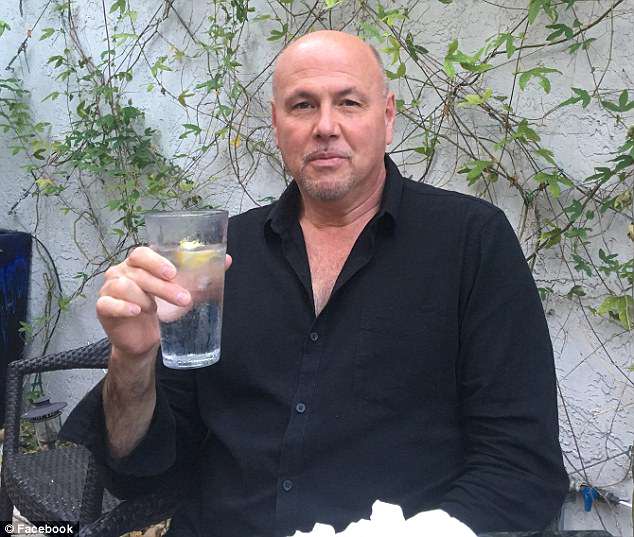 Jay Dehmalo and sister having to endure family discord:
Following their mother falling pregnant to her husband's brother, the children's maternal grandparents, Gertrude and Joseph Schunk took their daughter's children in. 
From there the siblings were forced to contend with family members travails with alcohol along with Dehmalo admitting that he and his sister were 'bad kids' at times with his sister's troubles following her into adulthood as she has twice been convicted of domestic violence and battery.
According to Dehmalo, rivalries and ill feeling were only heightened after he and his sister inherited only 'a couple of thousand dollars' on their grandparents' deaths.
He said, 'They [the rest of their children and grandchildren] thought that the inheritance was for them. I have never met such small minded people in my life.'
Dehmalo said that his relationship with his relatives was characterized by petty jealousy and spite. 
He said: 'If I got a new pair of pants or a new bike, I was being spoiled. It was unbelievable.'
Dehmalo and Gina were left to guess the details of their mother's life and piece together vast portions of it years later.
They did not know that they had two half-brothers out of Kathleen's union with their uncle until several years after the boys' births.
Dehmalo said that while he and his sister were unhappily abandoned in Minnesota their mother was, 'off having a great life in California with her other kids'. 
He said, 'We didn't have so much as a card from her. I remember she came home twice and on one occasion she was showing pictures of her and her kids playing cards, drinking beers…
'Gina and I were standing in the room, just standing there and she didn't even acknowledge us. It's like we didn't exist.
'How can you do that to your own children? That's when we knew we had to get the hell out of Minnesota.'
Dehmalo credits the Army and boxing with 'saving him'.  Gina is now married and living in Florida where she works as a cleaner. 
Asked if they would still post the obituary despite the public fallout, the siblings said they would do it all over again.
Offered Dehmalo: 'We knew there would be backlash but it really has helped us to finally get the last word.' 
A claim that might be true for the time being but perhaps a pointless task in the years to come as both Dehmalo and his sister are forced to put to pasture what they endured or allow old wounds to fester….
Minnesota family 'good riddance' obituary to mother who abandoned them goes viral.