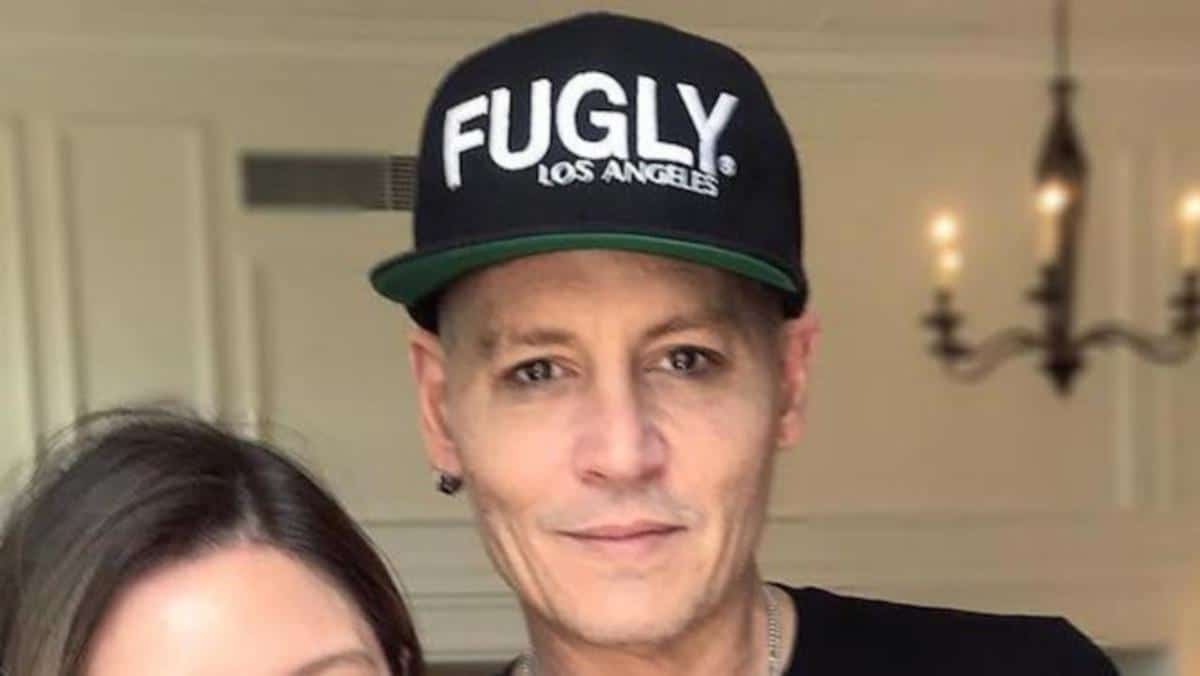 Johnny Depp ill?  Is he sick? Social media goes in meltdown after new images emerge showing the actor/musician looking gaunt, pale and exceedingly emaciated. But why?
Looking very much worse for wear is Hollywood heart throb, Johnny Depp after photos of the actor amidst fans in Europe appeared to show the 'entertainer' exceptionally gaunt, emaciated, pale and perhaps in the grip of substance abuse.
The photos taken over the last week come during Depp's touring trip with his rock band, Hollywood Vampires, in Russia, sparking fears that the actor is 'ill'.
Speculation on social media led to many wondering if the entertainer's fall from grace from his former chiseled idol looks may have much to do with recent legal woes, the fallout from a not so recent 'acrimonious' public divorce from actress, Amber Heard and or perhaps the actor who has an acknowledged history with substance abuse and alcoholism having 'fallen off the wagon' (again).
The recent images follow Depp posing with fans at the Four Seasons Hotel in St. Petersburg, Russia. The photos show an emaciated gaunt Depp with deeply sunken eyes and appearing to have lost much weight. The result of stress, an unknown illness, or the rocker simply 'immersed' in his single 'rocker' lifestyle. Or as some wondered whether Depp perhaps was cultivating his image for an upcoming role.
The images follow Depp previously making headlines after claims he caused a 'toxic' environment on the set of LAbyrinth – a crime thriller which focuses on the investigations into the deaths of Tupac and Biggie Smalls. It was reported the star had asked a crew member to 'punch him', and 'yelled' at a location manager.
Which is to wonder, 'What's eating Johnny Depp?' (as opposed to 'What's eating Gilbert Grape'– one of his gangbuster formative roles that set the actor apart from his peers).
Johnny Depp ill: New acting role, stress, binging, image or just the rocker lifestyle? 
Depp, 54 in what appears to be decidedly a new image (let's not forget he is an actor – perhaps immersed in his own new real life role) now sports a mohawk haircut and the veneer of a hard partying rocker bereft of sleep and an appetite for food.
Gone is the entertainer's trademark tan, long hair, moustache and beard, which he wore for his character of Jack Sparrow. The Hollywood sheen instead has been whitewashed in favor of Depp's Gothic new character and look. A look if judging by social media's response has many disapproving and deeply concerned about Depp's wellbeing. 
Comments ranged from 'does he have cancer?' 'What's he injecting?'" F-k me is that Johnny Depp?" to 'I like his hair, he looks happy' – but is Depp really happy? And could part of Depp's seemingly atypical 'regressive' appearances have much to do with him rebuking his Hollywood status and expectations of behavior and image expected of him, which Depp has openly discussed in the past finding himself very much at odds with.
And with the actor/musician turning 55 on June 9, perhaps it's simply a situation of Depp (finally) looking his age or simply no longer concerning himself with his image and living for himself- even if that means pushing himself to the very edge….
Or maybe, just maybe, it's just a situation of the media ever hungry to devour and dissect its Hollywood heroes that much was being made about nothing ….? Or is it?
There goes the media with that bullshit again. Frail and ill my ass! If you're gonna go by recent pics of Johnny Depp then go by all of them! Some of these pics are actually from today! He is almost 55 years old its a thing called aging. Johnny is fine! Nothing to see here folks! pic.twitter.com/58bfYoYFXM

— ? (@Wilma_Ballsdrop) June 2, 2018
Not that I care that much, but I see peolle freaking out about a recent picture of a sickly looking Johnny Depp, thinking hes dying or something. Did people forget that he's an actor and it just may be he has to look malnourished for a upcoming movie part?

— Rigo Alfaro (@alfaro_rigo) June 2, 2018
Maybe stop putting every photo of Johnny under a microscope? He's fine, looks healthy, and is having the time of his life on a world tour. Enough with the negativity. #JohnnyDepp #dontbepetty

— H. Marie ⫸ (@hallowdmaiden) June 2, 2018