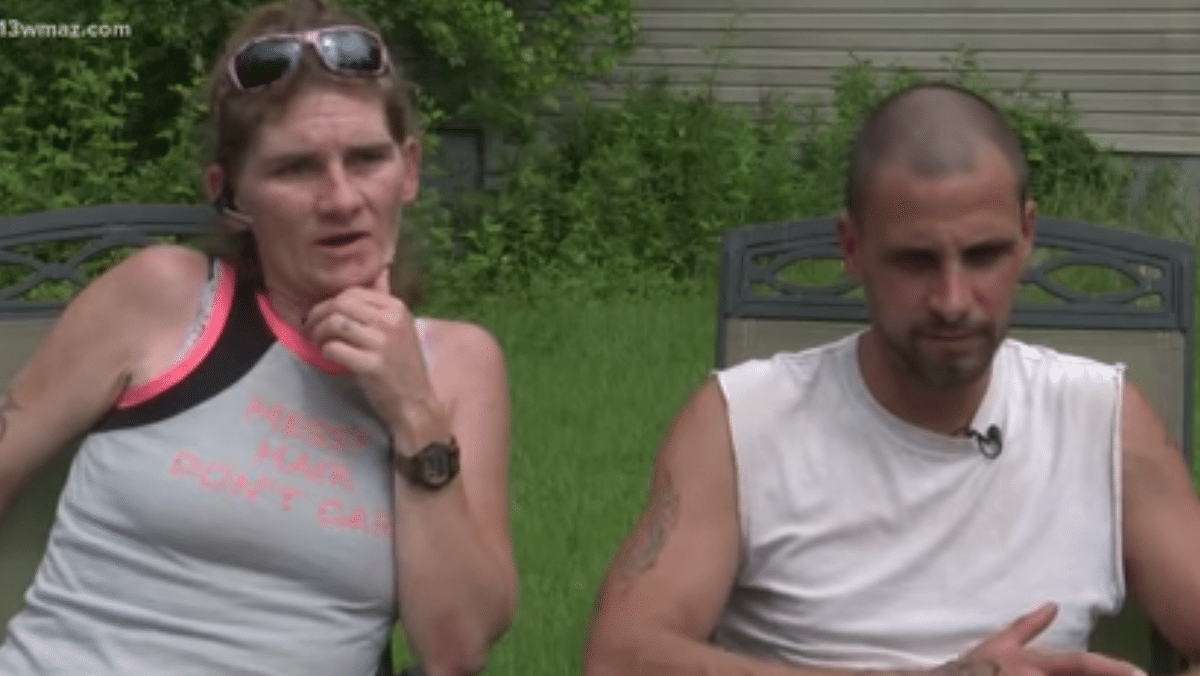 Suzeanna and Matthew Brill, a Twiggs County, Georgia couple lose custody of their son after giving the child marijuana to treat seizures. The couple now face potential jail time. 
A Twiggs County, Georgia couple have been charged with reckless conduct after giving their son marijuana to treat the boy's seizures.
The couple's arrest last month led to an investigation and Child Services taking custody of their son, after it was determined that Suzeanna and Matthew Brill would no longer be allowed to retain custody of the afflicted boy. To make matters worse, the child's parents if found guilty could also now face jail time.
Speaking to local media, the Brills told of their son suffering near constant seizures and after trying several prescription medications, including cannabis oil, the family turned to cannabis flower. Now, they are being charged for giving their son marijuana. But, Matthew says it was to help their son, with the couple saying they're not ashamed of their actions.
'We openly admitted to them in front of Twiggs County sheriff's deputies,' Matthew Brill told 13WMAZ. 'I smoke it first. I know where it comes from, I know my people.'
Suzeanna and Matthew Brill: 'Nothing else was working'. 
The Brills say that previously to using cannabis their son suffered several seizures a day, now he's 71 days seizure free. Prior to switching the boy over, with the son also now smoking the drug, the Brills claimed their son suffering several seizures every day, 'seven days a week, 24 hours a day.'
'Nothing else was working,' said Suzeanna Brill. 'I can't have my kid dying because no one wants to listen.'
Theoretically the couple faced the grim possibility that any seizure could potentially end their son, David's life.
Prior to losing custody of their son, the Brills admitted the boy smoking several times a day. Not clear is if the child's symptoms have since returned since being removed from custody and or whether other remedies have been found?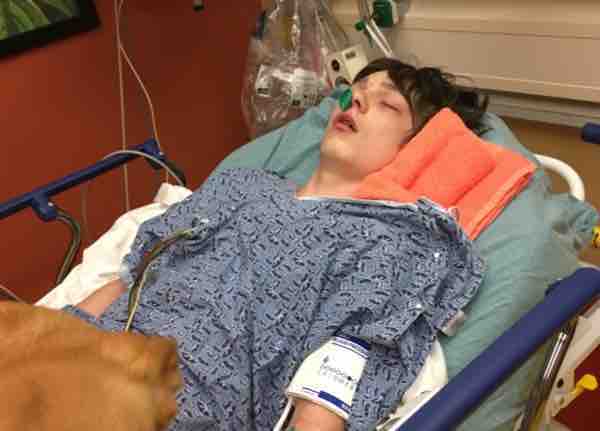 Suzeanna and Matthew Brill ethical dilemma: 
Food for further thought also comes from the family's gofundme page:
Quote: 'Hello, thank you for taking time to read my campaign for my son, David. Like any mother, when my son hurts, I hurt. I wish I could be the one to take his seizures for him. My heart rips apart and it tears my soul to wake him up for school in the mornings and see that he has vomited in his sleep because he had a seizure. The thought that he could have died right there in his bed is the worst possible nightmare that I could ever have and the fear of it becoming reality set me in motion to save my son. A kind service dog has eased, but not erased the worry and dread by standing guard of him and being able to detect and alert to the oncoming seizures so I can now half way sleep knowing I will hear her cries for help when his voice is gone.
My son's Doctors tried him on many medications (some all at once) to try and stop the seizures as he was having them daily. These medications almost cost him his life just because of their chemical nature. I trusted these Doctors that their medical expertise with these medications were in his best interest, past my own knowledge, and then watched these dangerous chemicals that are prescribed in good faith have a different chemical reaction in my son that could not have been foreseen, the seizures got worse, my son fought many times for his life with his Doctors fighting to bring him back and keep him here. David has a service dog, seizures, seizure medications, and Doctors. What he doesn't have is the ability to be a child because the seizures have stolen his childhood from him. He cannot even ride his bike to the park with friends. What would happen if he had a seizure crossing the street? He cannot go to school and enjoy when he is so tired and recovering from days of seizures to the point he was going to have to be isolate even more and taught at home. He cannot just go be a kid with his friends because "What if this is THE seizure that I have been tearing my heart apart to stop, and prayerfully begging that never comes. I cannot protect him in his own bed, let alone away from me. His dog helps detect and alert, but she would not be able to render the medical care that he would need. I would have to just trust that some stranger would recognize it, and call for help. Also hope that someone driving the street where he fell did not look down at the radio, or to another distraction for a split second and hit my child. Can any mother in good faith trust her child's life to the hands of potential strangers? If a mother did, would she have her child's best interest at heart? These are questions I have to ask myself over and over. Along with those, am I really doing the right thing by imprisoning him for any reason and watching his childhood pass him by? How do I keep from hating myself because I am supposed to be able to fix this and protect him? What can I do? Nobody can save my son, and I cannot accept letting him go, or his innocence of catching lightening bugs and bringing me a wilted flower that he had in his pocket for an hour die in my face. His eyes search me for help, and I have none.
In February 2018, after researching and wrestling with the idea, asking myself about the law, the thought of giving something illegal to my child that was for my entire childhood "a bad and dangerous drug," we started treating him with Marijuana. Unfortunately it is still illegal here in Georgia. I had plans and hopes of getting him on a good track with school, and referred out of state to better and broader medical practices. I wanted to know what is going into my child, and while I did everything I could to know, I had no legal access to a Doctor's experience with different kinds. I knew the risks that I read, the medical research that I had to pour over for hours fighting what is right/legal/safe/moral, I informed all of his medical team because I want my son to be safe. I was not advised to stop treating him this way along with safer medications from the Doctor. The Doctor did not comment exactly why, but I think he wanted to see for himself.
The combination granted my son 71 days seizure FREE!!!!! For 71 days my son rode his bike, woke up, went to school, played with friends, played outside, and the terror for his life that gripped my heart and soul began to lift. My smile reflecting my child getting to be a normal child. Safe in his bed. Doing better in school. Having a great quality of life. I was breaking the law. I was saving my son. I fixed the fragments the best way I could of him being a little boy that were taken away from him by these seizures. This is my job as a mother, to protect my child even with my own life.
As I wrote above, I kept his medical team up to date. I felt I had found his miracle, and anyone else who saw his medical history would see this too. I also felt like his entire medical team truly cared for him and wanted the same things I did, and with honesty on my part and his safety forefront of every visit, we were winning. This transparency also meant informing a new therapist who did not share our joys or beliefs that allowing him access to marijuana was worth this new life he had begun. I was reported to DCFS, and on April 19, 2018 their representatives along with deputy sheriff's entered my home with my cooperation and full truth of what and why, and despite the evidence demanded that I stop "abusing" my son by giving him this "dangerous" marijuana. Allowing him to have debilitating seizures that threaten his life and any quality of that life was quite okay as long as he was not using marijuana. They did not even apply his medical team's observations and findings to their opinions. If you are unsure what is worse, look up seizure medication side effects. Then look up medical research for marijuana usage as seizure treatment. Compare the two with success rates, side effects, birth defects that are known, long term effects that are known, what class of drug they are in by abuscability, pretend David is your child, and tell me honestly that following the law, but risking his life is better than trying something that is illegal, but with mountains of medical data as to it's worth as a treatment to the point on becoming legal in certain states. I stood behind my decision to save my son's life even though we had not made the move yet, and openly admitted to allowing him to use it for the treatment of his seizures. I have never lied about where he got it, or my intentions. The DCFS demanded that I cease this immediately. Against my better judgement, I did. There was no way I could afford to get him to a state that could help him fast enough to stop what I knew was coming. Even working two jobs as I do. There was a small hope that once they could see his seizures returning, and his Doctor's recommendations that they would see I was not another one of the parents that they see so often it hardens their hearts to only seeing laws and what the state deems acceptable parenting. Maybe they would allow me just enough time to get him to the help of a medical center in an appropriate state.
Within 14 hours of the marijuana being stopped without consulting his Doctor, even with the safer seizure medications still administered, his service dog was alerting me, David's eyes filled with dread, fear, and hopelessness as all I could do was watch it happen and get him to the hospital, and before my heart could even beat, he was in the grips of this horrible, evil, monster that threatens his life again. I felt sure they would see now. I felt sure they would not be able to ignore the obvious and blatant evidence in front of their faces, and the loss of childhood in my son's face. I was not correct. While my son fought for his life, officially in DCFS custody and flatlining 15 times according to medical records, my husband was arrested, they tore me from my baby's side and told me they were going to take custody of him as I was arrested too. They say he is not safe with me while a medical team tries to start his heart again because they have stopped his treatment by what they know of the law and their opinion.
Then by opinion of the hospital's police staff, my son's service dog was removed and put into the city pound without allowing me the federally mandated, and legally protected, reasonable amount of time to seek someone to take custody of her. The officer from what I understand of the service dog laws outlined by the ADA website, violated federal law that protects these working animals and their handlers. I broke a state law in hopes of saving my son. In turn, my son's federal rights as protected under the ADA laws were violated because of ignorance of what the laws state regarding service animal identification, and the federal laws dictating how a service dog with an incapacitated handler must be treated. How do I at the least help this department repair their ignorance of the federal laws? I asked people who advocate for the understanding of laws concerning service animals if I was incorrect in what I read. They explained what the laws state for each thing specifically that happened. They cannot legally tell me who was right or wrong as we all have a right to tell our own side of every story without the assumption of guilt. On my own reporting, I did, in fact, understand the laws that I believe were violated. I now have an obligation to become an advocate myself when my son is back in my arms and living his beautiful, young life.
She is my son's link to the conscious world when he is trapped in the grips of those seizures and cannot cry for help himself. She is his voice, his hero, and his Angel. She has a job that has improved all of our lives from him choking on his own vomit in his sleep because she will make sure someone hears her and gets to him. Instead of being treated as a valuable life and life saving dog, she was thrown into her own type of prison for 7 days. "Actually innocent, but decidedly guilty based on ignorance of the law" is what I would name that kind of charge. Seven days this life saving animal went without anyone she knew, strange foods, strange scheduling, strange dogs (who knows if they were friendly or not), exposure to a myriad of diseases, and was treated like an animal thrown away. Vaccinations are our first line defense, but they do, on occasion fail our dogs. She risks that when she leaves her house. Just as we risk being attacked by a shark if we swim in the ocean. We know the risk, and that is why we do not jump into known, high shark activity laden waters with an open wound. Pounds cannot help except to be a possible breeding ground for diseases. They must house stray dogs whether they know the histories of the dogs or not. They cannot deny going and picking up a dog reported just because they do not know if it has had vaccinations. They can quarantine if equipped for that, and if the pound has adequate space and vet staff. My son's service dog is priceless in alerting to get David help, and she was cast aside just like my son's childhood and quality of life. She has this way that is unique to them to speak to his whole mind and assure him that he is going to open his eyes to her again. She is amazing, and deserves to always be treated as such. I do not want to risk losing the only link I have to him to assure him that Mommy is fighting for him when he cannot see and hear me. This wonderful, furry, angel tells him so. She wants her boy back almost as much as I do.
Because of all of this, I want to move my child and family to a state with the medical resources to help him. I have found a lawyer who is the best of the best. She has reviewed and has been very optimistic in her ability to help me get my son back, and move him to a place where he can be monitored with regulated, specially grown marijuana that is designed to treat his individual needs uniquely. My son deserves life. I am asking for help to save my son. Please donate if you are able so that I can hire this attorney and save him. If you are unable to donate, please understand that I am in deepest appreciation of prayers for my son to be okay and be a little boy riding his bike, and looking forward to going to school again, and so proud and excited when he learns new things and makes good grades.
This just hurts so badly. I feel so afraid for him, and everything in me cries and screams to save him. I do not know if he is being cared for like a child or a case number. I only hear things that bother me, and all I can do is turn it over to the lawyer to now fight the greatest battle of my life in having my heart returned to me safe and sound and knowing that I now know the correct path of helping him, and can do this the legal way. It has proven to be the correct way by the medical evidence of only 71 days alone. Please, help me if you are able. I only want my baby back and to see him play and grow without fear of these seizures that were stealing him away from me before he was taken away by DCFS. I want all of him back, and have proven that I will do anything to protect him. The difference is that now, I am educating myself on the correct way, and imagining an even better outcome for his health with the proper care.
Thank you all.