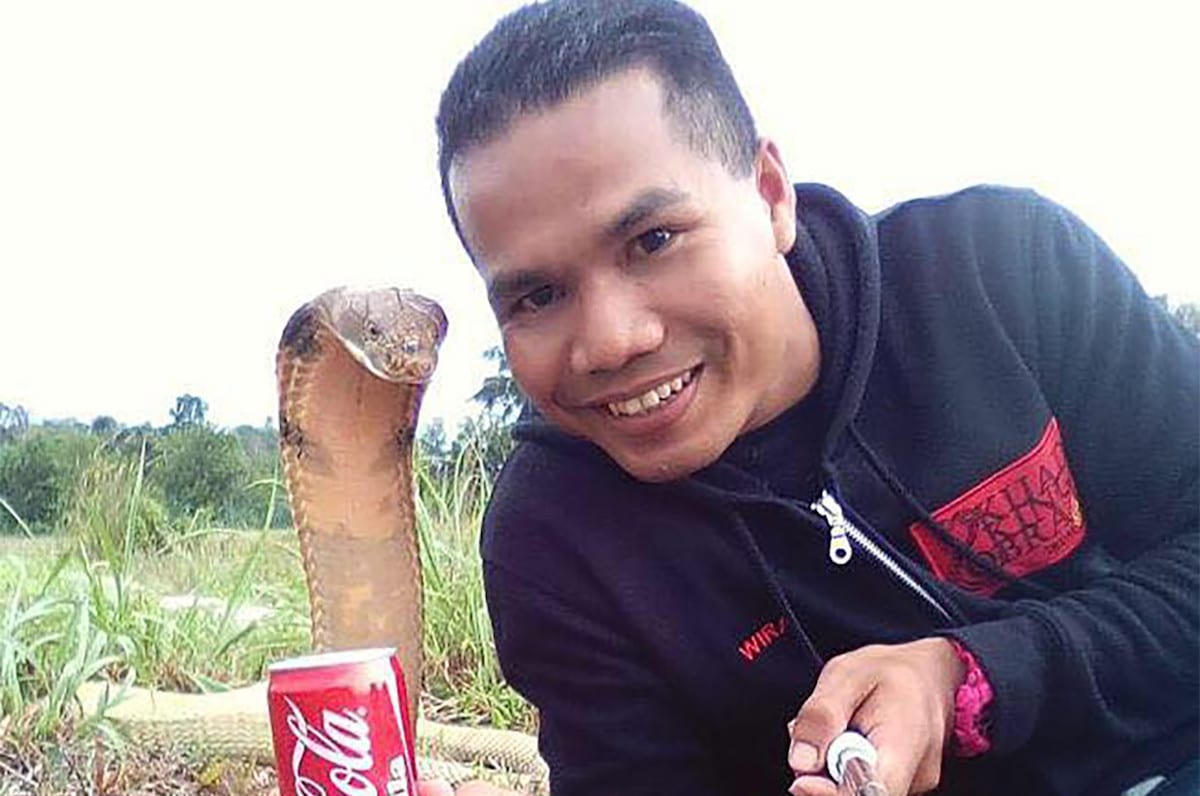 Abu Zarin Hussin, 

Malaysia's famed 'snake whisperer' dies from a cobra snake bite after tending to a snake catching operation. 
Malaysia's famed 'snake whisperer' has finally met his match after dying on Friday following a cobra snake biting him earlier in the week.
Abu Zarin Hussin, 33, who headed up the King Cobra Squad of the fire department succumbed to a poisonous king cobra during a Tuesday snake catching mission in Benton reported Free Malaysia Today .
Firefighters in Malaysia are often called by people who discover unwelcome reptiles in their homes or in public places. Along with ferreting out the unwelcome serpent snakes, Hussin also trained other smoke eaters to identify poisonous snakes and to capture them without killing them.
The snake catcher who hailed from Pasir Puteh, had been a firefighter for 10 years, rose to fame when he participated in the TV competition show 'Asia's Got Talent,' where his snake-handling act included kissing a serpent. The appearance nevertheless didn't go down too well with 'flabbergasted' judges. 
Abu Zarin Hussin Malaysian firefighter: A subject of celebrity and tabloid intrigue.
Friends marveled at Hussin's daring and bravado, while pointing out the snake-catcher's patience and determination during dangerous missions.
'It will sometimes take hours, but Abu Zarin remained patient,' former volunteer fireman Mohd Ikhwan Hafizi Ali told the New Straits Times. 'There were times when we stepped on the snakes' nest when trying to catch the reptile at plantations and at times we were almost bitten by the highly poisonous cobras.'
Hussin was also widely known for being misidentified by British tabloids in 2016 as a Thai man who allegedly married his pet snake, believing it to be his "reincarnated girlfriend" because of its "striking resemblance" to her.
The stories used pictures from his social media accounts that showed him playing with the dangerous venomous serpens. 
Hussin, who had four pet snakes, told the BBC he was 'very disappointed' by the reports.
The snake charmer had been bitten by a viper before, the Straits Times reported.
In 2015, he stayed in a coma for two days after receiving a cobra bite. Perhaps it was only time that for a man who continuously dared the primal, that his luck would run out….