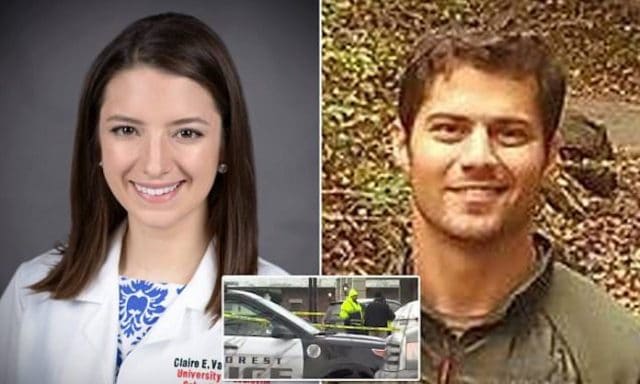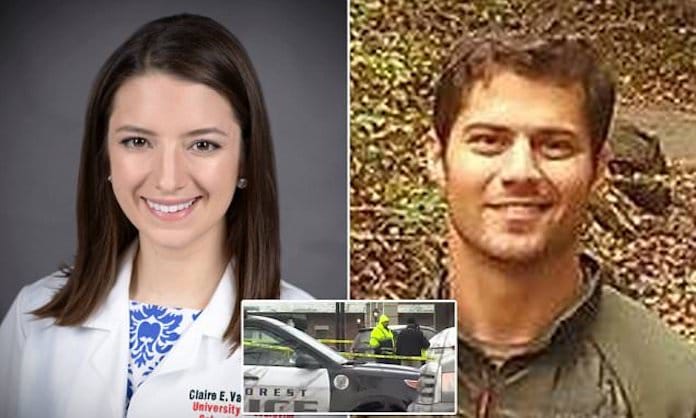 Ryan Zike shoots Claire VanLandingham dead in a murder suicide after the couple broke up last October. Police describe deaths as domestic violence. 
Claire VanLandingham a 27 year old US Navy dentist has died after allegedly being shot dead by her ex boyfriend in an apparent murder suicide.
A report via nbcchicago identified the boyfriend as 33 year old Lake Forest man, Ryan Zike– an Illinois park naturalist.
Notice of the former couple's deaths came after Lake Forest Police Department responded Wednesday morning circa 6.20 to a residence at the 600 block of North Western Avenue after reports of gun-shots fired.
Police say Zike, originally from Louisville, Kentucky shooting his former girlfriend dead before fatally shooting himself.
Zike was pronounced dead at the scene, while VanLandingham died a short time after the shoot at a hospital.   
The couple's murder suicide came some months after Zike's former girlfriend broke up with the man.
Preliminary autopsy results indicate that VanLandingham, a US Navy officer and dentist serving at Naval Station Great Lakes, succumbed to multiple gunshot wounds.
Zike, a native of Louisville, Kentucky, and one-time naturalist at the Heller Nature Center, died of a single gunshot wound to the head that was possibly self-inflicted.
'Both families have been notified and our deepest condolences go out to them,' stated Lake County Coroner Dr. Howard Cooper. 'This is truly an awful tragedy.'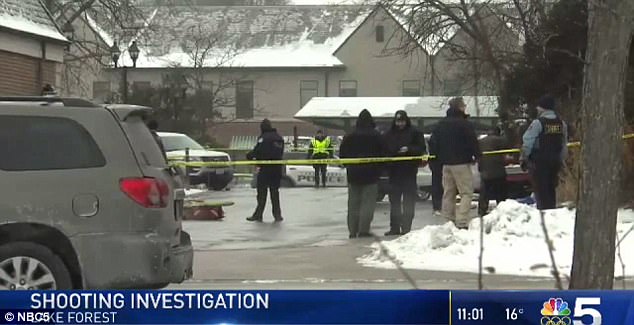 Had there been previous incidents of domestic violence involving Claire VanLandingham and Ryan Zike?
According to the Lake County Major Crimes Task Force, VanLandingham and Zike had been dating but broke up last fall. The motive behind the suspected murder-suicide is under investigation. Police have since described the deaths an instance of a domestic incident. 
According to his Facebook page, Zike graduated from Eastern Kentucky University with a degree in outdoor recreation and park administration. In March, 2017, Zike posted he was dating VanLandingham.
In September 2017, the Park District of Highland Park hired him as a naturalist, but the 33-year-old resigned a month later, around the time of his split from VanLandingham, according to the Chicago Tribune. 
Zike previously worked at the Jefferson Memorial forest in Kentucky, where a biography describes him as having an 'extreme passion' for the outdoors.
Police said his last known address in Illinois appeared to be with VanLandingham, and that he had been in Kentucky since October 2017.
The 27-year-old attended University of Louisville School of Dentistry and graduated from that institution in 2017 according to her Facebook page.
VanLandingham received her Navy commission in December 2013 and later attained the rank of lieutenant in the Navy Dental Corps.
It wasn't immediately clear what led to the couple breaking up and whether there had been prior instances of domestic violence? And whether the ex boyfriend returning from Kentucky to the former couple's Lake Forest home was his attempt at 'reconciliation' or 'revenge' ?
According to the American Psychological Association, 74 percent of all murder-suicide involved intimate partners, and three women are murdered every day in the U.S. by their husbands or boyfriends.