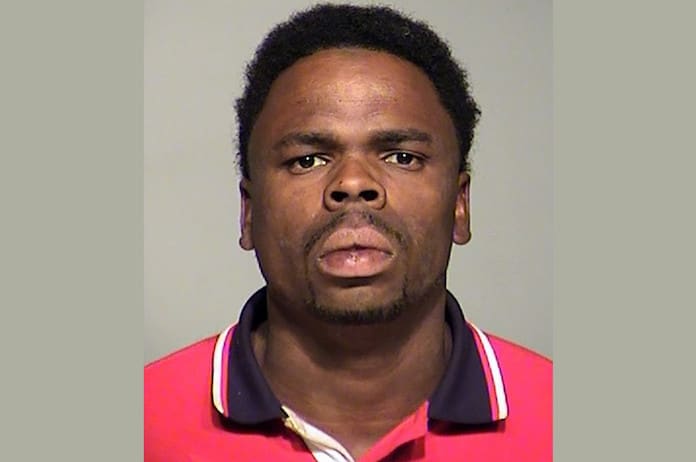 Mark Henderson a Milwaukee man on parole for a 2010 fatal hit and run freezes to death after fleeing a weekend four car pile up he caused. 
Mark Henderson a 34 year old Milwaukee man on parole has died after fleeing a four car pile up he caused, freezing to death in the extremities.
WISN-TV reported Henderson freezing to death while hiding in the bushes after going through a red light in the early morning hours of Dec. 30, as he sought to evade police.
The man's death comes after Henderson had been on parole for pleading guilty to a 2012 fatal hit-and-run.
The man's body was discovered between a shed and a wooden fence the next day by a local homeowner near North 97th and Good Hope Road. 
The man's girlfriend identified him, according to a report from the Milwaukee County Medical Examiner's Office.
Henderson's body was frozen solid when it was found.
A passenger in the vehicle with Henderson at the time of the 2010 fatal incident told investigators that 'the defendant accidentally struck two people who were walking across the street and came out of nowhere,' and that Henderson 'panicked and kept going.'
Henderson also struck another pedestrian in the incident, who was treated for injuries at nearby Froedtert Hospital, WISN 12 reported.
At the time of his 2012 conviction, Henderson was sentenced to five years prison and five years extended supervision for a hit-and-run crash that killed Dorian Nelson on Milwaukee's north side on May 8, 2010 reported the dailymail.
An eyewitness said in a criminal complaint against Henderson that he appeared to be drag racing a black van when it struck Nelson and the second person.
At the time of his initial arraignment in 2012, Henderson had faced 25 years in prison and $100,000 in fines had he been found guilty reported fox6now.
Officials said the average temperature in Milwaukee last month was 25 degrees. Temperatures in the area hovered around 18 degrees on the Saturday of the car crash.