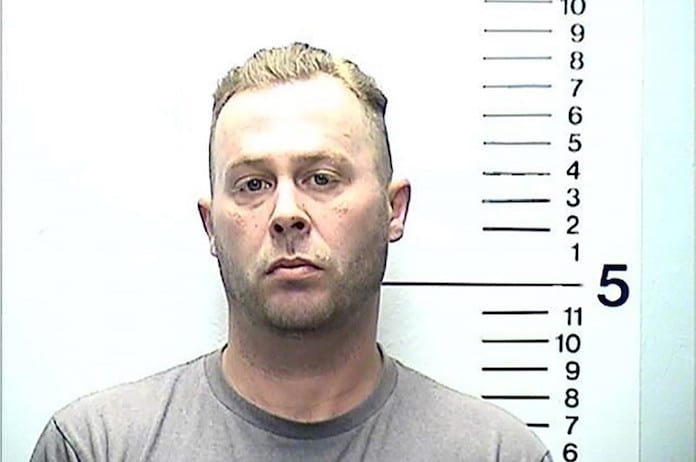 Dustin Pedersen, a Butler County, Ohio man is accused of having gone on a banking robbery spree to use funds to buy his fiance an engagement ring.
Appearing in court on Wednesday, prosecutors told of 36 year old Ohio man, Dustin Pedersen using cash he allegedly robbed from a local branch in Trenton to buy his fiancé an engagement ring.
Police records showed Pedersen making off with $8800 after robbing a Fifth Third Branch, where upon he spent $4500 on an engagement ring less than an hour after the robbery. Detectives said Pedersen presented the ring to his fiancée the following day.
Detective Sean Gill said records from Zales jewelry store indicated Pedersen buying the ring at the store after surveillance video showed him just an hour earlier walking into a nearby bank wearing glasses, a jacket, white gloves and an orange Titleist hat.
Court documents revealed the robber passing a torn piece of paper stating he wanted $20,000 and that he had a bomb strapped to him. The man left with $8,800.
Dustin Pedersen's case bound over to grand jury for Trenton bank robbery @journalnews pic.twitter.com/9AMtN0uqmS

— Lauren Pack (@LPackJN) January 3, 2018
Dustin Pedersen incriminated by 'identical hat' bank robber was pictured wearing:
The Hamilton-Middletown Journal-News reported Pedersen coming under the radar of authorities after wearing an identical hat as to the one the robber had worn at the Butler County bank heist six days later.
Upon his arrest the man was charged with aggravated robbery.
Pedersen has denied robbing any banks, but told police that surveillance photos of the robber look like him during Wednesday's preliminary hearing. Pederson according to Gill said he got money from his mother via Western Union for $2,000. But Gill said that story did not check out.
Found in a car driven by Pedersen were the sunglasses, gloves and hats police believe he wore in the robberies, Gill said.
Pedersen has been held in the Middletown City Jail since Dec. 16 on $250,000 bond. He will now be transferred to the Butler County Jail to await grand jury consideration of his case.