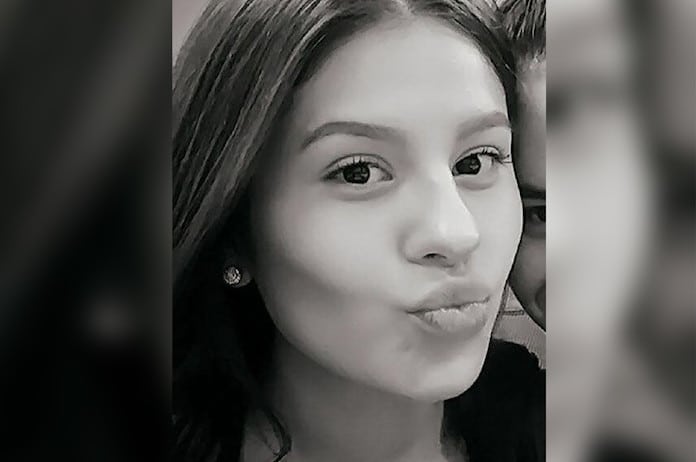 Jasmine Vega a pregnant 19 year old Tucson teen is shot dead while asleep but her unborn baby survives as investigators seek motive and suspects.
Tragedy has struck with the revelation that 19 year old pregnant Tucson, woman, Jasmine Vega has died after gunshots rang out near her southern Arizona home while she slept early Saturday.
Miraculously, doctors were able to save the teen's unborn baby.
The Tucson Police Department released a news release saying several people in the home being awoken at 4:30 a.m. to the sounds of 19-year-old teen screaming before becoming 'unresponsive.'
Arriving officers found Vega unconscious and transported her to a local hospital, where she was pronounced dead. Vega was six months pregnant at the time, according to police.
'Hospital staff were able to successfully deliver her unborn child, who is currently being treated at the hospital,' Tucson police said.
The baby's father, Anthony Rivera, 18, told Tucson News Now the baby boy is in critical condition and on life support.
Jasmine was married and seemed to be looking forward to becoming a mother, according to family members.
On social media, she proudly shared photographs of early ultrasound scans.
Jasmine Vega shooting death: Random or targeted shooting? 
'Just sad for the young lady that I didn't know, but to know she lived down the street from me, it's just sad,' Luis Longoria, Vega's neighbor told via wdsu. 'When it happens down the street, you just wonder, how dangerous is my city I live in.'
Evidence at the scene, including 'several projectile holes in the walls of the residence,' indicates multiple gunshots were fired into the home, police said.
Police as of yet were unable to ascertain whether anyone inside the home had been specifically targeted and if so why? No one else was injured in the shooting. 
To date, police have yet to ascertain if the shooting was a random or targeted attack.
Authorities have not identified any suspects, and are asking anyone with information about the shooting to contact police. 
Welcome to a brave new America…