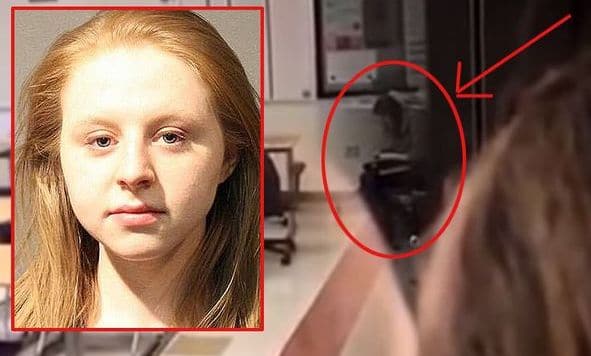 What led to Samantha Cox a St Johns, Indiana, Lake Central High School school teacher using cocaine while at school? Admitted buying $160 of drugs that morning.
Samantha Cox an Indiana high school teacher filmed snorting cocaine in her classroom told detectives upon her arrest that she was sick and needed the drug.
The claim follows the English teacher's arrest last week at Lake Central High School in St. John after students told the principal that the educator was using drugs in her classroom.
One student caught the alleged drug use on camera.
Come Monday, the school teacher was charged with felony drug possession and misdemeanor (class c) drug paraphernalia.
During questioning, Cox admitted having bought $160 worth of drugs before school last Wednesday, according to the Chicago Tribune.
The teacher said she normally bought the drugs after school, but 'was feeling sick and needed to get some.'
The educator said she wanted to use before classes started, but didn't have time so she did it during a morning break.
She told authorities that she had locked the door to her classroom and the 'kids must have randomly seen through her window.'
But how long was Samantha Cox using drug? In and around school? 
Cox, a 'popular teacher,' was hired at Lake Central in August 2016, after graduating from Purdue University Northwest in May. The teacher admitted starting to use drugs four years ago as a college freshman.
According to court records, St Johns Police Department brought a K-9 dog to the high school after receiving a call about the illegal activity.
The dog led officers to a center drawer in Cox's desk, which contained 'a clear tightly twisted bag with multiple small rolled up pieces of tin foil.'
Police also found an 'outer plastic wrap from a cigarette package' with rolled up tin foil pieces and a rolled up piece of paper that resembled a straw.
But there was more.
A search of her car turned up empty foil pieces, a glass pipe, plastic baggies that had been torn open and two makeshift straws.
Cox was released from a Lake County jail after posting a $10,000 bond, according NWITimes.com.
'She was popular with the students,' Lake Central schools Superintendent Larry Veracco told the outlet. 'It's a sad situation. We are happy that we got her removed from the classroom very quickly after being tipped off by a student. But we are also concerned about her welfare, too. She seemed to be a very good teacher.'
It wasn't clear if the teacher had sought rehabilitation for her addiction and to what degree she was using not just outside of school but during school as well.
Cox has since been placed on paid administrative leave.