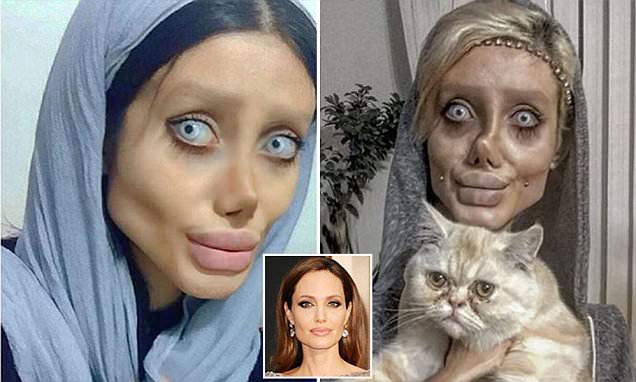 Sahar Tabar: Iranian Angelina Jolie wannabe has 50 surgeries to look like her idol as social media followers morbidly pile on. 
Also making her tabloid debut is Iranian 22 year old woman, Sahar Tabar who has caused disconcert and intrigue with her ever changing looks as she strives day by day to look like her idol, Hollywood actress, Angelina Jolie.
With just over 50 surgeries to her name (yes try and try again…), the 22 year old 'ingenue' has gone on to build a sturdy social media following as she 'shows off' her Angelina-esque razor-sharp cheekbones and plump pout, albeit much more extreme versions.
While the jury is out as to the degree of surgery Sahar Tabar has subjected herself to, fans of the Iranian Angelina Jolie look alike say much of the 'similarities' come as a result of Tabar using make up and clever prosthetics. Who knew?
That said, while many of Tabar's 345K Instagram followers (and rising) are in awe (and you?), not all feedback is positive, with some likening the Iranian Angelina Jolie to a 'zombie' or a 'corpse'.
Featured recently in Belgium's Sud Info, Sahar said her goal in life is to look like the Hollywood actress. Why though isn't particularly extolled on. That said, the Iranian woman insists she, 'would do anything to look like her.'
Sahar Tabar, Iranian Angelina Jolie: Dangerously determined or destined to be her own super idol?
In her bid to look like her idol, Sud Info reports Sahar having lost as much as 40kg (88 pounds- yes no more hamburgers and ice cream) and undergoing dozens of procedures in the space of just a few months, all the while sharing updates on social media. 
Updates which have since sparked huge debate among her Instagram followers, with some questioning her motives, with others posting she looks like a 'zombie' and or 'corpse'. So much for crash diets. 
Beguiling fans are claims that in some instances, Sahar's 'razor' sharp nose and cheekbones appearing in different places in various photos, along with the woman's lips appearing to be fuller and less fuller in others. 
In one video she can be seen without her unique nose and cheek bones, though this may be a clip from before her transformation. That nevertheless hasn't stopped intrigue and bewilderment as Sahar's social media cache and following continue to rise as the woman underneath the elaborate concoction desperately seeks to find out who she really is.