Wardrobe salwar kameez Indian dress suits have proven to come in versatile decore, styles and variety of purposes and settings. A checklist.
Indian women are known to be gorgeous around the world, and salwar kameez is one of the most common attire for them. But what makes them so beautiful with these simple suits? Well, there are thousands of reasons, but one of the reasons is the wide range of options to choose from. The Indian salwar kameez is a favorite choice as it offers a great comfort for movement and does not deviate from the traditional roots as well.
However, the latest trend in the fashion industry has given rise to the fusion of traditional and modern wear and so these suits are available in a whole lot of designs.
From simple wear to party wear, there is a wide range of options to choose from. So why not choose a few for your wardrobe for those occasions. Here is list of some salwar kameez suits that you can add in your wardrobe.
Go basic with the basic salwar
This is a regular wear for Indian women. The wide range of salwar kameez usually has frills in the front and is usually narrower at the bottom. These can be used for every day house work, travel, office or college. Wide range of materials is available to choose from and the simple designs make it a preferred choice of traditional women. The basic salwar is inexpensive and comes in various colors, designs and materials as well.
Churidar salwar kameez give a special touch
The churidar salwar kameez is popular among women for the sleek looks that it has to offer. There is a tight fitting and leg hugging pattern at the bottom of the pant. The kameez is narrow at the ankle and this also gives it a special touch. Churidar salwar kameez is a popular choice of many young women because it offers an elegant shape and beautiful outline to the body. Adding a couple of these to the wardrobe will be a good choice.
Look Punjabi with the Patiala Salwar
This was a royal dress of the king of city and since then has become a royal style statement as well. These were worn by the royal families back then, these are also known as the shahi or royal salwar kameez. Patiala salwar are laden with pleats and usually are heavy to wear compared to the other materials. These also have more pleats on them and so going for cotton material will make it a practical choice as these pleats will be visible.
If you have these in your wardrobe, you can take it out on some special occasions when you want to stand out from the crowd and look like a royal princess.
Afghani Salwar has an elegant appeal
Afghani salwar has a wider and narrower cut compared to the usual salwar. The cuffs are usually broader and have a unique appeal altogether. There are several variations among the Afghani women that have become popular with the youngsters these days. Elegance is all that will reflect in these suits. The various embroidery works, colors, and materials to choose from make it a preferred choice of one and all.
Wedding Salwar kameez for the special day
You can't look the same on your special day isn't it? Well, the same is true for you when you attend a wedding. One important fact is you want to look special and appreciated for your beauty; well, it's the same for all women isn't it? This salwar kameez is heavy with a lot of zari, sequin, embroidery, bead and stone works, and so on. There are intricate designs and details that can never be missed out even in a grand occasion. Wedding salwar kameez is available in wide variety of colors such as red, maroon, green, pink, and blue.
The richness of this salwar kameez is definitely loved and appreciated by fashion conscious women across the globe. These days, even famous international personalities are trying out the wedding salwar kameez; why stay out of this band wagon and miss out?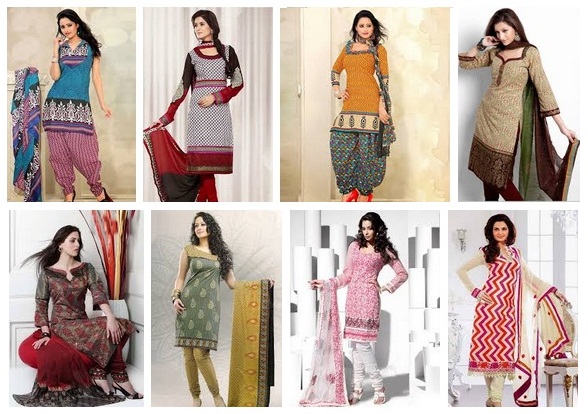 Palazzo salwar suits reflects comfort
If you want to look and feel comfortable then Palazzo salwar suits are you best options. There are wide range of colors, designs and materials to choose form. This is one of the latest fashion trend that women prefer and is definitely worth a try. It was considered to be a weird fashion statement just some years ago, but not these are loved by the young and old alike. However, you need to make sure that the material you buy and the design you choose are suitable for the kind of weather conditions that you are living in.
Quick check when updating your wardrobe
Will the salwar kameez be suitable for the occasions I attend?




Are there inexpensive options available as well?




Will it add value to my wardrobe or just take more space?




Can I wear it in the future or is it just for one single occasion?




Are the salwar kameez I buy up to date with the fashion these days?



Considering these questions will help you make the right choice of salwar kameez. You will not be making decisions based on what others love, but it will be a personalized wardrobe with the suits that you are comfortable with.
So replace the old style and add a few salwar kameez styles to your wardrobe. One of the best ways to shop these days is online because you can easily check out the several options in just a few clicks. Consider your complexion, size, shape and only then choose the appropriate style because then it will enhance the natural beauty in you. If you only look at what celebrities are wearing and go for a similar option then it may not be perfect for your looks. When you consider all the above mentioned options and many other salwar kameez designs available out there, you will be in a better place with a wardrobe full of beautiful salwar kameez suits.