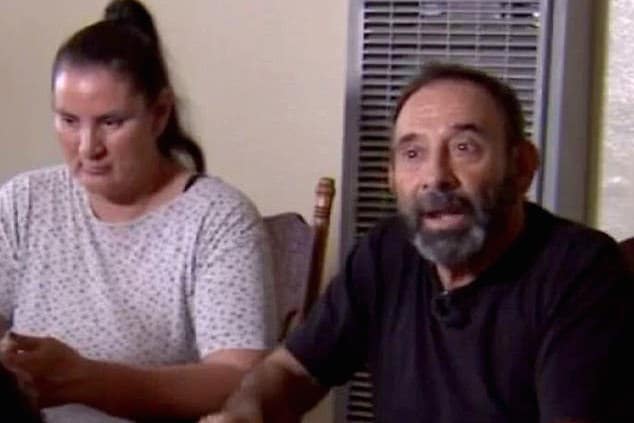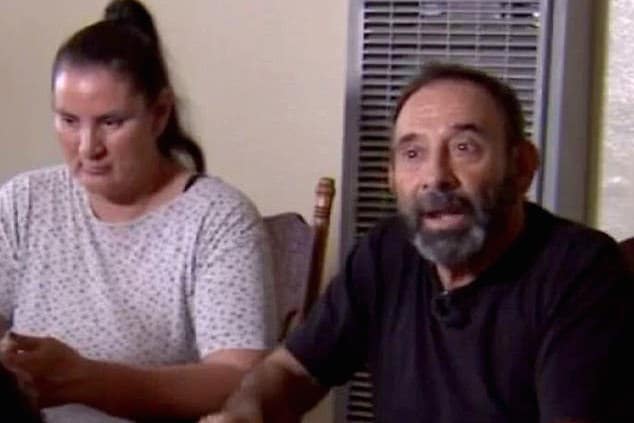 Nicandro and Gloria Sanchez the parents of Obdulia Sanchez, the Stockton, California woman who livestreamed the fatal car crash that killed her sister speak out. 
Nicandro and Gloria Sanchez the parents of 18 year old woman, Obdulio Sanchez who live streamed the fatal crash of a vehicle that she was driving that killed her 14 year old sister have told that their lives are ruined.
The parents' comments come after the elder sister live streamed the fatal moment she crashed her car, which threw her younger sister Jacqueline Sanchez out of the back window on Friday.
The teen from Stockton, California, is also accused of driving under the influence during the deadly incident where she filmed her dead sister's bloodied body. 
The incident led to Obdulia being arrested and facing a slew of charges, including vehicular manslaughter while under the influence and DUI.
Obdulia remains incarcerated at Merced County Jail.
GRAPHIC: A Stockton woman is in jail accused vehicular manslaughter & DUI. Suspect's family says she was on Instagram Live during crash. pic.twitter.com/RZZOhUTImW

— Veronica Miracle (@VeronicaABC30) July 24, 2017
Parents of deadly crash suspect say it ruined their lives: Nicandro and Gloria Sanchez said… https://t.co/LaSgPfVJXf

— okolie marvellous (@marvellous997) July 25, 2017
Speaking out about the incident, which the parents say has ruined their lives, Nicandro and Gloria Sanchez, have told of Obdulia needing help.
Told Nicandro via ABC 7: 'It's an accident. It happened that way. Who knows why? 
Adding of the elder sister who also goes by the name of Lula, 'I think she doesn't know what happened,'
'What I think is she knows she's done something wrong. Because she knows, and that's what I feel. She feels bad for herself, but she killed her own sister.' 
Nicandro said Obdulia had graduated high school last year and that in the past two years she'd been in the custody of Child Protective Services.
It wasn't immediately clear why or how the daughter ended up in the custody of child protection services.
Her parents conceded their daughter drinking but not around them. They don't know what she may have done or used before the deadly crash.
'Why or how she got something to drink?' Nicandro said. 'If she drinks.'
'It should have been me' California 'drunk' teen live-streamed sister's crash death sentenced 6 years
Video: Obdulia Sanchez livestreams fatal car crash kills her sister, 'I don't care'.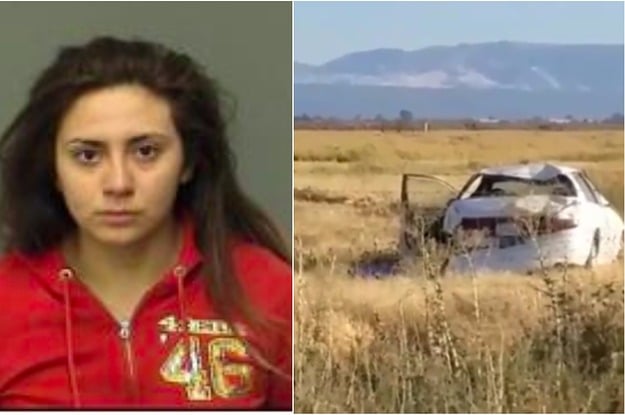 Authorities in investigating the graphic incident are unsure if Obdulia did anything to save her younger sister while an officer said it still is undetermined if she even called 911.
The live Instagram footage shows Obdulia talking to the camera as she drives normally and the moment the car rolled over a barbed wire fence and onto a field. 
Explicit visuals shows Jacqueline's body strewn on the floor, the other girl in the car, also 14, waving for help and Obdulia talking to the camera.
Told Obdulia during the live recording: 'Jacqueline, please wake up. I f****** killed my sister, OK? I know I'm going to jail for life. I love my sister… this is the last thing I thought was going to happen to us.'
'I killed my sister, but I don't care. I killed my sister. I know I'm going to prison, but I don't care. I'm sorry baby. I'm a hold it down.'
The video ends with Obulia kneeling next to her dead sister and saying: 'Wake up baby, I'm f**king sorry baby, I did not mean to kill you sweetie.'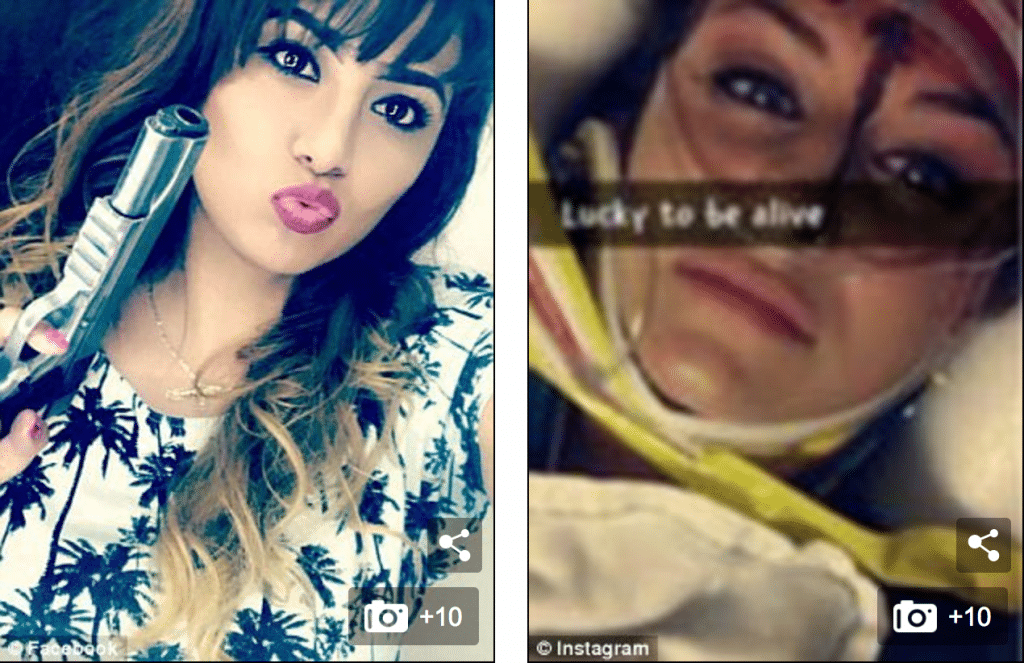 Merced County Sheriff Vern Warnke said Jacqueline was not wearing a seatbelt when the car crashed and rolled on Henry Miller Road at about 6.45pm on Friday.
The 14-year-old was thrown through the back window of the car, authorities said.  
Another girl, who police have named as Manuela Seja, 14, was also not wearing a seatbelt and suffered major leg injuries in the crash.
The California Highway Patrol said Obdulia was driving the car when it veered onto the right shoulder of a road about 120 miles southeast of San Francisco reported KSFN-TV.
She over-corrected, causing the vehicle to swerve across lanes, crash through a wire fence and overturn into a field.
Obdulia was wearing a seatbelt and suffered minor injuries. Obdulia complained of pains in her chest and knee after the crash.
Authorities say she was detained at the scene after allegedly becoming combative with officers after the crash. She was screaming that her sister was dead as officers tried to calm her down and lead her into an ambulance, reported the Fresno Bee reported.
Authorities said they were made aware of the crash scene video circulating on social media and were working to determine if it was authentic.  
Family members have confirmed the video was shot by Obdulia.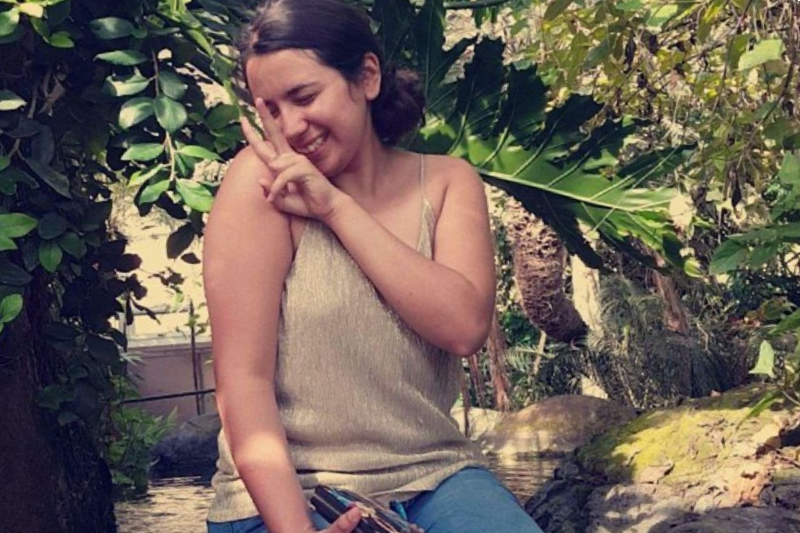 They say the younger sister, Jacqueline Sanchez Estrada was supposed to celebrate her Quinceanera (15th birthday) on Sunday.  
The parents said Jaquelin wanted to be an actress or singer and was going into the 10th grade.
Mary Hernandez, of Stockton, who viewed the live stream, decided to record it while unsure if the shocking footage was real.
'At first we didn't even want to believe it was real,' she said. 
'I recorded it and posted it mainly because as someone who uses Snapchat I see a lot of people driving with their Snapchats doing what she was doing, so to me it was like an eye opener.'
The footage received at least 700,000 views before being taken down by Facebook.
Family members have started a GoFundMe Page for Jacqueline's funeral expenses. It has since raised $5,842 of its $10,000 goal at time of publishing. 
Facebook has been repeatedly accused of failing to remove graphic and unsuitable content. In April it announced it was hiring 3,000 more staff to monitor post.