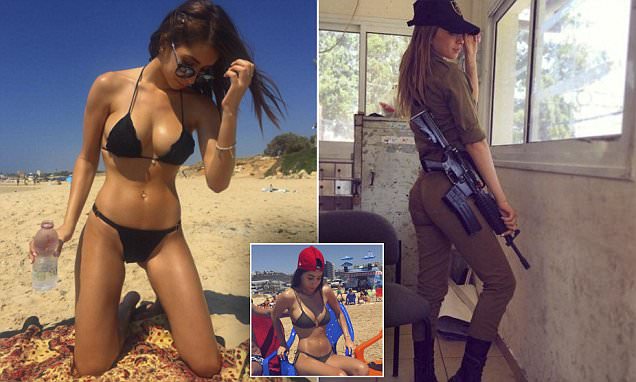 Kim Mellibovsky photos: How an Isreali female soldier became an Instagram star. Mixing spunk, moxie and guns for the ultimate attention thrill. 
Also making her presence known in the strutting of social media planks is female Israeli soldier, Kim Mellibovsky, who has astounded with her cheeky and skimpy bikini photos. All this while she serves in one of the most arduous military forces in the world, the Israeli army.
At age 22, the female Isreali soldier has already found herself a legion of fans, as she curries mock with her racy photos alongside images of her touting a gun in her very tight (thank you very much) Isreali defense forces uniform.
With more than 24K followers on Instagram and rising, Mellibovsky has found herself a mainstay favorite, with the question of a matter of time before the Isreali soldier converts her legions of fans into commercial opportunities outside of her current commitment to the army.
Mellibovsky's social media presence comes in spite of military service being  compulsory for many Jewish Israelis. Men must serve two years and eight months while women must serve two years. 
Women's roles had historically been confined to such positions as nurses or radio operators but this arrangement undergoing rapid change.
The military is thought to include more than 120,000 soldiers in mandatory service. 
Of course there is bound to be one Israeli soldier who will continue to gain notice as pundits now wonder what's in store for one photogenic army officer as she continues to mark her own territory. Just don't point the gun this way Kim….