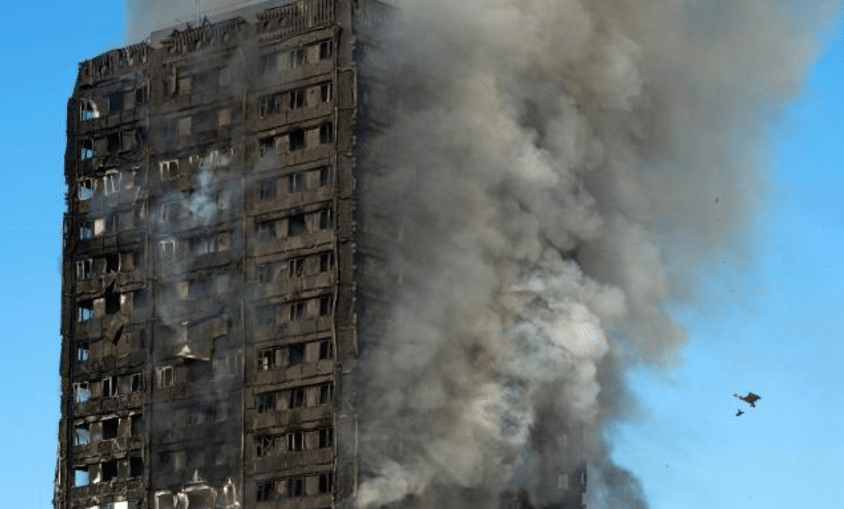 Grenfell Tower fire residents accuse building owners of ignoring repeated warnings to address fire hazard concerns as investigators seek cause of blaze.
Fatalities are expected to rise dramatically after London officials told of at least six people confirmed dead and another 50 injured after a fire started at the Grenfell Tower block in the city's west in the early morning hours of Wednesday morning just before 1am. 
While yet to have been validated, the Grenfell Tower blaze is thought to have started when a fire on the second floor began before engulfing the entire 24-storey tower block in just 15 minutes. The fire had affected up to 600 residents at the White City council estate residence who lived in the building built in 1974. 
A resident on the fourth floor said his neighbor had confessed that his 'fridge had exploded' before fire swamped the building. That said fire service officials said it is too early to confirm the cause.
As the building continued to burn, residents were seen throwing themselves and their children out of windows to avoid being burned to death – others made makeshift ropes by tying sheets together.
In one instance, a baby was thrown out from the 'ninth or 10th floor' only to incur broken bones and bruises after being by a member of the public below.
The trapped, some of whom are still inside, were heard begging for their lives while waving white towels, torches and mobile phones to attract the attention of the 200 firefighters who started storming the building within six minutes of the 999 call.
Those who managed to flee said it was 'like hell on earth' inside and claimed there was no working fire alarm, sprinklers failed and the only staircase out was blocked. Others defied orders to stay within the building at the time of the fire and escaping, most likely saving their own lives reported the dailymail. 
Grenfell Tower fire: London building with previous fire warning risks in blaze as residents jump for their lives
This is one of the most shocking and harrowing things we have EVER read.

Heads must roll and prosecutions made at @kctmo?#GrenfellTower pic.twitter.com/j0E5H9iO9F

— Shy Society (@Shy_Society) June 14, 2017
Last November #GrenfellTower residents wrote this, warning that a catastrophic fire could occur due to negligence https://t.co/HItqG5U1o5 pic.twitter.com/g21PCaaeTn

— Ruairi Casey (@Ruairi_Casey) June 14, 2017
The tragedy comes as Grenfell's own community action group, The Grenfell Action Group called for the tower to be pulled down four years ago over 'appalling' fire safety in the building.
A previous blog post written over a year ago told of the group's fears that the building was a waiting fire hazard, nevertheless the group said despite their repeated warnings to landlord Kensington and Chelsea Tenant Management Organisation (KCTMO), no action was ever taken. 
Noted an updated entry this morning: 'Regular readers of this blog will know that we have posted numerous warnings in recent years about the very poor fire safety standards at Grenfell Tower and elsewhere in RBKC [the Royal Borough of Kensington and Chelsea]. ALL OUR WARNINGS FELL ON DEAF EARS and we predicted that a catastrophe like this was inevitable and just a matter of time.'
Reacting to the fire, Green party London assembly member, Sian Berry, demanded an inquiry into the fire while expressing concern as to why residents concerns about fire safety were ignored.
She said: 'It is striking that there are still no central fire alarms and drills required for residential buildings compared with any office, and it appears that residents concerns were not addressed'.
You're going to need to hear this. Another shocking story of neglect. #GrenfellTower pic.twitter.com/lNRLzJiyoV

— EL4C (@EL4JC) June 14, 2017
Here's our final edition @EveningStandard on this sad day pic.twitter.com/Dgk6kOsLW4

— George Osborne (@George_Osborne) June 14, 2017
An eyewitness describes how she saw a baby dropped from the 10th floor of #GrenfellTower who was miraculously 'caught by man on ground' pic.twitter.com/PZ2ShtTYuP

— The Telegraph (@Telegraph) June 14, 2017
The fire ironically comes a year after KCTMO completed a £10million ($12.7m USD) refurbishment including a new cladding encasing. A casing some wonder may have in fact precipitated the fire?
Told one White City resident, Tamara via the BBC: 'There were people just throwing their kids out saying "Save my children". Within another 15 minutes the whole thing was up in flames and there were still people at their windows shouting "Help me". You could see the fire going into their houses and engulfing the last room that they were in.'  
Another witness said he saw several people jumping to their deaths from all floors to escape the fire.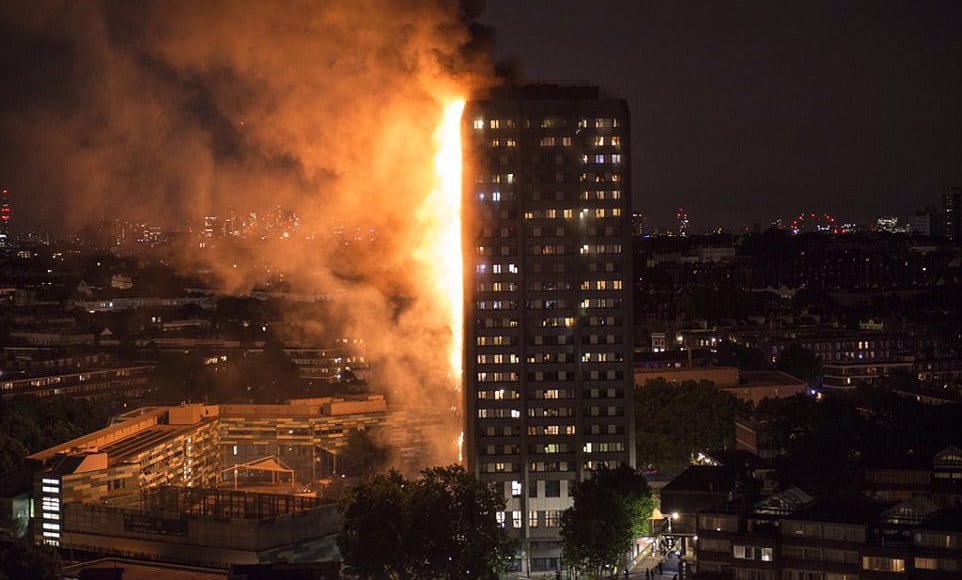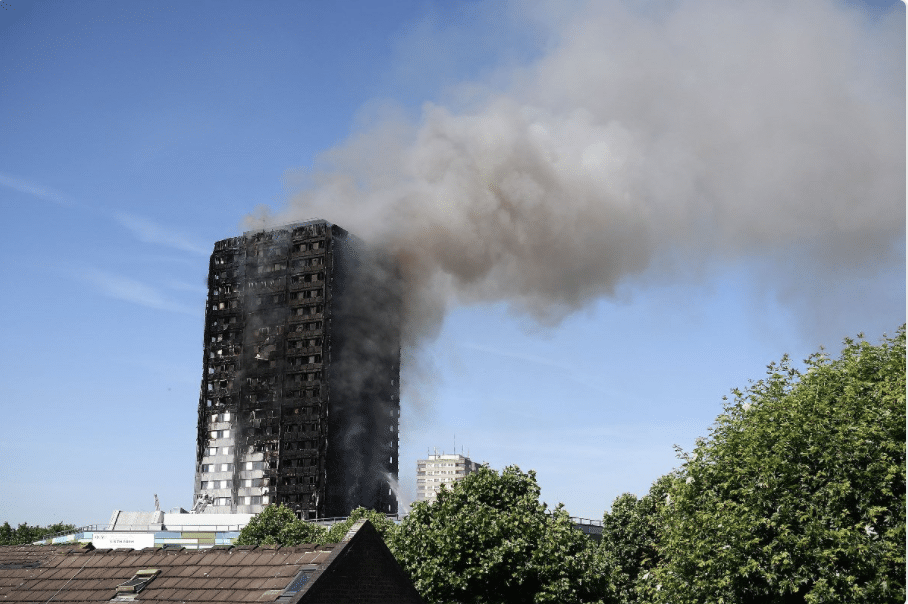 At the time of the fire beginning, up to 200 firefighters from a variety of fire stations arrived on the scene, that said many were forced on the sidelines with the heat so profound that they could not move forward. To date, fire crews continue to subdue the blaze, 12-13 hours after it first began. 
Told Samira Lamrani, 38, on live TV after telling of her neighbor's confession that his exploding fridge was the culprit, 'He was just beside himself. He was just as surprised at how quickly the fire spread as anybody else.'
Added the Grenfell Tower resident, 'I could hear him saying that he contacted the emergency services immediately and they reassured him everything would be under control within a short period of time, and obviously it wasn't.' 
Police conceded that there may still be people in the building who had yet to be unaccounted for.
Notting Hill Pastor blames 'disgusting' divide between rich and poor for #GrenfellTower fire https://t.co/mUbtsPadtw pic.twitter.com/BhVxV4gUfJ

— I was a JSA claimant (@imajsaclaimant) June 14, 2017
Criminal neglect of infrastructure; contempt for the poor; profit above people; silenced dissent: #GrenfellTower is a microcosm of the UK.

— Alex Andreou (@sturdyAlex) June 14, 2017
Perhaps most beguiling is that while the blaze happened in London's upscale district of Kensington, known for its high priced properties and flats and that of its less well heeled surrounding areas- the actual blaze took place in a council estate flat designed for London's poor. And it is here where many are claiming that Grenfell Tower management failed residents, failing to heed warnings because the building housed less affluent members of the city.
Noted a report via the UK's Independent: 'The Conservatives have consistently voted against tenants' rights over the last few years, most memorably voting down a bill requiring landlords to make their homes fit for habitation, where 72 of the MPs voting against the measure were landlords themselves, in 2016.'
Of note, the Grenfell Tower fire is not the first high scale fire that building owners, KCTMO have had to contend with.
In 2015, 50 people were rescued from a fire at another KCTMO property called Adair Tower in North Kensington. The fire which had started in a two room apartment led to 12 flats being left uninhabitable.
The Grenfell Action Group shared that the Adair Tower had not been complying with fire safety regarding fire escapes and self-closing doors. Similar safety breaches were found at another residence, Hazelwood Tower.
Adding to the wounds of Theresa May's embittered Conservative government is a report via the UK's Guardian that a then newly-appointed chief of staff last year promising to review fire safety regulations. Changes that have yet to be published or forthcoming.
Jeremy Corbyn tried to pass through a law to make homes safer – but it was rejected by the Tories https://t.co/1GkoSnZE2d #GrenfellTower pic.twitter.com/3CDi3wbyy5

— I was a JSA claimant (@imajsaclaimant) June 14, 2017
"My life's turned upside down, we've lost everything" – just one of the dozens of families left homeless by the Grenfell Tower fire. pic.twitter.com/o7gNmMCdZr

— Victoria Derbyshire (@VictoriaLIVE) June 14, 2017
"I can't understand how it got through any design process": Local resident explains how he believes the #GrenfellTower fire spread pic.twitter.com/RXMKLyQyBR

— ITV News (@itvnews) June 14, 2017