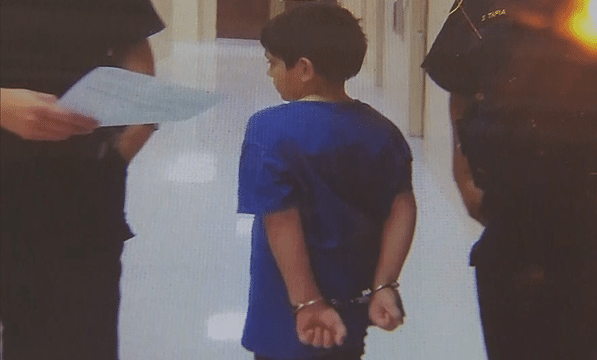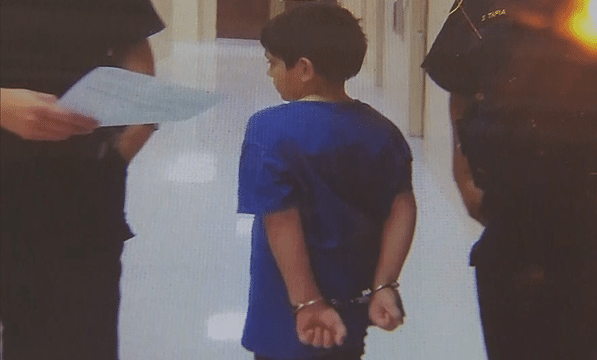 Yosio Lopez: Dallas school police use handcuffs to restrain 7-year-old boy before then committing the boy to a mental hospital.
The family of Yosio Lopez a 7 year old local Dallas area boy have accused a school district of heavy handiness after using 'extreme' force to restrain the special needs student.
Matters came to the fore last week during class at Gabe B. Allen Charter School when Lopez, a special needs student who suffers from deficit/hyperactivity disorder and another mood disorder went into an uncontrollable instance of banging his head against a class wall.
While in the past a trained school aide was able to subdue similar outbursts and calm the boy down, a Dallas school police officer decided instead to place the afflicted boy in handcuffs.
From there, the boy told his mother, April Odis, he was put on a desk with his arms cuffed behind his back while the school principal put her elbow on his neck and choked him to restrain him.
But it gets better.
Dallas ISD Police then transported Yosio to a mental health facility without his mother's permission,  committing the boy for nearly a week. It wasn't until after two days that the mother was able to visit her son.
A report via nbcdfw told of the family hiring an attorney, claiming the district doesn't have adequate oversight from staff while blamed last week's incident on a 'failure in training.'
Family lawyer, David Ramirez told via CNN of Yosio being heavily sedated during his stay at Dallas Behavioral Hospital along with being restricted from seeing his mother under the claim that he was 'a danger to himself and those around him'.
Do you suppose?
Responding to the incident, the school district said in part:
'The Dallas Independent School District is committed to educating the whole child each day, and in doing so, we believe in providing a productive learning environment that is safe for all staff and students. While there has been media interest into an alleged incident at one of our Dallas ISD campuses, due to federal confidentiality laws protecting the privacy of all students and their families, we are unable to publicly confirm or deny the matter reported.'
The family has hired an attorney and claims the district doesn't have adequate oversight from staff and blamed last week's incident on a "failure in training."
Yosio Lopez was released Monday night and is now at home recovering with his mother.