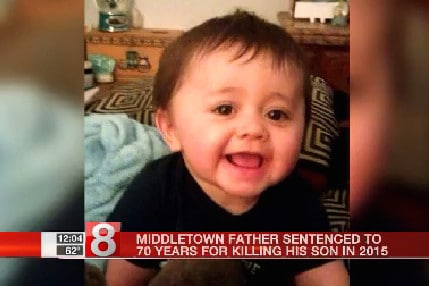 Tony Moreno sentencing: A Connecticut father receives the maximum sentence after throwing his 7 month old son off a bridge while taunting the boy's mother.
Tony Moreno a 23 year old Middletown, Connecticut father was on Wednesday sentenced to 70 years jail after throwing his 7 month old son off a 90 foot bridge, killing the boy.
The 70 year jail sentence represented the maximum jail sentence the father could receive after having being convicted by a jury in February of murder and risk of injury to a minor.
At the time, a jury took less than a day to convict the father.
Told Middletown Superior Court Judge Elpedio Vitale on Wednesday, 'The utter depravity of the crime, a father killing his infant son, speaks for itself'.
The Judge said he had imposed the maximum sentence the result of a 'culmination of the defendant's ongoing hostility with the baby's mother'.
Police said Moreno threw his son, Aedan, off the Arrigoni Bridge over the Connecticut River in July 2015, during strained relations with the boy's mother. 
At the time, the boy's mother, Adrianne Oyola, had recently refused Moreno's marriage proposal.
A custody dispute was settled just days before the boy's death reported the Hartford Courant, leading to the father at the time of the boy's death retaining joint legal custody of his son. 
Of note, court records showed the pair arguing over parenting, with the mother having sought a restraining order against her son's father, saying she feared for her and her son's safety. That restraining order was denied.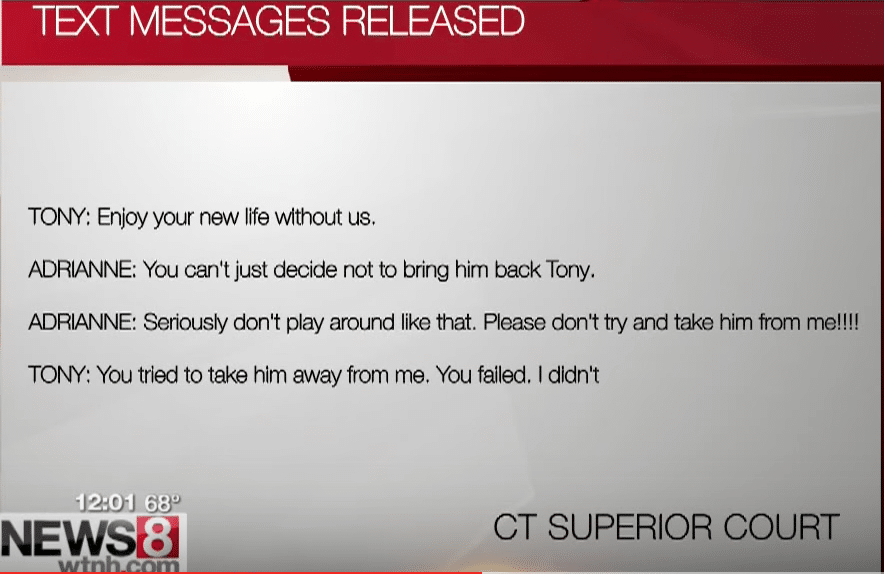 Leading into the boy's death, the pair had exchanged hostile text messages.
'You can't just up and leave with [redacted],' Oyola wrote to Moreno.
It was during the escalation of tensions that Moreno had taken the boy out in a stroller along a bridge, all the while texting his estranged former partner.
At one point, when Oyola asked where her son was, Moreno replied that he was dead.
'And soon I will be too,' Moreno wrote. 
Moreno followed the boy off the bridge, but survived the leap.
Moreno claims he intended to commit suicide, and the boy slipped out of his hands by accident. The man previously confessed that he deliberately threw the boy off the bridge.
Police responded to the scene after Moreno's mother called 911 to report that her son had told her he planned to jump. 
Officers saw Moreno jump and found an empty baby stroller near the bridge. 
Aeden's body was found two days later, several miles downstream from where he had been thrown.

Moreno's lawyer, Norman Pattis, argued the the boy's death had been an accident, and sought the minimum mandatory 25-year sentence for his client. 
'Tony told you what happened,' Pattis said. 'The jury disregarded it. Aeden slipped from his grasp.'
Remarked the mother during her former partner's sentencing, 'Every time I wake up, I pray the nightmare will be over and my son will be in my arms,'
Adding, 'I won't see my son grow up. You took my whole world in front of me. You took my life.'