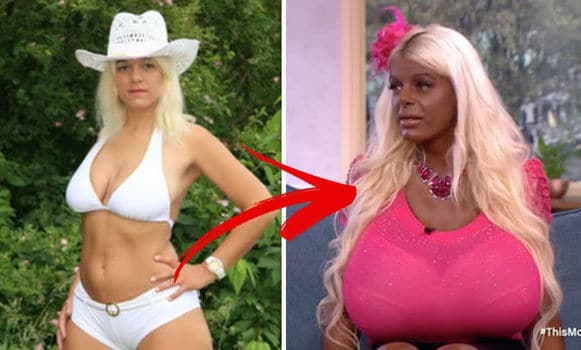 Martina Big Barbie model wannabe: How one glamor model told of wishing to test the extremes as she continues building towards the ultimate look.
Causing a stir on the UK's ITV 'This Morning' show was the compelling visage of German Barbie wanna be model, Martina Big, who had audiences (and the show's host) gasping for air.
Dressed in a bright pink knit top showing off her ultra golden chocolate brown tan, her buxom blond peroxide hair and her 32S breasts (just in case we didn't notice) Martina told Ruth Langsford and Eamonn Holmes how much better life has become since beginning tanning injection in January.
While illegal in the UK, the injections are permissible in Martina's native Germany, who swears by them.
Responding to Eammon's suggestion that her doctor may have given her too much (do you suppose…?), Martina responded:
'No! I like this color. For a long time I want to have wanted to have a crispy, tanned holiday color'.
Adding, 'Last year I was working in LA and Miami and I spent all my free time tanning, but it faded, and I want it to stay so I have the injections.'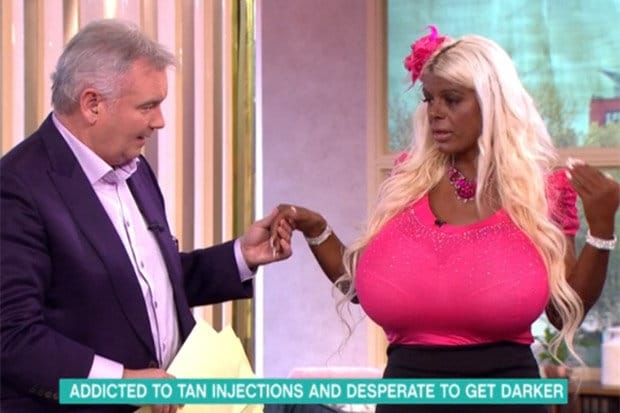 As well as tanning injections, Martina is a regular at her local tanning booth. Why let a good tan go to waste?
Along with her year round ultra deep tan, Martina proudly showed off her latest breast augmentation, having recently transformed her chest from a 32D to a 32S cup. At one point Martina proudly explained to Eamon and Ruth that she believed herself to have the largest breasts in Europe. 
Explaining what inspired her to change her look, including her recent lip fillers, Martina said: 'When I was younger I admired the Barbie curves of Katie Price and wanted to look like a glamour model.'
That said, Martina conceded that her breasts were 'not curvy enough', and that she wants to 'get darker and darker and see what the limits are'.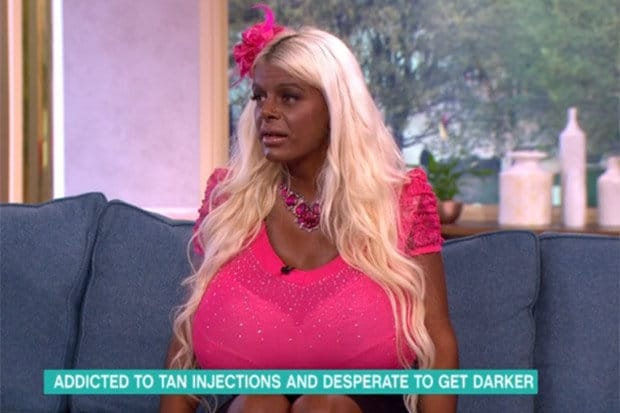 According to the dailymail, Martina first began dabbling with surgery in 2012, when her boyfriend encouraged her to take up modeling.
Nine weeks ago Martina had three melanin boosting injections that have turned her a deep shade of mahogany.
Explained Martina, 'I was not expecting to go so dark but it worked so well,'
'I love it and I really want to push it to the extreme.'
Adding: 'I love the contrast of my bright blonde hair and my dark, crispy brown skin.
'I love seeing the reactions of people. I can see their big eyes when I walk past and their shocked faces, thinking "how is this possible?"'
Asked to reflect on how her fans may have responded to Martina's recent developments, the glamor model said, 'Opinion on me is split – some of my fans say 'I remember you as a white girl, now you look different, but as long as you are happy thats fine.''
Adding, 'At first, my fans were irritated saying "why did you do this?!" but that is because they have never seen a white girl change her skin to African dark before.
'But now, they have got used to it, they are excited like me. They say, "oh, I like your style! Go darker! Go darker!"'
Asked if she was concerned about the safety of tanning injections, Martina told: 'My doctor told me it is tested and it is safe.' Which is to say, Martina has plenty more tanning injections in store if one is inclined to test extremes….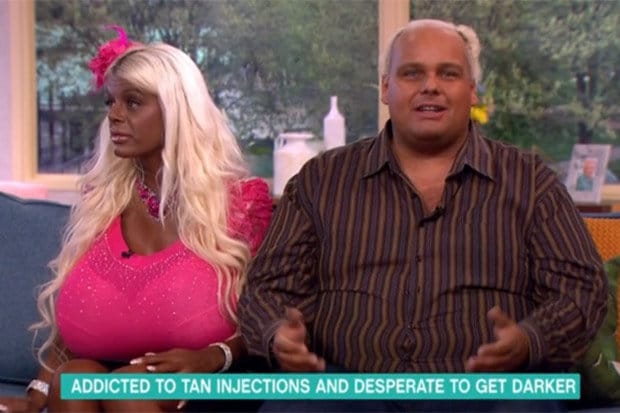 Also joining Martina, was her boyfriend, Mike, who also happens to be a fan of tanning injections.
Told the man, whom some wonder may be abetting his girlfriend's questionable habits, 'I like Martina's look very much. Now she is an exotic Barbie.'
Viewer comments soon flooded the airwaves, with one commentator remarking, 'It is sad that you felt you weren't good enough with your natural beauty.'
Another said: 'You are damaging your health.'
Nonplussed, Martina said she intends to continue developing her looks, revealing, 'I want to pump up my lips further, and pump up my breasts more too.'
Because who doesn't want to be the thing on the outside they wish they could be on the inside ….?
With 32S breasts and a tan addiction, Martina Big has gone to extreme lengths to recreate her dream look

See more: https://t.co/MWITsSqeoS pic.twitter.com/Wf6XVUnPX8

— This Morning (@thismorning) April 13, 2017
Meet the Barbie wannabe who's spent thousands on surgery #MartinaBig #Germany https://t.co/TIHl9h7UWt pic.twitter.com/9tvoYhU9X0

— German Trends (@Germanolizer) April 13, 2017