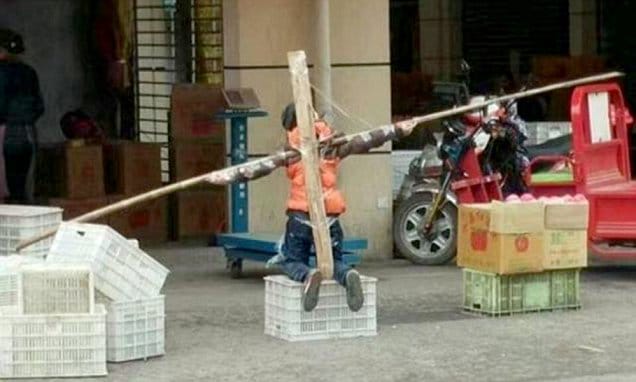 Chinese father crucifies ten year old son: A child is made to kneel on a crate box for hours for disobeying his father, dad responds by taunting neighbor.
A Chinese father has crucified his ten year old son after the boy refused to do his homework.
Images of the public humiliation came after passerby's happened upon the child bearing two planks of wood, while kneeling on a container.
A report via the dailymail tells of the 10 year old boy being made to kneel with his arms outstretched and left there for hours by his father who thought public humiliation would stimulate the boy.
Do you suppose?
A concerned neighbour in Chongqing Municipality's Yongchuan District, in south-western China, spotted the boy in the street and took a picture. 
Needless to say the photo soon went viral with commentators taking the father to task.
According to neighbors, the father runs a fruit shop and is notoriously strict with his son – one of two boys in the family.
After being told by teachers that the 10-year-old had not done his homework again, the child was made to kneel on a plastic crate while a homemade cross was tied to his back. 
The boy was not released until hours later and it is unclear whether the unnamed parent has resorted to similar methods in the past.
Responding to social media criticism against him, the father is said to have taken personal umbrage with the neighbor who first posted the photo. 
The father is now considering suing the impromptu photographer for publishing the picture without his permission. 
The man later said his son's punishment was 'nothing serious' and 'just a joke' adding he did not expect the incident to inspire the degree of attention it had. 
At present it is not clear whether police have launched an incident of child abuse against the father.