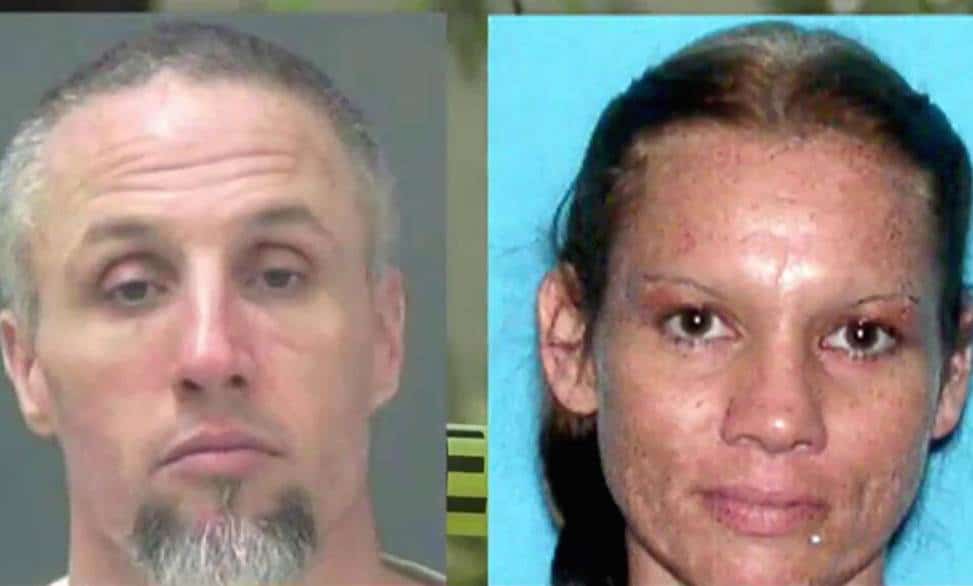 William Boyette shooting. What led to one man shooting dead 3 women, including his ex, critically injuring a 4th, while in the company of a mystery woman?
William 'Billy' Boyette a man suspected of killing three women and attacking a mother in her home in a cross state shooting rampage has shot himself dead during a standoff with cops in a Georgia motel.
The fugitive's death comes after police cornered Boyette, 44 along with his accomplice, Mary Rice, 37 in the West Point motel after a week long manhunt that began with the shooting death of Billy Boyette's ex girlfriend, Alicia Greer and led to the shooting deaths of two other women in Florida and Alabama. 
Rice, whose relationship with Boyette wasn't clear was taken into custody subsequent to the siege. Initial thoughts are that the woman may have been embroiled in a love triangle relationship with Boyette and that of Greer…
A report via the dailymail tells of the pair being tracked down after the stolen car they were driving was spotted outside their motel.
Upon checking into the motel, Rice used her own name.
Police surrounded the motel at around 6pm. By 6.20pm the standoff was over and Boyette was dead.
#BREAKING: William Boyette & Mary Rice sighting. Authorities canvassing area in cantonment @weartv #C3N pic.twitter.com/A6DZn5MLPa

— Anthony Pura (@AnthonyPura) February 7, 2017
#BREAKING: Heavy police presence at West Point hotel; could possibly be FL triple murder suspect>>>https://t.co/OolskWMnqF pic.twitter.com/fwULGS3KFX

— WTVM News Leader 9 (@WTVM) February 7, 2017
It is believed that Boyette's murder spree began after police issued five charges against him for attacking Greer, having put her in the hospital in need of scalp stitches and an MRI.
Greer, 30, was found shot dead on January 31 along with the body of another woman, 39-year-old Jacqueline Jeanette Moore, at the Emerald Sands Inn in nearby Milton on Jan. 31
Police say Boyette and Rice also killed hospital worker Peggy Broz, stole her car and later abandoned it. 
Their final victim was a young mother, Kayla Crocker, who was shot Monday morning during a home invasion. Her vehicle was also stolen and she is now in hospital in critical condition. 
Prior to Boyette's death, Sheriff David Morgan in Pensacola, Florida, on Monday said:
'In short we have a killer, he is in our midst, everyone, and I mean everyone, should be aware of this, should be aware of what they look like'.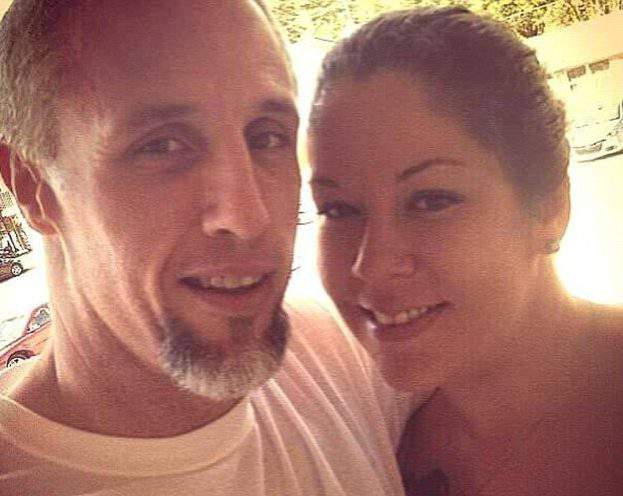 Greer's family told WEAR-TV that she had been in a relationship with Boyette since Thanksgiving, but that it had grown increasingly violent.
Her father, Wayne Lane, said that two weeks before her death, Boyette 'choked her down to the ground, kicked her in the face, hit her in the head with an unopened two liter bottle of soda, so bad she had to have stitches in the top of her head, had to have an MRI of her skull'.
The pair are believed to have split up and five warrants were issued for Boyette's arrest after that incident, which the father believes sparked the start of the murder spree.
He explained the charges, saying: 'Assault, kidnapping because he kept her in a hotel room against her wishes, wouldn't let her leave over in Milton at the Blackwater Inn for two days, crushed her phone so she had no contact with the outside.'
The father said the last contact he had with his daughter was a text message conversation in which he asked her if she was back together with Boyette – to which she never responded. 
Greer, 30, was a mother of three children under ten, and had been staying with a relative two days before her death to evade Boyette, though despite please from family members to stay away from him – she agreed to see him. 
Told Greer's mother, Kim Lane, via Fox 10: 'This man murdered my daughter so bad, and shot her so bad, that we cannot have an open casket for her. 
'I can't even see my daughter one more time ever again.'
We just received these recent pictures of Boyette and Rice. Now believed to be traveling in a white 2006 Chevrolet Cobalt Fl Tag #9613BJ. pic.twitter.com/mDQhvp48aG

— ESCO News (@ECSONews) February 6, 2017
Crime Stoppers' reward for tip leading to arrest of William Boyette is up to $21,000 thanks to donation of $10,000 from FDLE. pic.twitter.com/94PHKQ0dHv

— ESCO News (@ECSONews) February 7, 2017
The next alleged victim of William Boyette's spree was 52-year-old Peggy Broz, a respiratory therapist, who was found dead by a family member in her front yard in Lillian, Alabama on February 3.
Authorities believe Boyette stole Broz's car, a 2003 Chrysler Concord, and later abandoned it in Escambia County, Florida near the intersection of I-10 and Nine Mile Road. 
The most recent victim Kayla Crocker, 28, was discovered by a family member around 8am on Monday morning suffering from gunshot wounds. Her two-year-old son was unharmed.
Crocker's white Chevrolet Cobalt was stolen with Sheriff David Morgan saying that video surveillance confirmed Boyette and Rice took the car to a nearby gas station and ate at a Hardee's restaurant a short time after the attack.
The Cobalt has also since been recovered in Escambia County, and a GoFundMe page has been set up to help support her and her son.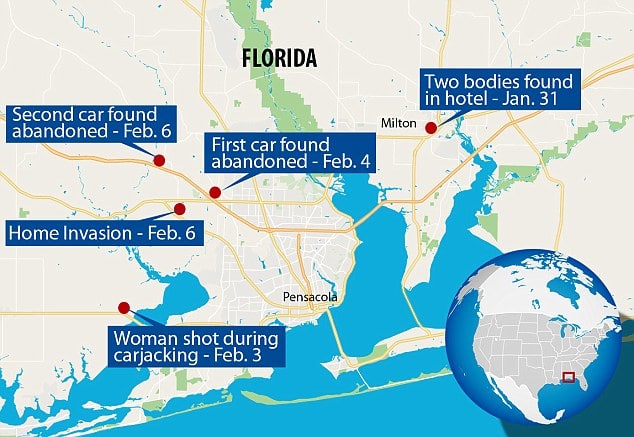 A report via wkrg told of William Boyette's violent criminal past, including the man being arrested in Santa Rosa County in 2014 on charges on probation violation and battery.
In 2015, Boyette was arrested by Escambia County deputies where he was charged with aggravated assault, battery, two counts of aggravated battery, kidnapping or false imprisonment, and obstructing justice.
Escambia County Sheriff' David Morgan would be quoted saying Boyette having a criminal past extending back to 1992 at which he was not at liberty to fully extoll.
Leading into Tuesday night's shoot out, Florida Panhandle sheriff's office had doubled the number of deputies on patrol as the search for the two had entered its second week.   
Authorities said Boyette's accomplice had multiple chances to flee or ask for help. She has been spotted on surveillance video entering stores on her own.
Prior to shooting himself dead, Boyette allowed Rice to leave the motel room, where the woman was seen crying as she was taken into custody. 
Why the woman chose to stand by Boyette has yet to be necessarily understood…