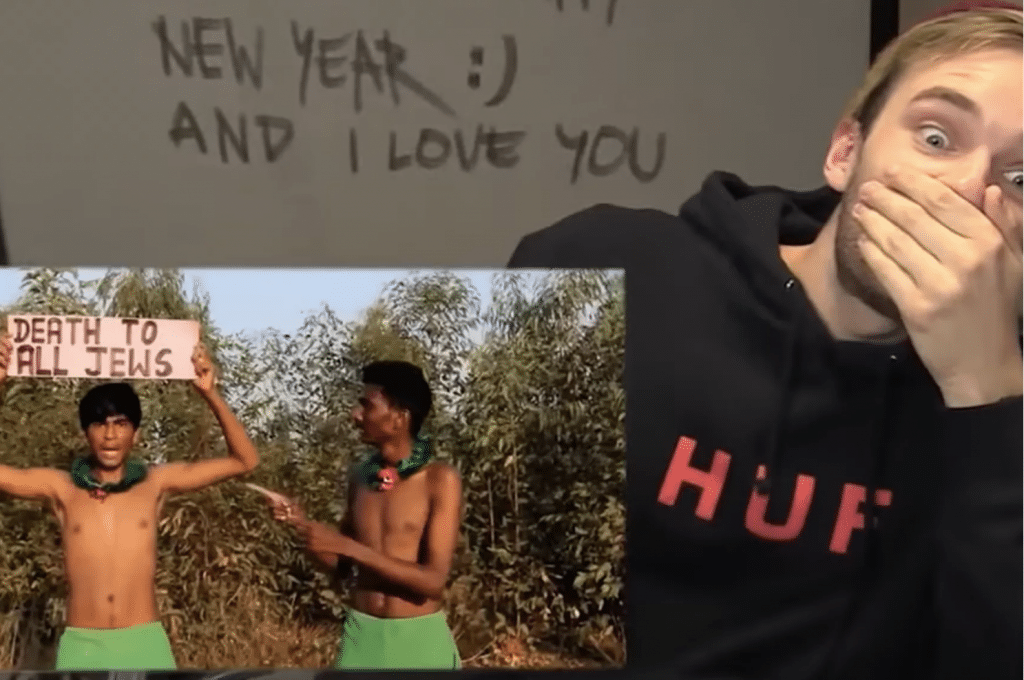 PewDiePie dropped by Disney over anti semitic videos. At what point does art and entertainment become a catch cry for inciting violence or hatred? 
Raising the stakes as to what counts for humor, joking, irreverence and pushing the limit, is youtube sensation, PewDiePie who found himself dropped by Disney on Monday after being accused of posting nine 'anti-Semitic' videos.
A report via the Wall Street Journal told of the youtube star, real name, Felix Kjellberg  recently signing off on a multimillion contract with the entertainment company, only for the outlet to call off the deal after becoming aware of videos which contained 'anti Semitic' jokes or imagery related to Nazis, including a banner in one video that read, 'Death to all Jews'.
Other imagery that Kjellberg had included over the course of nine months included swastikas, Nazi salutes, and shots of Hitler.
Which raises the awkward question, does the depiction of said symbols, gestures (admittedly seeped in deep meaning and hostile memories for an entire race) necessarily indicate one is racist and anti semitic?
Offered a spokesperson for Disney's Makers Studio: 'Although Felix has created a following by being provocative and irreverent, he clearly went too far in this case and the resulting videos are inappropriate'.
To date Kjellberg, a Swede has 53 million subscribers on his channel, with estimates that the self proclaimed provocateur making over $14.5 million in advertising revenue for 2016 reports Forbes. 
A following one assumes only continued to gather muster the more audacious and sacrilegious the vlogger became.
Defending his decision to run the controversial videos, PewDiePie said that there was a difference between racism and comedy.
'It's 2017 now and we are going to have to start separating what is a joke and what is actually problematic,' he said. 'Is a joke actually pure racism? Is a joke something that would be considered pure homophobia or anti-Semitic?'
Told the vlogger in another post:'I was trying to show how crazy the modern world is, specifically some of the services available online,'
'I picked something that seemed absurd to me — that people on Fiverr would say anything for 5 dollars.'
Which is to raise another awkward question, if it's one thing to go on the streets shouting 'I hate Jews and death to Jews', then are we to decry the same actions as racist and anti semitic when it appears in art, or entertainment, even if many would find it distasteful?
One after all isn't obliged to watch the videos nor as Disney decided to enter a contract with an entertainer whose 'craft' jeopardizes its aspirations for wholesomeness.
Youtube, owned by Google maintains the view: 'If content is intended to be provocative or satirical, it may remain online,'
'If the uploader's intent is to incite violence or hatred it will be removed.'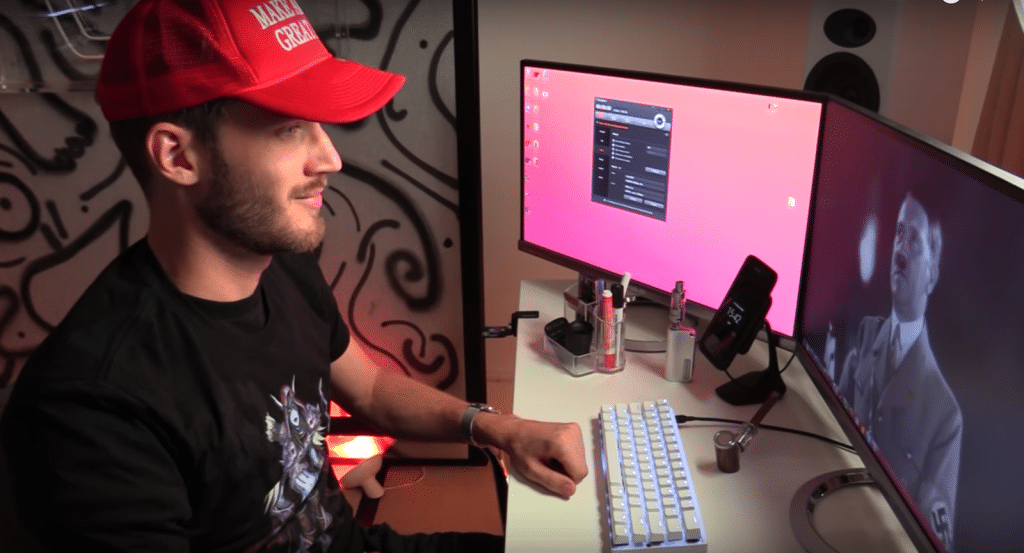 Despite Kjellberg's stand, the YouTube star recanted and deleted the Jan. 11 video that included the 'Death to all Jews' banner.
On Sunday, he backtracked on Tumblr, conceding that the 'jokes were ultimately offensive'.
But then again wasn't that the point PewDiePie was trying to make? 
Perhaps he might have faired better taking the piss out of blacks, Indians, Asians or Muslims? Or maybe gays, transgenders, or women.
Then again, one surmises he would have probably fared just as poorly.
Never mind, PewDiePie's following continues to mount and to date, Youtube hasn't put a lid on the vlogger's series. Why would it? There is after all a lot of advertising revenue to make…