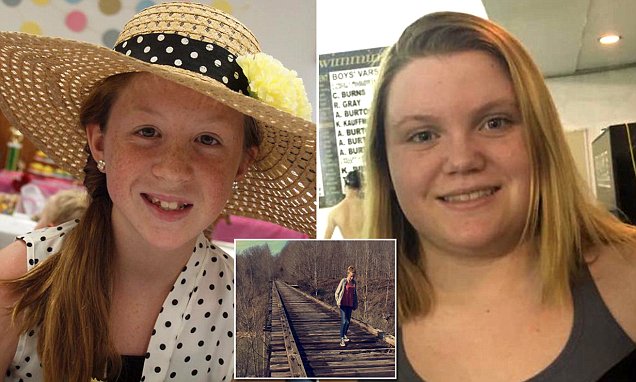 Abigail Williams and Liberty German two 13 year old Indiana teens are discovered dead in what authorities described as suspicious circumstances. 
The discovery of the bodies of two 13 year old Carroll County girls, Abigail Williams and Liberty German along a riverbank in Indiana has caused disconcert, after the teen's deaths were discovered just hours after posting a snapchat photo along Deer Creek. 
While police declined to formally name the girls, family and friends confirmed that the bodies of the two discovered teens Tuesday morning, were in fact that of Abigail 'Abby' Williams and Liberty 'Libby' German.
Within hours of police calling off their search for the teens who'd gone missing the day before during a hiking trek, an outpouring of condolences were posted on social media.
While police declined to speculate how the two thirteen year old girls died, they made a statement saying that they suspected foul play.
Police also declined to discuss the extent of the dead teen's injuries, saying it was still too early in the investigation.
Come Wednesday, officials told that they were now leading a homicide investigation, saying that the two girls had been murdered.
Notice of the two girl's having gone missing came just hours after having been dropped off by family members at 1pm on Monday along after there was no trace of the girls when they failed to return to an afternoon pick-up spot.
Libby German and Abby Williams: Did pictured mystery man murder Indiana thirteen year olds?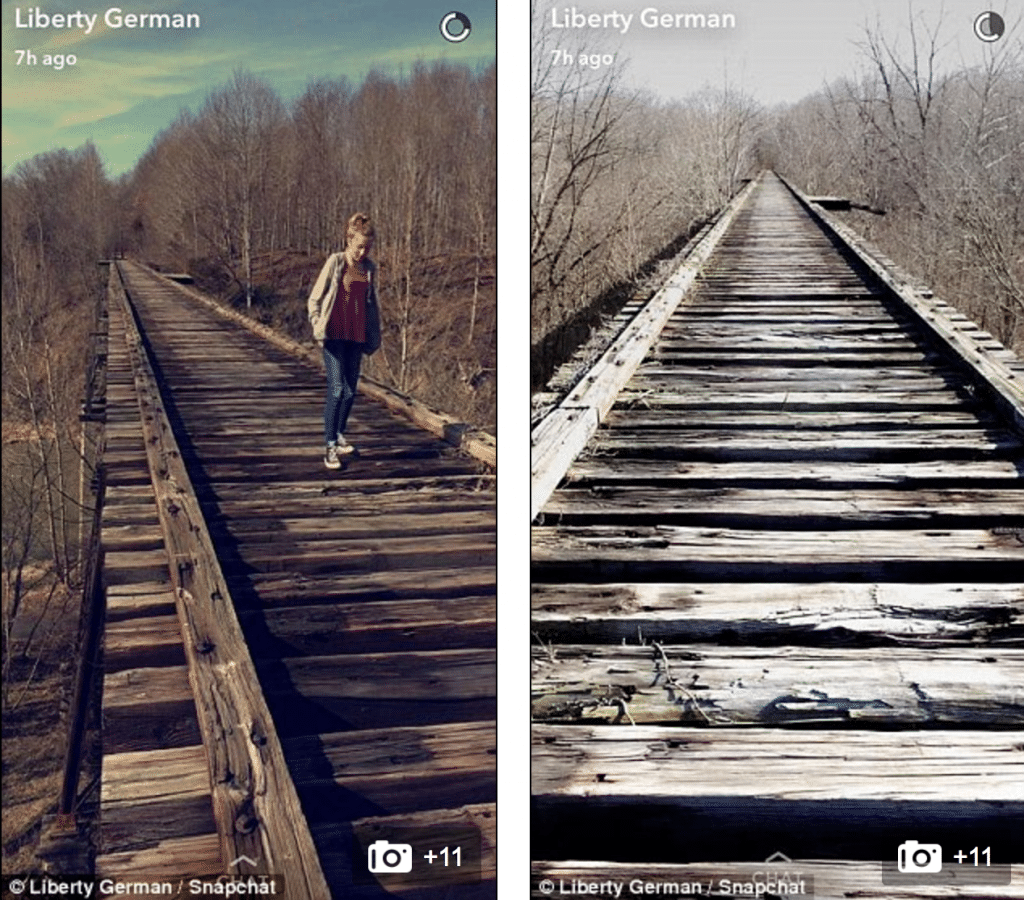 Come the following day, police made the grim discovery of the missing teen's bodies along Deer Creek, less than a mile away from the Monon High Bridge, an abandoned railway bridge they'd been dropped off the day before.
A report via JConline told of the landmark bridge being one of Indiana landmark's ten most endangered historic sites in the state.
Of note, Monon High Bridge does not have any guardrails.
At the time of their discovery, both girl's cellphones had either died or had been powered off.
Told German's grandfather Mike Patty via WLFI as the initial search was underway: 'The cellphone has been pinging around town – and here there is a cellphone tower – but the ping was last noted around five to six hours ago. And they say the phone is now dead.' 
Reiterated Anna Williams, Abigail's mother Monday night: 'I'm getting scared now. It's getting cold and they've been out a long time. I don't know what time they ate last.'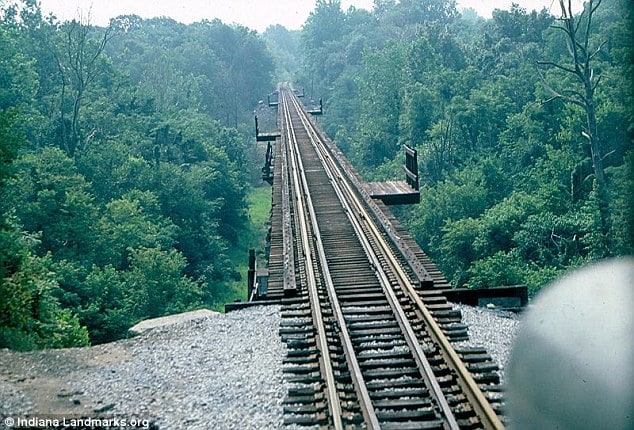 The bridge where the girl's had been dropped off had retained the allure of a local beauty spot and is where the final picture of Abigail Williams was taken by Liberty German, hours before they were reported missing 5.30pm, Monday afternoon. 
During a Tuesday press conference, police didn't disclose if there were any suspects or persons of interest.
A report via RTV6 cited investigators saying they considered the girl's discovery as a 'death investigation' and had not classified the case as a homicide. That said, the incident was described as a crime scene. Come Wednesday investigators said they had a double homicide on their watch, but no suspects at present. 
Reiterated Sgt Kim Riley of Indiana State Police: 'The crime scene is on private property, it's not on the trail itself and it's owned by a subject who lives on that road.'
'There is somebody out there who committed this crime and we are going to track them down'.
German's photo of Williams on Snapchat at 2.07pm is the last documentation of the girls. 
Between that time and their discovery the following day the two girls were murdered,  by who and how and why continuing to remain a mystery as a small town struggles to come to terms with the savage crime.
Told German's grandfather Mike Patty Monday night after the two best friends had failed to return to the meet up spot: 'We're just praying for their safe return. I'm upset and confused. Obviously, very distraught. I'm just worried.' 
'All I want to do is have the girls get home safe'.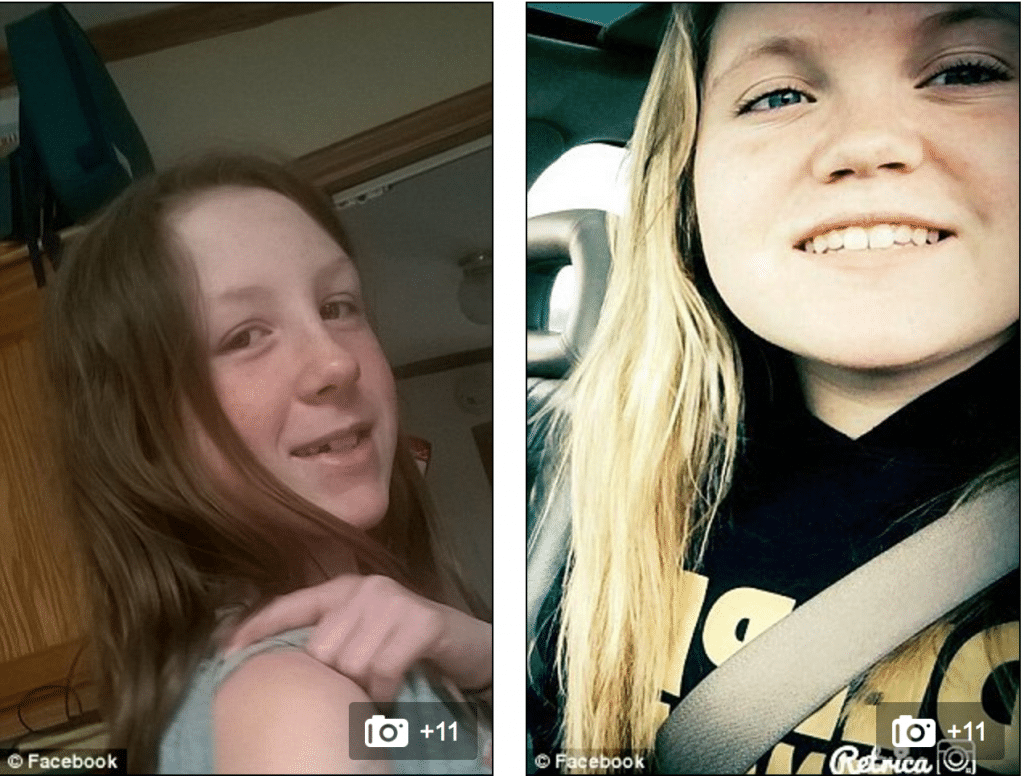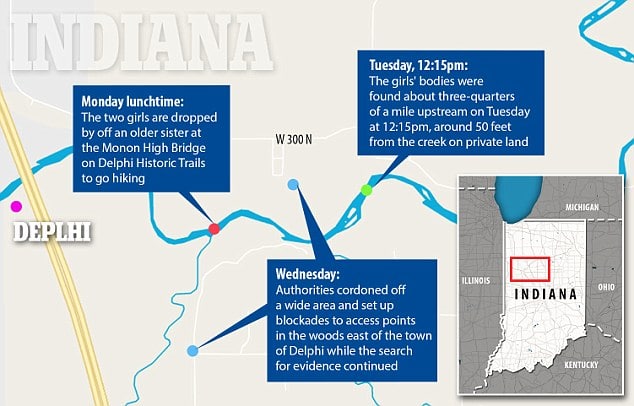 A report via Fox 59 says at the time of the initial missing report, police hadn't suspected foul play based off of the details the family gave police.  Officers initially considered issuing an Amber Alert but decided the situation did not fit the criteria.
Told Carroll County Sheriff Tobe Leazenby in a written release yesterday: 'Based on information learned from friends and family members, police do not suspect foul play and have no information to believe the girls are in any kind of danger, other than being exposed to outside elements' 
Police, firefighters and volunteers had searched the area until around midnight Monday and restarted the search when it became light outside Tuesday morning.  It would be a few hours later Tuesday morning that authorities came across the bodies of the missing teens.
In the hours following the revelations of the girls' deaths, the families of both teens have been savaged on the web, with many wondering what possessed them to allow their young teen daughters to be dropped off in the area without the supervision of an adult ….