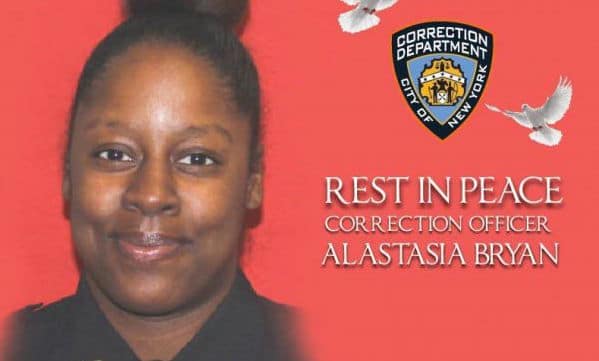 Alastasia Bryan boyfriend: Did an ex put out a contract on his ex after breaking up? Cops are seeking a man with a history of assault against the victim.
Cops have told they are now seeking a contract killer who they believe was hired to take down 25 year old corrections officer, Alastair Bryan.
The call comes after the rookie corrections officer was fatally shot after a gunman got out of their vehicle and pumped 5 gunshots into the woman as she sat in her parked Infinity along E 73rd st near Avenue L in Bergen Beach, Brooklyn, circa 9.15pm Sunday evening.
Retrieved security video shows what appears to be a gunman reverse his 1990s Toyota or Honda into a parking spot and then lay in wait for about an hour until ambushing Bryan when she got into her car, according to police sources.
From there the shooter walked up to Bryan's driver side window where he fired at the targeted woman. She died at the scene.
Who murdered Alastasia Bryan? Off duty corrections officer gunned down in hit job.
Investigators initially suspected an inmate at Rikers Island put a hit out on her, though correction officials told cops Bryan had little to no contact with prisoners.
Bryan, who was still in training and did not even carry a handgun, and was considered a 'rising star,' was posted in the Anna M. Kross Center at the jail complex where she did administrative work. Sources said she didn't have enough contact with inmates to have made any enemies inside.
Please keep the family and friends of Correctional Officer Alastasia Bryan in your thoughts and prayers. https://t.co/L7J1gGUTxX

— CPOFoundation (@CPOFoundation) December 5, 2016
That said according to the nydailynews, cops are targeting Alastasia Bryan's ex boyfriend who'd been arrested 31 times including twice in May 2015 for domestic incidents involving Bryan.
In one incident, on May 24, 2015, while Bryan was working security at Kingsborough Community College, her ex-boyfriend called and threatened to run her off the road when she clocked out.
Upon the woman pulling out of the campus, Alastasia Bryan's boyfriend charged her.
Two days later, cops say the man called her again, saying he would 'shoot up her house and have people watch her home,' with the man saying he would kill her if she told anyone.
After the two May incidents the college boosted security around campus as a precaution.
Bryan's mother also told police her daughter and the ex-boyfriend had recently broken up and that the man was furious over her request that he return a BMW she leased for him in her name.
To date, despite efforts to question the ex boyfriend, the man hasn't turned up.
Told NYPD Chief of Detectives Robert Boyce: 'We have a long way to go on this investigation,'
Adding: 'We have some very strong leads.'
'On behalf of 8.5M NYers, deepest condolences to Alastasia Bryan's family, friends and the Department of Corrections,' Mayor de Blasio tweeted Monday.
In the interim a report via pix11 tells of the Correction Officers Benevolent Association issuing a $50,000 reward for information leading to the arrest and conviction of the shooter who gunned down the New York City correction officer.
Anyone with information is asked to call CrimeStoppers at (800) 577-TIPS.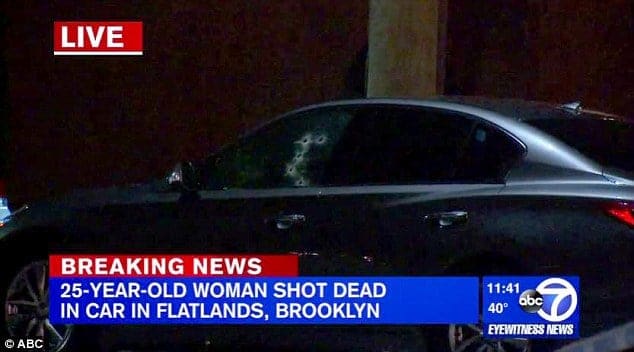 On behalf of 8.5M NYers, deepest condolences to Alastasia Bryan's family, friends and the Department of Corrections. @CorrectionNYC https://t.co/Hqj2gQsPEl

— Bill de Blasio (@NYCMayor) December 5, 2016
quick clip of aunt Mintha Bryan speaking bout murder of @COBA cop Alastasia Bryan – see vid https://t.co/i38nHAMR0T pic.twitter.com/vtgTgzCRac

— Todd Maisel (@ToddMaisel) December 5, 2016
.@nypd63pct seeking perp in shoot of @COBA Alastasia Bryan rookie, aunt Mintha speaks -see vid https://t.co/OGKxFdlZnx pic.twitter.com/WCTY13uaTW

— Todd Maisel (@ToddMaisel) December 5, 2016