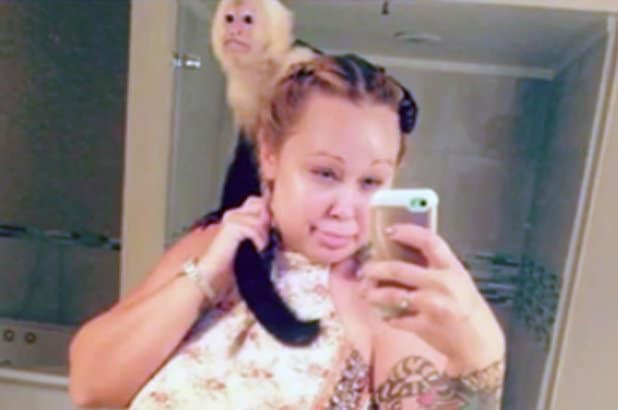 Trisha Meyer a Texas mother is arrested on charges of child endangerment and theft after hoarding a coterie of exotic animals at her Houston, Texas home.
Trisha Meyer a 34 year old Texas mother has been charged with child endangerment after she was discovered harboring three tigers, eight monkeys and a skunk at her Houston home.
The 'animal lover' first came to the attention of police in August after a California man claimed he paid Meyer $3000 for a Savannah kitten which was never delivered, Click2Houston reports.
The claim of false pretense according to users on twitter were one of many with users saying she had also 'scammed' them.
When cops arrived at Meyer's Houston home to investigate on September 26 they found four tigers, a cougar, a skunk and a fox roaming freely inside the home where Meyer's 14-year-old daughter also lived.
Meyer had permits for the tigers, but not the other animals, police said.
The animals were found in Meyer's kitchen, living room and a bedroom, and her daughter was apparently petting some of the potentially deadly animals.
'The lady is a crook and a bad mother', Trisha Meyer, charged with endangering child – Kept… https://t.co/imyvkOwgnA pic.twitter.com/EhoDxJZxEa

— Ksley8 (@KonnieMoments1) November 14, 2016
She reportedly told officers that 'the tigers at their current ages were dangerous and could kill'.
Police said that Meyer told them she also had monkeys (naturally), including one which had previously attacked someone.
Meyer had permission to keep the tigers but not the skunk and fox.
During the police visit, Trisha Meyer told cops that the animals walked around freely in her home and that she only locked up the tigers when she went out.
Not necessarily understood is how Meyer was able to gather all the animals and how she managed to physically retain the animals unchecked.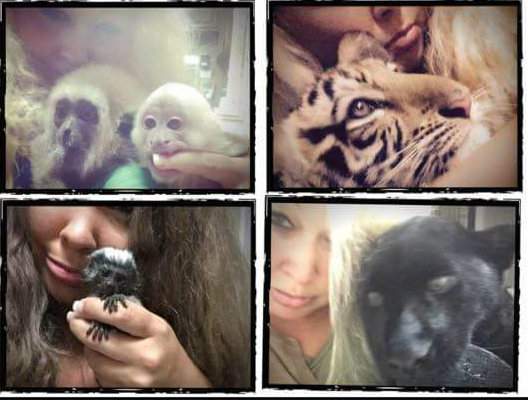 Soon after cops had visited the woman's apartment, a report via insideedition told of Meyer being kicked out of her Houston home after cops contacted her landlord about her exotic animals.
Officials said the mother then fled to Las Vegas and then to nearby Pahrump in Nye County where cops finally tracked her down.
Meyer was arrested in Nevada last week and is currently being held on a US$10,000 bond pending her extradition back to Texas where along with child endangerment charges she faces charges of theft.
Trisha Meyer's arrest comes with reports of the mother purportedly connected with scams in several states, including Texas, California and Colorado along with a felony arrest warrant out of Harris County, Texas.
Noted a former landlord by the name of Andrew on an online complaint forum: 'She trashed my house in excess of $200, 000 in damages and another $133, 000 in theft. She had 104 dogs living inside my house, that is not a misprint…104. There was dog poop everywhere. I evicted her and when she left she robbed my house and two storage units, then she set the house on fire as she was leaving. I was fortunate to drive up just in time to save my house from total destruction.'
The animals have since been taken into protective custody by various animal shelters and wildlife facilities.