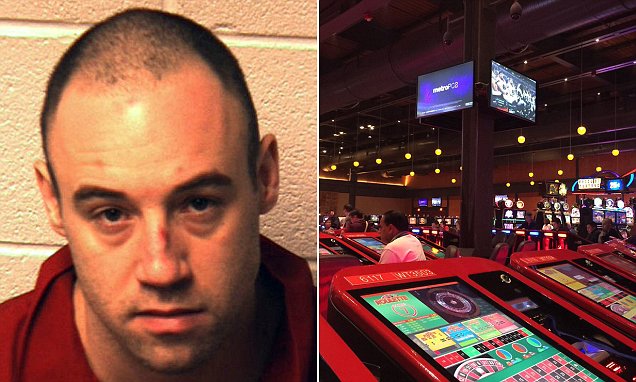 Nicholas Mullins a man who spent time behind bars has sued a casino for giving him too many free drinks after an assault of his girlfriend let to his 'life being ruined.'
Nicholas Mullins a 31 year old Lock Haven, Pennsylvania man who served time for severely beating his girlfriend has launched a lawsuit against a casino because the free alcohol they gave him 'enabled' his vicious attack.
The man's lawsuit comes after the Navy veteran was convicted of assault in 2012 after savagely beating his partner Caitlin Shields, with the beating being so visceral the man was initially charged with attempted murder after Shield came an inch from dying after her brain swelled.
The beating notes a report via the Allentown Morning Call took place in their hotel room at the Sands Casino Resort in Bethlehem — and the 31-year-old now blames the company for giving him at least 15 free drinks.
Mullins said after his arrest that he was defending himself from Shields, who attacked him after he lost $800, though her wounds suggested she was punched repeatedly by her boyfriend.
Mullins also tried to suffocate Shields with a pillow, she said.
Mullins served four years in prison for the attack — but reckons his alcoholism conviction has prevented him from getting a job since his January release. 
To boot, Nicholas Mullin's attorney contends that his client's life has been ruined, and is filing suit under Dram Shop Act provisions that businesses can be held liable for serving alcohol to visibly intoxicated patrons.
Which is to wonder at what point do business become accountable for the behavior of their drunk clients and should a vendor be culpable for the drinking behavior of an adult? Never mind the idea that once in a while a drinker can always exercise self control their right and decline the next free drink that comes their way, knowing full well that the good times sometimes and often come with consequences….
But then again perhaps in Nicholas Mullins' world, it's never his fault but others….?
In pressing their claim, Mullin's lawyer, Stuart Niemtzow says Sands should have known that his client previously drank to the point of alcohol poisoning at another casino.
Do you suppose? Is that common knowledge that every casino ought to have of their customers? Or is it just common sense juicing up the patrons is bound to make sure they keep spending all their money, never mind nearly beating the occasional person halfway to death?
Responding to the suit in court on Tuesday, Sands lawyer Kevin Ruane said that only Mullins was to blame for the assault, which occurred 'well after' he had finished drinking.
Isn't it time you got your hands on a fast talking lawyer too ….?