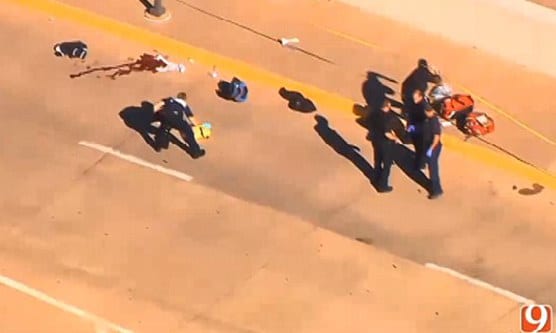 Was the shooting death of Michael Winchester Southwest Airlines employee the result of premeditated attack at the hands of a former disgruntled attack? 
Authorities are grappling to understand what led to an as of yet publicly identified man to go out on a shooting spree Tuesday at Oklahoma City at Will Rogers World Airport.
Shot and killed at the hands of the shooter was 52 year old man Michael Winchester, an employee with Southwest Airlines.
The airliner employee's death came after incurring injuries in the shooting which occurred circa 12.50 pm told Oklahoma City Police Capt. Paco Balderrama.
An earlier report via News 9 told of the victim lying on the airport tarmac before being rushed to hospital where he later died.
Video from a television station helicopter earlier showed what appeared to be a pool of blood near the bottom of a ramp leading from the airport's departure area. Two ambulances and a firetruck stood by.
Tragically it was revealed Michael Winchester is the father of Kansas City Chiefs' player James Winchester who is currently a long snapper on the NFL team and used to be a former punter for the University of Oklahoma. 
A Tuesday evening press conference told of the suspect's body being found with a self-inflicted gunshot wound in the back of a red pickup truck that was parked inside of a parking garage at the airport.
#BREAKING : One person is believed to have been shot at Will Rogers World Airport. https://t.co/XX9JAqvbpw #KFORalert pic.twitter.com/9dNNkf9XcN

— KFOR (@kfor) November 15, 2016
To date, the suspect has only been identified as a white male with police saying the incident appears to be premeditated.    
While police declined to say what motivated the shooter,  KFOR reporter Lance West said the suspect may have been 'a former disgruntled employee'.
Why or how Michael Winchester came to be the subject of a premeditated hit has yet to be necessarily understood.
The shooting resulted in the airport being placed on lock-down, as authorities investigated the scene for much of the afternoon and evening noted a report via KOCO.
Authorities gave the all-clear to have the airport re-open and slowly resume operations at 7:33pm (ET).
Early reports indicated there might have been a second victim, however authorities have since ruled that out as a possibility.   
My sources tell me police discovered a "sniper's nest" in the parking garage at Will Rogers Airport. #BREAKING @kfor

— Lance West (@lancewest) November 15, 2016
Of note, speculation has led to social media users saying police investigators discovered a 'sniper's nest' in the airport parking garage. The Oklahoma Police Department has yet to confirm that information.  
Responding to the death of their employee, Southwest Airlines released a statement commiserating the fallen man.
Told a press release: 'The Southwest Airlines Family is deeply saddened by the passing of our Southwest Family Member, and we extend our heartfelt sympathies and support to his family and Southwest Co-workers at this time.'
Local reports told of the victim whilst in college having been a former punter for the University of Oklahoma and was on the 1985 national championship team.
Winchester is a father to six children, three of whom played sports his alma mater.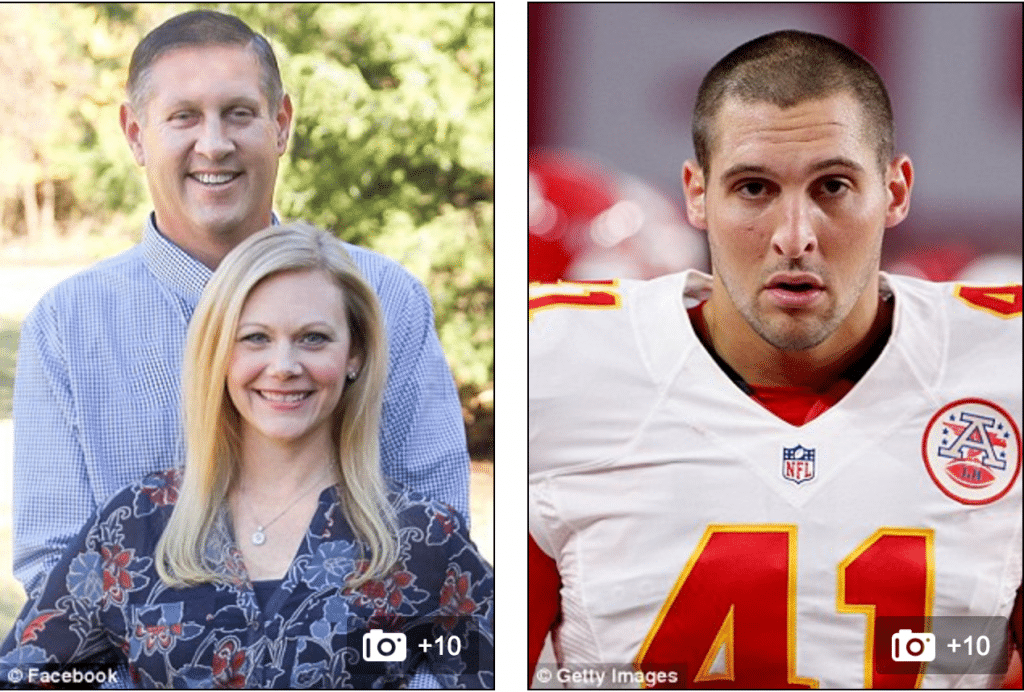 His son's NFL team sent a tweet Tuesday afternoon offering their 'love and support' to the family over the tragic incident.
'Our love and support is with James and the entire Winchester family. Our heartfelt thoughts & prayers are with you,' the Chiefs posted. 
Airport spokeswoman Karen Carney said Southwest, American, Delta, United and Alaska airlines each have terminals at the airport on the city's southwest side, and 7,000 to 8,000 travelers pass through the facility daily. 
All airlines at Will Rogers World Airport have confirmed that they will be waiving change fees for travelers rebooking flights this evening.