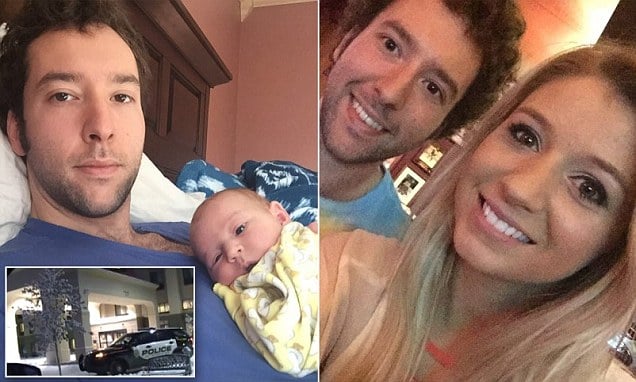 What led to McKay Hutton a Fairbanks, Alaska man killing his mother, wife and their eight week old baby daughter at a local hotel room? Facebook posts point clues.
McKay Hutton a 22 year old Fairbanks, Alaska man has been eyed as the initiator in a murder suicide shooting that claimed the lives of four people on Friday including the shooter's.
In a Facebook post on Saturday, the Fairbanks Police Department said they believed Hutton shot his mother, 54-year-old Linda Hutton, 22-year-old wife, Emily McDonald and their 8-week-old baby, Teagan Hutton, before then turning the gun on himself.
Attending police officers told of finding a 'disturbing scene' upon being called at the Hampton Inn, a local hotel where the murder suicide took place, Friday afternoon noted the Associated Press. 
At the time police had been summonsed in relation to a 'suspicious circumstance,' where they found an adult male crying in the hallway on the second floor before discovering the four dead bodies, all of which were inflicted by gunshot wounds.
A report via the Alaska Dispatch News told of the crying male being a relative of the deceased, who hadn't been present during the shooting and not considered a suspect.
Authorities declined to release the make or the model of the gun used in the shooting while questions revolved as to what brought the family members to the hotel room in the first place?
Authorities also said they hadn't established a motive in the case. Nevertheless a regard of recent social media posts revealed intriguing dynamics at play, including McKay Hutton's affinity for guns and in the second amendment. 
#RWNJ Murder Suicide including 8 week old daughter. #Trump supporters #GunLovers #McKayHutton pic.twitter.com/uhOOfzcAEO

— Justin (@justapumper) November 26, 2016
According to their Facebook pages, McDonald and McKay were married and recently welcomed a child, Teagan. The pair also shared several photos of themselves with a slightly older male child, since revealed to be a child McDonald had in a previous relationship. 
According to Mason Jefferies a school buddy of McKay Hutton, the father took in McDonald's son from a previous relationship and treated him as his own son.
To date police have not told where that child was at the time of the shooting and whether any possible tension surrounding the boy may have led to Hutton igniting?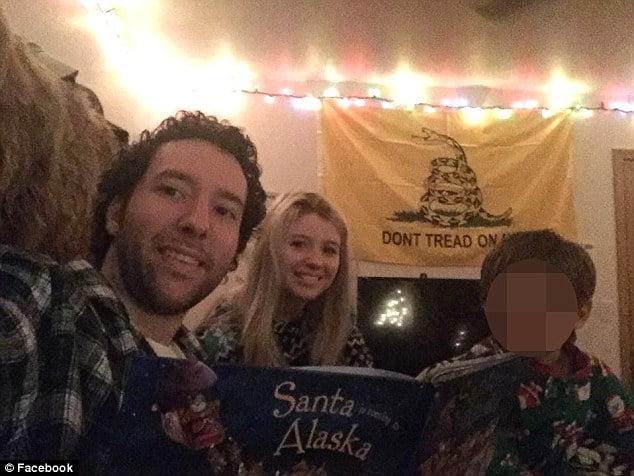 While underlying tensions may have persisted in the couple's relationship, McKay Hutton appeared to maintain constant adulation of his wife, including one post on what appeared to be their anniversary in 2015, where the husband gushed about his wife.
'Baby I'm lucky to find you and Tj, the most important part of my life,' he wrote. 'I can't wait for many more years. I've never found I person ever in my life that I could be my complete self with and now I will never be complete without you two by my side, thank you for being in my life everyday through it all. I truly understand what true love is thanks to you, thank you we are the few of the lucky ones.'
Along with proclamations of love for his wife, Hutton also shared a photo of himself in front of a 'Don't Tread on Me' flag.
Reiterated school friend Mason Jefferies: 'They loved each other, they loved their country, and I don't see a reason why they would have any complications in their relationship, but everybody has things that go on in their life that people don't understand, so people are quick to judge, and they should take a sec to realize this tragic situation and give prayers for that.'
All four autopsies are scheduled to take place on Monday in Anchorage, Alaska.
Update: Police say McKay Hutton, 22, shot three family members in a Fairbanks hotel room then took his own life https://t.co/uqwCvqFVwU

— Alaska Dispatch News (@adndotcom) November 27, 2016
McKay Hutton's wife Emily McDonald pictures,found dead in an Alaska hotel room https://t.co/DsRe7w9TDG pic.twitter.com/w0kC4C8Zlq

— infowe (@infowe) November 27, 2016