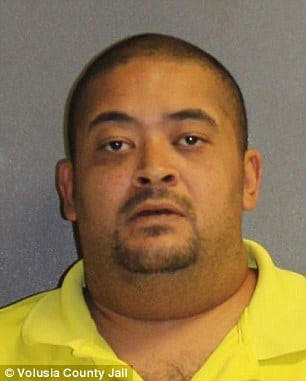 What led to Edwin Daugherty a Florida man repeatedly stabbing his parents during a Thanksgiving Day gathering? Since charged with attempted murder.
Edwin Daughtery has been denied bond after the 24 year old Port Orange, Florida man repeatedly stabbed his parents during a Thanksgiving Day argument that became physical.
Pursuant to his arrest, the son reports News 6 was charged with two counts on attempted murder.
Anyone for another round of delicious turkey? Extra cranberry sauce you said?
Cops said they found Daugherty walking down the street when they responded to a 911 call in Port Orange. 
It's unknown what prompted the argument but police deputies said they believe Edwin Daugherty at some point became agitated with his mother, Patsy Daugherty, 72.
It was from there that the son placed his mother in a headlock (naturally).
Two scoops of yam, maybe some mash potato and if you insist another helping of stuffing.
As his 76-year-old father, Thomas Daugherty, tried to intervene, the son placed the elder man in a headlock before pushing him to the ground. 
From there, the son preceded to stab his father multiple times in the chest with a steak knife that had a 4-inch blade as visiting friends and family visiting for the holiday watched on. 
A report via wftv noted mother, Patsy Daugherty also being stabbed after she attempted to help her husband.
Deputies say this is the man who stabbed his parents in Port Orange today at a Thanksgiving gathering with friends and family. @WFTV pic.twitter.com/AcOb0GKAt5

— Lauren Seabrook (@LSeabrookWFTV) November 24, 2016
.@VolusiaSheriff says a son stabbed his parents in Port Orange. The son is in custody. Parents are in their 70s & are badly hurt

— Mike Springer WFTV (@mspringerwftv) November 24, 2016
Judge decides to keep Daugherty in jail on no bond. State attorney says he has an aggravated battery in his criminal history. @WFTV pic.twitter.com/lIH9Ft0Mpf

— Lauren Seabrook (@LSeabrookWFTV) November 25, 2016
Taken to Halifax Health Medical Center, the assailant's father was listed in serious-to-critical condition, while Patsy Daugherty was listed in serious condition.
Witnesses told the Sheriff's Office that they saw Edwin Daugherty stab his parents before leaving the home.
Reflected Anne Steele, a neighbor of Daugherty's parents: 'Don't you think holidays sometimes bring out the worst in people and perhaps whatever the argument was, if there was an argument, just got out of hand.'
Deputies told of finding a knife in some bushes about a block from the house.
Edwin Daugherty was arrested and taken to the Volusia County Branch Jail.
On Friday, a judge ruled that he would remain in jail without bail.
'I guess that will be the last Thanksgiving meal I'll ever have to endure with the family again…'.