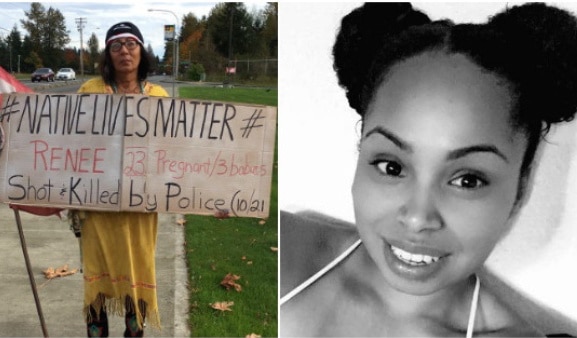 Renee Davis shooting death. Auburn, Washington police have justified the shooting death of a 5 month pregnant mother during a wellness check.
Auburn, Washington police have defended their decision to shoot a pregnant mother of three after saying the woman had a gun.
Renee Davis, a native Indian woman's death came Friday night after two police officers arrived at the woman's home at the Muckleshoot Indian reservation to check on her.
After knocking on the door several times, cops told of the mother failing to respond.
Upon entering the woman's home, King's County Sheriff's Office deputies found Davis, 23 armed with two young children.
What follows next remains the subject of controversy, as officers then fired at the woman, as family members have since demanded an investigation into Renee Davis' shooting death.
Not necessarily understood is if the mother threatened to shoot police or harm her children? Inferences have also been made that the mother was suicidal.
Davis had a history of depression and had texted a friend Friday night saying she wasn't feeling well, her foster sister Danielle Bargala told a report via the newstribune 
That friend called police who sent two police officers to check on the beleaguered woman around 6.30 pm.
While Davis was shot dead, her two infant children, aged 2 and 3 were not injured.
Offered Sergeant Cindi West via Q13 Fox 'I don't know what led up to the shooting.'
The two officers, who have been in the force for eight and three years, both opened fire. They are being questioned and have been placed on paid leave.
King County Sheriff Dept: initial call said suicidal woman with rifle and 2 young kids in home in Auburn. #KomoNews pic.twitter.com/fvIVZZgRVO

— Suzanne Phan (@SuzannePhan) October 22, 2016
Davis, a single mother of Native American heritage, also had a five-year-old, who was staying at a family friend's home that night. 
Offered Bargala: 'She was such a soft person.'
Davis owned a hunting rifle and had recently killed a deer and an elk – the meat of which Bargala still has in her freezer. 
Bargala did not know whether her sister possessed a handgun. 
Davis recently worked as a preschool teacher's aide for children from low-income families. According to her Facebook page, Renee Davis worked at the Muckleshoot Child Development Center.
Relatives have taken in her children while the family figures out who will take care of them. 
Responding to the tragedy, The Muckleshoot Early Learning Academy posted on Facebook the following statement:
'Our MELA family is deeply saddened by the loss of our teammate, MELA parent, and friend, Renee Davis. She was an amazing addition to our team and this loss hurts us immeasurably. To ensure consistency for our MELA students, we will be open tomorrow with grief counselors available for staff and parents starting at 8:00 a.m.'
'Prayers of strength, love, and comfort to all of those affected by this loss.'
A Seattle lawyer representing a member of another local tribe who was killed by police says Davis' death is an example of the issues surrounding police interactions with people struggling with mental illness.
Offered local Indian native woman, Hunter Vaiese via heavy: 'My community is confused. We have our own police department in which we know our deputies personally. I never thought this would happen so close to home,'
'She needed help, but she got bullets. It doesn't make sense to me.'
The names of the deputies involved in the shooting have not yet been released.
In the interim, #ReneeDavis and #NativeLivesMatter have become rising hashtags on social media, as locals demand answers into the shooting death of Renee Davis.
Our approach to #mentalhealth on ALL FRONTS must be examined. We must embrace those who need help, certainly NOT shoot them. #reneedavis

— Michele (@singmichele) October 23, 2016
We really need police to learn how to deal with the mentally ill WITHOUT harming or killing them. #ReneeDavis #SayHerName

— TC Ivy (@BienSur_JeTaime) October 23, 2016