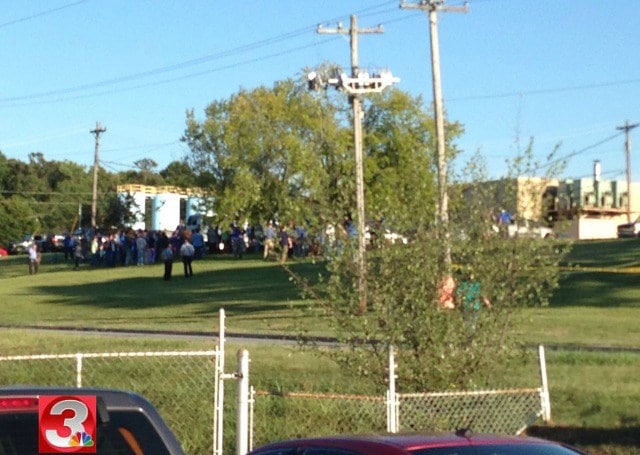 What led to Ricky Swafford a longtime Thomas and Betts factory worker targeting two fellow supervisors? Were there other instances of worker disgruntlement?
Ricky Swafford a 45 year old Tennessee factory has died after shooting dead two of his supervisors before turing the gun on himself Thursday afternoon.
The shooting came after the longtime employee of Thomas & Betts Corp in Athens became upset during a plant meeting, leading to the man storming out only to return soon after and blast James Zotter, 44 and Sandra Cooley, 68 dead.
Athens is roughly 60 miles northeast of Chattanooga in the foothills near the Great Smoky Mountains.
A report via wbir told of Swafford returning to the steel fabrication  plant with a semi automatic pistol circa 4.15pm where he gunned down the two supervisors. As responding officers rushed to the plant, Ricky Swafford walked into a bathroom where he in turn shot himself dead.
Offered Athens Police Chief Charles Ziegler who had several close friends working at the plant: 'Everyone is in shock, I just can't believe this happened.'
While Sheriff Joe Guy reflected: 'I don't think you ever want to think this will occur in your community, but unfortunately this is what you train to whether you want to or not.'
— Thomas & Betts (@TNBCorporate) September 23, 2016
By Thursday evening, Thomas & Betts issued a statement confirming the death of its three employees.
'Our thoughts and prayers are with the victims' families during this difficult time,' the company said. 'We will have grief counselors available to all of our employees at the facility.'
Initial social media reports indicated Swafford had held other workers hostage, but police would not immediately confirm such accounts.
By Thursday evening, Tennessee Bureau of Investigation took over the scene.
Reiterated the Athens Police Chief: 'The scene is still an active crime scene,'
'The investigators have not been inside this manufacturing plant at this point.'
At the time of the shooting, authorities had placed a nearby high school on lockdown, despite no threats against the school being reported. 
At present, investigators have declined to speculate as to what motivated Ricky Swafford targeting his fellow co workers, whether there had been previous outbursts or ongoing tensions at the plant and if so, why?
Employees say Ricky Swafford "must have snapped." There were no warning signs to his anger before he killed his 2 supervisors. @WRCB

— Kelly McCarthy (@KellyWRCB) September 23, 2016
Forensic Scientists with the @TBInvestigation Violent Crimes Response Team arrived at Thomas & Betts. pic.twitter.com/P1Vl5vbbov

— TBI (@TBInvestigation) September 23, 2016