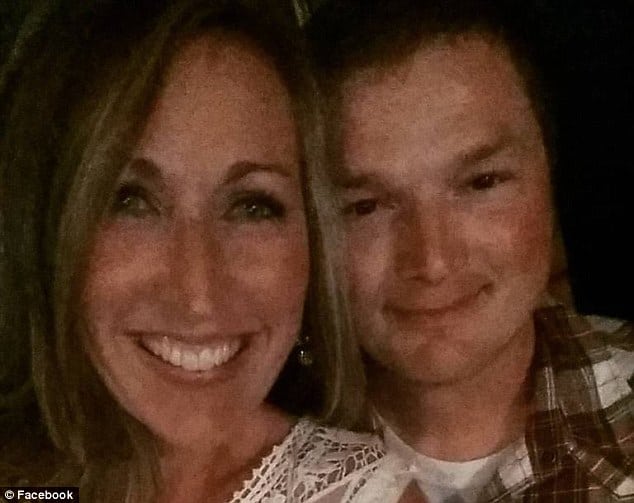 Jesse Holton shoots parents dead. How an Alabama teen son with behavior problems and dependency on drugs shot Mike and April Holton dead.
Jesse Holton a 17 year old Eclectic, Alabama teenager faces murder charges after shooting dead his parents dead after disciplining him for throwing a party in their absence.
Appearing in court, Jesse Madison Holton, was charged as an adult with one count of first degree murder for the murder of his father, Mile Holton, a former mayor of the town who died in their home Sunday night from a gunshot wound to the head.
Police told of Holton also facing an additional charge after his mother suffered a head wound and later died in hospital on Monday.
The teen's arrest came after investigators said the evidence didn't support the son's claim that his father shot his wife before turning the gun on himself.
A report via alabamanews, quoting Elmore County Sheriff Bill Franklin, told of Mike and April, both 37, returning home Sunday to find evidence of a marijuana pipe in their home, which had been trashed from a party the night before. 
The discovery led to the former authority figure restraining his son with handcuffs and calling the sheriff's department around 4pm.
'They obviously were trying to discipline their son, and they had had problems with him in the past,' Franklin said.  
The former mayor told detectives he wanted to send his son to juvenile court for drug use and trashing the home.
About 20 minutes later, Jesse appeared at his neighbor's house saying his parents were fighting.
The neighbor called police, and the same deputy returned to the Holtons' home to find Mike Holton dead in the master bedroom, where a 9mm semi-automatic handgun was recovered.
April Holton, who was near death on the bedroom floor, was put on life-support in the hospital where she died on Monday evening.
Responding to the son's claims that the father had killed his own wife and then his own wife, Franklin said the physical evidence discounted such claims.
'With the angles of the wounds and the entry and exit points of the wounds, there is just no way Mike Holton could have shot himself,' Franklin told the Montgomery Advertiser.
'April suffered defensive wounds to her hands, where it appeared she threw her hands up as if shield herself.
'The bullet went through one of her fingers and then into her head. So there was no way April could have shot herself either. The 17-year-old's story just didn't add up,' Franklin said. 
The son repeatedly denied shooting either of his parents, telling police he was handcuffed in the back.
Offered Franklin: 'Obviously we feel he slipped out of the handcuffs, or got the key somehow to remove the handcuffs, before he did indeed shoot his mother and father.'   
'We asked him if anyone else had been at the house and he said "No,"'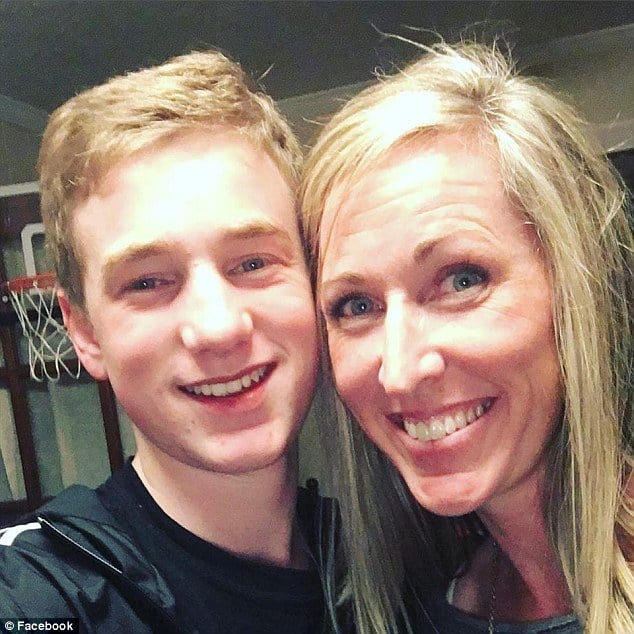 Jesse Holton, a senior at Elmore County High School, told detectives becoming 'easily agitated' if he didn't have access to marijuana and Adderall.
Witnesses told investigators the teen has anger problems.
Reiterated Franklin: 'We are dealing with young man with a history of emotional trouble,' 
'He hasn't shown any emotion at all. Most people would be bawling their eyes out if their parents had been killed,' 
The couple's two younger children are with relatives, said Franklin.
It is unclear whether Jesse Holton has an attorney as he remains in Elmore County Jail on $150,000 bond.