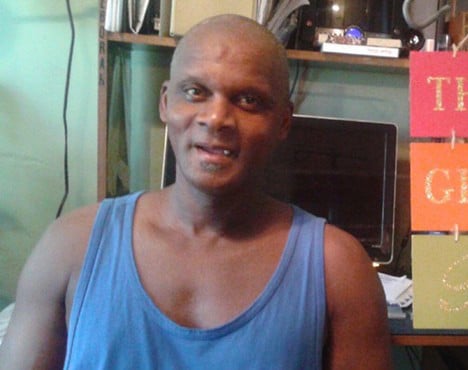 Was the shooting death of Gregory Frazier a black Pompano Beach man at the hands of Broward County Sheriff's racially motivated?
Gregory Frazier a 52 year old black Florida man has died after police opened fire on the man after a domestic disturbance found the man sitting in the backyard eating chicken with a pocket knife.
A report via the Broward Palm Beach New Times tells of Frazier's sister calling Broward  County Sheriff Deputies Friday night after her brother had been arguing with another family member.
By the time police arrived, cops found Gregory Frazier sitting in the backyard of his Pompano Beach home eating chicken with a small Swiss Army style pocket knife in his hand.
Upon being approached by two officers who told Frazier to get on the ground, the man responded, 'leave me alone' according to miamicbslocal.
What happened next remains the focus on an investigation after both deputies opened fire on Frazier, mortally striking him.
Not necessarily understood is if Gregory Frazier had confronted the officers with the knife, or whether the officers may have simply felt their lives were in imminent danger. How they may have come to such an understanding has yet to be explained.
Neighbors who were present at the time of the shooting said Gregory Frazier had been shot no less than six times in the back. This despite conventional wisdom which suggests a man who is a potential danger would be shot in the front of his body not the other way round….
The killing left the dead man's sister, Deborah Frazier reeling, unable to understand why police had to kill her brother.
'Yes, he had a pocket knife. A rusty pocket knife,'  the dead man's sister, Deborah Frazier, told the Miami Herald. 'I believe those three cops could have sat down, talked to him, used Tasers, anything, to constrain him.'
Added the sister: 'My brother was a little upset. And I was a little scared. So I called the police, you know, hoping that they would talk to my brother and constrain him. I didn't think that the altercation would cause death.'
Neighbors and community leaders alleged a racial bias in the shooting because Frazier was black and the officers involved are white.
Reiterated Sarahca Peterson, a friend of the Frazier family and a community activist, 'It's too much.'
Adding: 'There has to be change. They need to face criminal charges. If I kill someone, I'm going to jail. They shouldn't be out there on the streets.'
Florida Department of Corrections records show Frazier had served several brief stints in prison. His most recent was for cocaine possession — he was released in 2004.
Authorities have since begun an internal probe while the deputies involved have been placed on administrative leave.