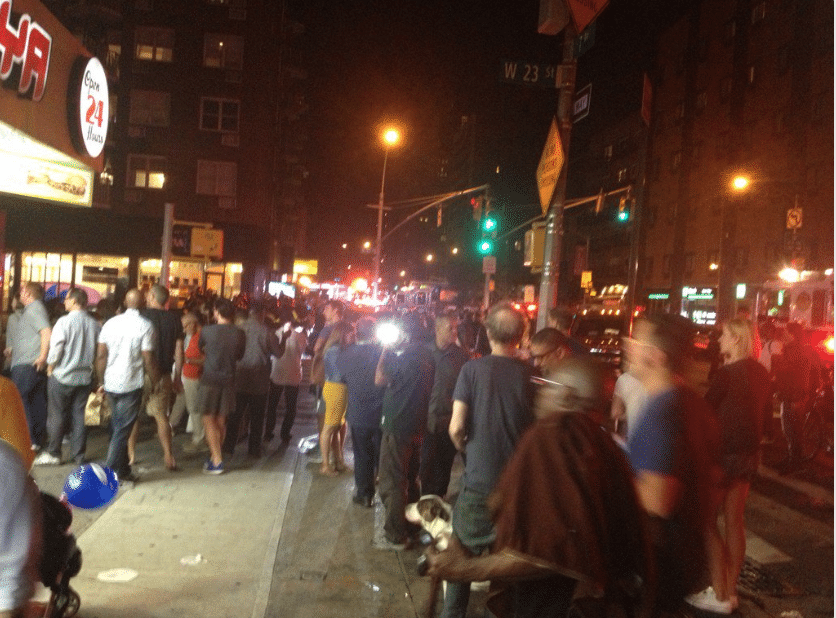 Chelsea Manhattan explosion leaves 29 persons and counting injured. What caused the blast as NYC authorities rush to investigate Saturday night mayhem.
An explosion has rocked Manhattan, NYC's Chelsea district Saturday evening just on 8.30 pm after building inhabitants and street dwellers were caught up on a blast at 135 West 23rd st, between 6th and 7th avenues.
To date the FDNY has confirmed they are on the scene of what has now been described as a 'definite' explosion.
'Expect more' Chelsea bomb Explosion 911 caller warning
Update: Police and FDNY units also responded to reports of a possible second explosive device found on 27th St., between 6th and 7th Aves., just before 11 p.m., officials said.
The second device was described as a pressure cooker inside a white garbage bag, sources said. It was removed from the van by the NYPD Bomb Squad.
A report via the nypost told of a dumpster exploding and blowing out the lower windows of the a 14 story residence of the blind, the Associated Blind Housing. The facility provides housing, training and other services for the blind.
According to police radio transmissions, the people inside the facility were told to remain inside as police began their investigation.
Two buildings to the east of the facility were being evacuated. No fires were reported, but multiple emergency vehicles, including ambulances, rushed to the scene.
Sources say 29 people have suffered minor injuries, with the injured being transported to area hospitals. Those afflicted were not believed to have life threatening injuries.
BREAKING: VIDEO of #Chelsea explosion going viral. Looks like a bomb to me, what do you think? pic.twitter.com/SuL6x0zazZ

— ALWAYS TRUMP! (@Always_Trump) September 18, 2016
LIVE on #Periscope: #NYCExplosion https://t.co/A9oe9JpyWX

— Avidor.Law (@JonAvidor) September 18, 2016
?UPDATE reports that explosion in #Chelsea originated from this dumpster

I smell Islam! #NYCExplosion pic.twitter.com/GcDnXK0gLA

— Tennessee GOP (@TEN_GOP) September 18, 2016
Told witness Jakir Aussin, a nearby Dunkin Donuts worker: 'It was a quiet night, and then i heard this deafening boom,'
'My first thought was, 'Oh god, a bomb,' so I got down on the floor."
He added 'I looked outside and it's all broken glass, car alarms going off — I still don't know what happened.'
A report via abc7 describes two cars on 23rd and 6th having their back windows blown out. An 8-year-old who was in the back seat was injured.
While a witness via the nydailynews  said they felt and heard the blast while entering the 23rd Street subway station with his family.
Upon turing about the witness, Ryan McMillen said he saw the back of an SUV 'totally blown out.'
Not immediately understood is what caused the dumpster to explode and whether it may connected to an act of terrorism or the result of gases or power centers near the area mis-converging and exploding?
The explosion if proved to be an act of terrorism will almost certainly serve to ignite heightened concerns with city dwellers, coming off the back of an earlier explosion in the day in New Jersey during a race. No injuries were reported in that incident.
That said, Mayor Bill De Blasio would come out late Saturday evening to say he believed the explosion to be an 'intentional' act. And if so, why, and who was behind the trash can explosion?
FBI on scene #manhattan #explosion #chelsea pic.twitter.com/jndHkXOBpB

— Avidor.Law (@JonAvidor) September 18, 2016
Activity outside building, hearing it was in a dumpster, unconfirmed. #nyc#explosion#chelsea#manhattanpic.twitter.com/5Eb2ENANlQ

— Avidor.Law (@JonAvidor) September 18, 2016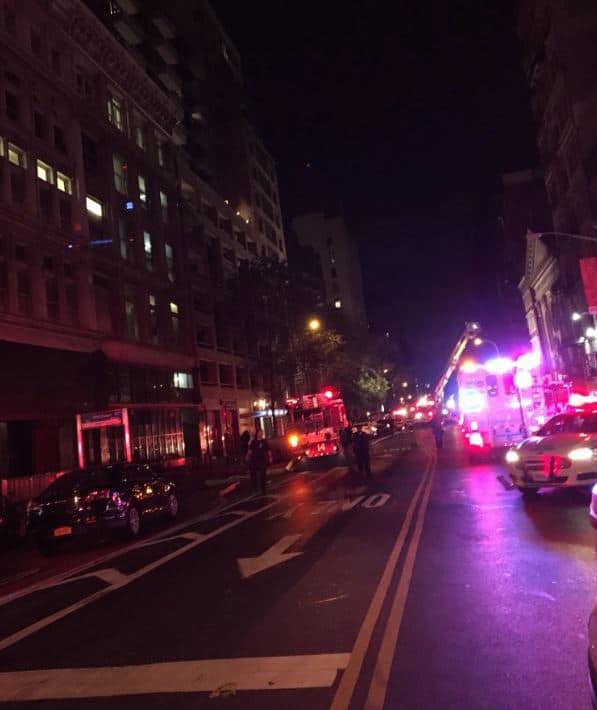 A raw video of the situation in #Chelsea just after the #explosion. I just run outside the street of 23td & 7th. pic.twitter.com/iYEq7EKteP

— Danilo Gabrielli (@DaniloGabrielli) September 18, 2016
I have not idea of what just happened . A huge explosion next to my building in #Chelsea #nyc #manhattan #explosion pic.twitter.com/p71SJDR10Q

— Danilo Gabrielli (@DaniloGabrielli) September 18, 2016