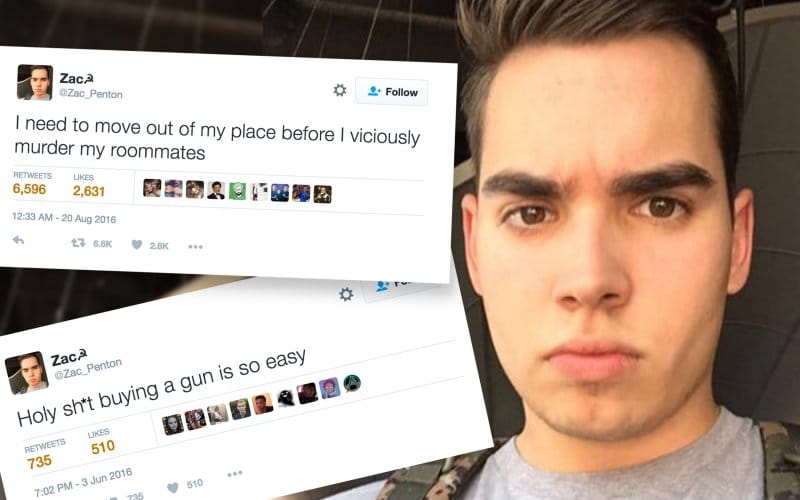 Zachary Penton murders his roommate Daniel Garofalo. An unhinged individual faces upgraded murder charges as police sift through tweets in premeditated murder.
Zachary Penton a 21 year old Gilbert, Arizona man has been charged with murder after complaining about his roommates on twitter hours before. 
The threats to kill Daniel Garofalo, one of his flatmates came over the weekend with Penton posting on August 20th, 'I need to move out of my place before I viciously murder my roommates.'
According to a report via ABC 15 Arizona, an argument had escalated prompting Penton to shoot dead Garofalo, 41, Sunday morning local time. Upon killing the man, a relieved Penton called police, confessing to murdering his roommate.
I need to move out of my place before I viciously murder my roommates

— Zac☭ (@Zac_Penton) August 20, 2016
Hauntingly, the tweet still remains on Penton's Twitter page and at the time of writing has been shared more than 32,000 times, at time of publishing.
Most disturbingly, previous tweets reveal Penton's ongoing desire to obtain a gun along with his apparent mental instability.
In 2013 he tweeted: 'I wanna go shooting maaan … I need to go buy a gun,' followed months later by a tweet simply saying 'Someone sell me a gun.'
In February 2014,  Zachary Penton posted a tweet saying 'Time to buy a gun' with Penton once again as recently in June tweeting: 'Holy shit buying a gun is so easy.'
Other tweets which foreshadowed Penton's desire to commit murder, included Penton casually asking, 'Ever wanted to kill someone?'
Two days later he followed up with 'srs (serious) let's go kill someone.'
Anyone wanna shoot todayyyyy

— Zac☭ (@Zac_Penton) August 12, 2016
Holy shit buying a gun is so easy

— Zac☭ (@Zac_Penton) June 3, 2016
My friends would rather go raiding on World of Warcraft than go shooting with me smh.

— Zac☭ (@Zac_Penton) June 14, 2016
According to earlier tweets posted by Penton before the fatal shooting, his initial anger that prompted the foreboding tweet and subsequent shooting hours later stemmed from frustration over his drunken roommates getting in an argument after one of them was stung by a bee.
Penton had also chronicled his difficulty in finding a roommate, consistently posting that he was in need of a new roommate.
A report via the New York Daily News described police sifting through Penton's twitter rants and possibly now raising charges against him from second degree to first degree murder.
While social media pundits have taken to morbidly retweeting Zachary Penton's tweets, a woman claiming to be Penton's friend blasted users, while lamenting what she called the online lynch mob.
'Zac Penton has been a good friend of mine for years. No one should be defending him, he likely snapped and made a horrible, irreversible decision,' wrote Kat, who has since made her profile private.
Adding: 'It truly, truly disgusts me that social media has become a massive platform for humiliation and defamation in cases like this,'
Continuing: 'You don't know what his roommates from Craigslist were like, if they were on drugs, if they threatened a knife or even another gun, ANYTHING could have happened and yet you're shaming him for point blank murder.'
At present, Zachary Penton is being held on $750,000 bail on a second-degree murder charge, according to Maricopa County Sheriff's Office records.
@warmcookielover I keep a Kabar close for situations like this. pic.twitter.com/w7PdktiueB

— Zac☭ (@Zac_Penton) June 1, 2015
I wish I had a gun. I'd feel safer.

— Zac☭ (@Zac_Penton) February 16, 2013
This my bed, no roommate 🙁 pic.twitter.com/sZVW097pxt

— Zac Penton☭ (@zach_penton) August 23, 2016