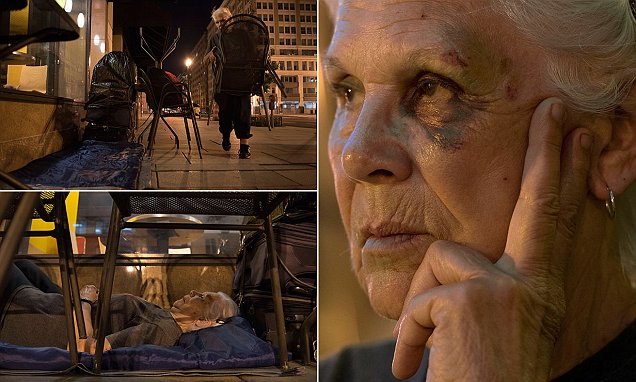 Wanda Witter homeless Washington DC woman finally cashes in on social security payments. But why did it take her so long? A question of mental illness?
Wanda Witter a homeless Washington, DC woman has won her bid to persuade Social Security officials to pay her her an outstanding sum of money that the 80 year old woman believed was rightly owed to her. The bid comes after many years of the department dismissing her as crazy.
Nevertheless, Wanda Winters persevered and she is now set to receive a payment a $100, 000 (actually $99, 999) after finally getting someone to listen. But it did all come at a great cost. A cost that some have wondered Witter needn't have had to have borne in the first place.
According to the washingtonpost, Winter, a mother of four daughters, moved to the District of Columbia in 1999 to seek work after losing her job as a machinist in Corning, New York years earlier.
Despite Witter having earned a paralegal certificate to prepare for a new career, she remained jobless – and ended up sleeping in shelters or on the streets of DC. 
Come 2006, she decided to draw Social Security benefits. However, her monthly checks varied from $900 to $300. Believing the checks were wrong, Witter didn't cash them and sought help. 
'If I just cashed them, who would believe me that they were wrong?' Witter said.
During this time, Wanda Witter remained homeless, with no fixed address, taking to the streets with her three suitcases which contained her Social Security paperwork, next to her.
Remarkably, the pensioner chose not to tell her relatives about her situation, out of pride she insists.
When one of her daughters found her in DC, Witter told her she had to stay until she got her money. But did she really? 
In her defense, Witter told she was repeatedly offered mental health counseling when it wasn't what she needed.  
Matters finally changed when Wander Witter met social worker Julie Turner in 2015.
Told the social worker: 'She needed economic help, not mental help,'
'That's part of the problem with homelessness in DC. So many cases are written off as being about mental illness. A lot of times, homelessness really is simply about economics.'
Instead of dismissing Witter as crazy, Turner waded through her documents and verified her story.
'She had all the paperwork there, neatly organized, in order. She was right all along. They did owe her all that money,' Turner said.
Turner took Witter to attorney Daniela de la Piedra, who took on her case. In June, a Social Security official finally acknowledged Witter's case and wrote her a $999 check — the most that could be written on the spot.
Last week, Witter received her first full payment — $1,464. Witter received a $99,999 Social Security deposit in her bank account on Tuesday.
And last week, Witter moved into a studio apartment on Capitol Hill.
Of question is whether Witter had sought the right avenues in the first place, whether Social Security would have honored her payments and amended over or under payments, sparing her from having to sleep on the street?
Asked to comment on the woman's case, Social Security officials declined. 
And then there were these responses that made me wonder, see what you think?
She is crazy. As someone that work for Social Security, you don't need to camp outside one of our offices or the HQ in Baltimore/D.C. to get people to review your case. All you need to do is call the hotline or visit one of our location and say you believe your benefits, no matter how many years ago it was, was wrong and you want a review of your record.
Someone at the back office will take a day or two if necessary to go through your SSA, SSI, Medicare records month by month to make sure you are paid correctly. It doesn't matter if you cashed the checks already as we will take that into account.
In fact, we would tell you to cash those checks as old checks expire would means more work for the person doing the review (multiple debit and credit entries for the same benefit) I assume she contacted the agency so much and created such a workload under her SSN that the review keep getting pushed back.
Sorry Madam but it is entirely YOUR fault. if you cant even get something so basic done, I shudder to think what else in life you are making. So I thank my comet I don't know you.
Agreeing with what others said about original story – something seems "off" with this lady. She probably IS mentally ill & I bet her daughters HAVE tried to help but she has refused. Some homeless people CHOOSE that life & fight going indoors!
It is nice that she got the money she deserved, but I can't help but think that there is much more to this story than Ms. Dvorak wrote. Of course, it would serve no one to know the real story, so we'll just leave it at, good for Ms. Witter and hope she gets to live out her days safe and happy.