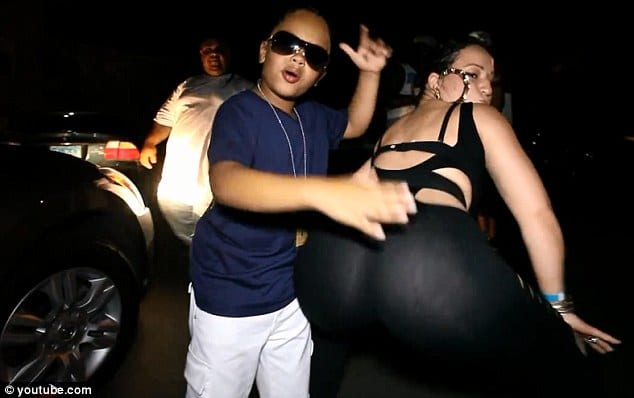 Luis Rivera Jr aka Lil Poopy signs on with Sony-Epic. But is the entertainment company treading a slippery slope given the youth's risky subject matter?
Luis Rivera Jr the 13 year old aspiring rapper otherwise known as Lil Poopy along with Cocaine Cowboy as he has been noted to call himself on various tracks has landed a four year contract deal with Sony-Epic.
The label already known for handling heavy weights such as Outkast, Timbaland, P.Diddy, French Montana and Jennifer Lopez didn't seem to be piqued by the fact that the pre-teen's rise to fame comes off the back of singing about cocaine and hoes of course.
Lil Poopy's rise to fame first came at the tender age of nine in which the precocious musical talent rapped about money, hoes, coke along with video showing the boy kissing fistfuls of cash.
That same video also featured Rivera spanking a grown woman's behind (nothing like a boy sexualizing a woman in her place…) as he the pre-teen sang about being a 'bad boy', 'coke boy' along with plans to 'make a girl my groupie.'
Unsurprisingly the video prompted calls for child abuse while at the same time raising Lil Poopy's burgeoning profile.
According to Enterprise News, the boy's Masachusetts father, was hit with charges in February 2013 after authorities claimed the boy's sexual suggestive videos amounted to child abuse.
The father in turn argued his son was merely acting in videos where the pre-teen was observed slapping women's behinds, riding in a Ferrari along with throwing wads of cash in the air and dancing with girls twice his age.
Told the father at the time, who reckoned his son was simply mimicking what high flying baseball players do, 'When you hit a home run when you go to the bleaches, they tap you on the but.'
Adding, 'He's not doing anything wrong.'
The charges were eventually dropped.
'The kid's got talent, why are they so worried about him rapping?' his father asked at the time. 'Everybody's got a dream. Muhammad Ali wanted to be a boxer. The kids on 'American Idol' want to do country or rock. He's doing what he wants to do, you can't knock him for that.'
Three years later and his son, who featured on Lifetime's The Rap Game earlier this year, has been signed to the major record label run by L.A. Reid. 
Told Lil Poopy: 'All of the older people – older friends – always underestimated me,'  
'They like me now. … I just want them to know that I'm coming for the top. They better be ready.'
His manager Devon Sydney, who helped manage Salt-N-Pepa, said Poopy was very mature and confident for his years – as well as being something of a hit with the ladies. Do you suppose?
'They think he is the cutest, most adorable thing on the planet,' he said of Poopy's young female fans. 
'When I look at other people of equal age, I can't imagine seeing them standing on stages as he has been on so comfortably,' Sydney added. 'He likes music. He likes doing what he's doing. … His career is going to be fine as long as he wants to do it.'
But at what cost? And should we as a society be concerned about what effect a major label may have on conditioning similar other impressionable youths that cocaine, hoes and fast living are just par for the course and equitable to the usual teenage pains?
Countered Lil Poopy's dad via the Boston Herald: 'He goes to school every day,'
'He knows, 'No school, no rappin'.' His teachers love him; he's a really smart kid. He still plays basketball and baseball. He was one of the best hitters on his team.'
Rivera told the Herald in 2013 that his son was not doing anything wrong, he was just following his passion.
'He's not doing drugs, he's not drinking alcohol. There are other kids out there killing kids, doing drugs, molesting. He's just singing hooks. He's not hurting anyone.'
In June, Rivera Snr. was among dozens of people arrested during a federal gang and drug raid, charged with conspiracy to distribute cocaine. Which is to say while Lil Poopy may have been living the life on screen, the prodigy entertainer's father was living it in real life behind closed doors.
Lil Poopy, who is about to enter the eighth grade at East Middle School, Brockton, says he still values school as coming first.
Not necessarily understood is what sentencing the father will now have to endure (he is looking at ten years to life) and how Sony Epic plan to mould the rising singer as he is set to sing about more hoes, coke and fast cars. Or will he?