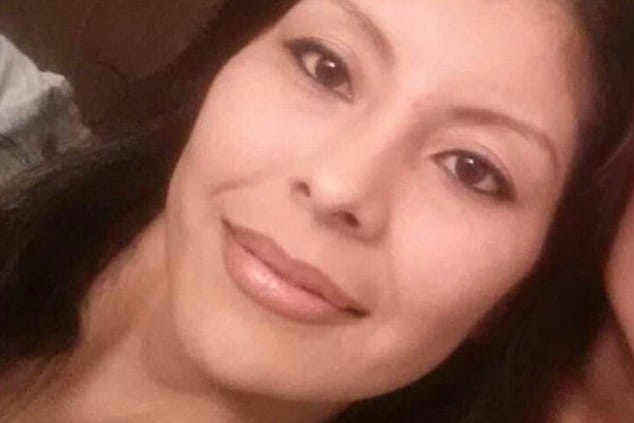 Loreal Tsingine video death shooting: Did Maricopa County Attorney's Office make the right decision in determining a police officer was justified?
Arizona police have released body camera footage (see below) of the shooting death of Navajo woman Loreal Tsingine, 27.
The release of the video comes after the cop who shot her, Winslow Officer Austin Shipley was placed on paid administrative leave after shooting the woman dead.
The release of the video comes days after Maricopa County Attorney's Office said that the cop was justified after Loreal Tsingine refused to put down medical scissors while moving towards the police officer.
The shooting resulted after the officer responded to a possible incident of shoplifting on March 27 when he fatally shot Tsingine on a sidewalk.
In the 30-second, body-cam video, Shipley is seen trying to restrain Tsingine, and she falls to the ground. Tsingine gets up, and the video shows her walking quickly back toward Shipley with the medical scissors in her left hand, pointed down.
Tsingine seems to yell at Shipley as he raises his gun and opens fire.
The Arizona Department of Public Safety concluded that Tsingine refused Shipley's order to get on the ground and drop the scissors.
After the shooting, Officer Shipley was asked if he is doing OK, and he said 'I did what I had to do.'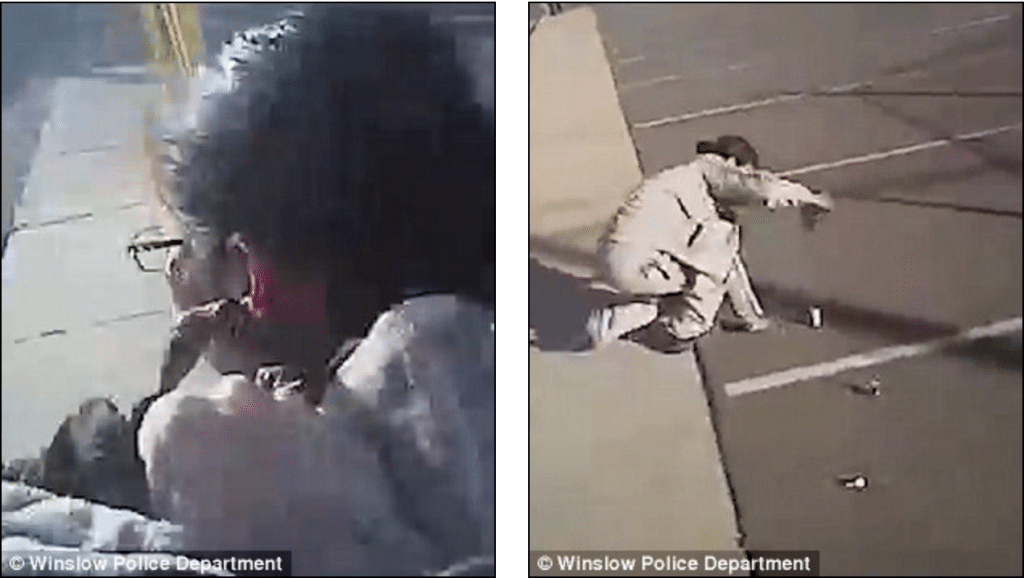 Loreal Tsingine's shooting death comes off the back of the woman having a long arrest record, including an incident last year when she was accused of trying to grab an officer's gun.
The woman's relatives have filed a $10.5 million wrongful-death claim against Winslow, claiming Shipley violated Tsingine's civil rights and that the city was negligent in 'hiring, training, retaining, controlling and supervising' the officer.
The claim is a precursor to a lawsuit and seeks $2 million for Tsingine's husband and $8.5 million for her 8-year-old daughter.
Told the family's attorney, Robert Pastor: 'Our position remains that even though (Shipley) may not be held criminally liable, it was careless for the city of Winslow to give him a gun and a badge.'
Protesters in Phoenix demonstrated Monday against the decision not to file charges against the officer, with another protest in Winslow is set for Friday.
'We demand U.S. Attorney General Loretta Lynch to conduct a federal investigation into the wrong and shameful acts of Officer Shipley,' council speaker LoRenzo Bates said after charges were not filed. 'The Navajo Nation will not rest until the federal government investigates.'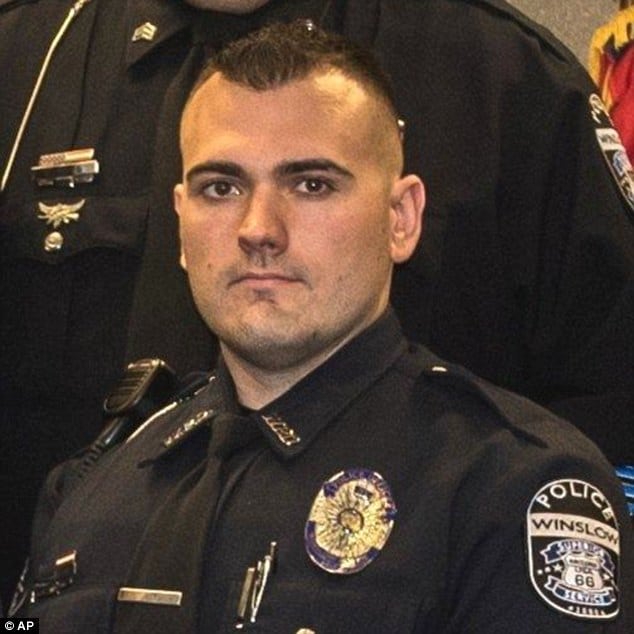 The genocide against Native Americans continues.

#SayNativesName #LorealTsingine pic.twitter.com/00kEehDgbw

— Black Intifada (@BlackShiite) July 28, 2016
These pigs are trigger happy, man. This could have been deescalated using nonlethal means #LorealTsingine #Navajo https://t.co/hjv6Rjs28c

— Ferrari Sheppard (@stopbeingfamous) July 28, 2016
Of question is if the Officer's Winslow's life was in immediate danger, had used more force than necessary, whether he had in part acted to aggravate the woman to react the way she did and whether the shooting was predicated on Loreal Tsingine being on native Indian descent?
And then there were these reactions on the web below that made me wonder, see what you think?
What happened to using tazers or a baton? He couldn't use less than lethal means to stop a WOMAN with scissors?
A person would have to be suicidal to approach a police officer while yelling at him and with a weapon in their hand. Where is the common sense. You just don't do that.
Haha, the family thinks they deserve millions. I think not.
Making an assumption that all native Americans are bad?
People, drop the weapons! What do you expect!