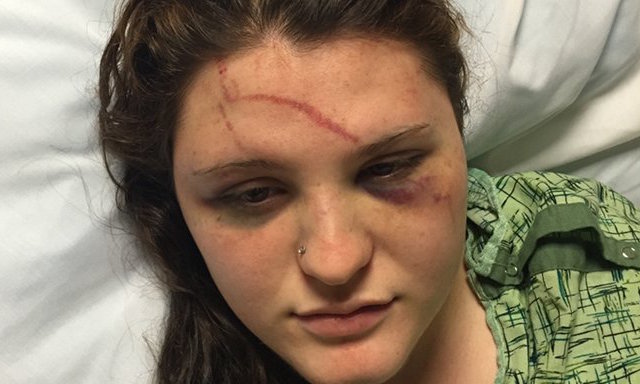 How Victoria Repine pregnant Wendy's employee came to be ruthlessly beaten up over missing 50 cent straws.
Victoria Repine a three months pregnant 19 year old Wendy's worker is lucky to be alive after literally being dragged out of a delivery window and beaten up after three thugs lost the plot when they didn't receive straws with their to go meals.
The 3pm Sunday afternoon confrontation close to Kansas City, Missouri, led to the 19 year old shift manager being hospital ridden after suffering cuts and bruises to her face after being repeatedly punched and kicked.
The alleged assault took place at a drive thru Wendy's along 40 Highway in Independence.
Told the victim's mother, Heather Salcedo via WDAF-TV: 'No parent should ever get a call like that. Ever.'
According to a police report, the commotion began when a woman got out of her vehicle and confronted Repine over the missing straws. The suspect then accused the teen manager of forgetting to give the customers straws for their drinks before then reached for Repine.
Told the mother: 'As soon as she fell on the ground, they started kicking her and punching her.'
Salcedo said a colleague rushed to help Repine and told the assailants, two women and a man that Repine was pregnant.
That though wasn't enough to get the Wendy's customers to back down.
Continued the mother: 'One of the attackers said 'We don't care,'
'That tells me they didn't care about my daughter's life or my unborn grandchild's life.'
New post: "
Pregnant teenage Wendy's worker gets pulled out of the drive-thru window and beaten up by three attac… https://t.co/lVKttsPbCl

— Lee Levy (@thekingleelevy) June 28, 2016
While the attack left Victoria Repine shaken up, the pregnant woman's unborn baby is expected to be okay.
Told Wendy's in response to the beating of one of their (lowly next to nothing paid) employees: 'We are shocked and saddened over what happened Sunday afternoon at our 40 Highway restaurant,'
'Our thoughts and prayers are with our restaurant team member. We are cooperating fully with local law enforcement authorities and their investigation. We cannot provide additional details at this time because we do not want to jeopardize their investigation. We are working with our team to help them get through this difficult situation.'
Not necessarily understood is if the the corporate office has yet to get surveillance video to the police.
To date Victoria Repine's attackers have yet to be apprehended.