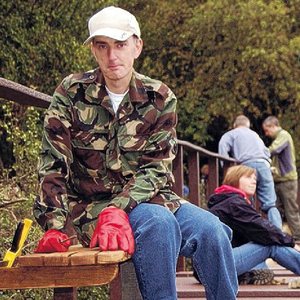 Why did Tommy Mair shoot Jo Cox Labor MP? Were the actions of a described mentally challenged man the result of extreme right wing tendencies?
Jo Cox a West Yorkshire Labor MP has died after the opposition politician was shot three times, once in the head by her 52 year old attacker, Tommy Mair who shouted, 'Britain first' while kicking her as she lay bleeding on the street.
The unprovoked attack on Market Street, in the village of Birstall, Leeds, came whilst Cox was campaigning in Yorkshire.
The attack tell authorities took place where Jo Cox held advice surgeries at the hands of local man, Tommay Mair, described as a loner,  said to be suffering from mental illness according to new reports.
A report via the Sun told of Jo Cox becoming involved in a scuffle between two men
At the time, the 41 year old mother of two, who represents Batley and Spen was speaking to locals when she was set upon by an outspoken man.
Told an eyewitness:  'Three times she was shot, the initial time which then she dropped to the floor and two more times. The third time he got close proximity he shot her round the head area.' 
Thomas 'Tommy Mair' was a subscriber to this magazine… Very sinister far-right group #JoCox @SkyNewsBreak pic.twitter.com/3tki7eHmqy

— Matthew Black (@NoirMJ) June 16, 2016
picture of man arrested Tommy Mair attack Labour MP Jo Cox: https://t.co/oT18XPgz4g via @YouTube

— UK World Weird News (@uwwnews) June 16, 2016
Arp Odd on Twitter: "Tommy Mair, Gunman who shot Jo Cox mp pic.twitter.com/a9WtlGpSnV" https://t.co/nfAHQBrINK

— Ⓡⓔⓥⓔⓡⓔⓝⓓ Ⓜⓐⓜⓐ (@MadMama58) June 16, 2016
Added local cafe owner, Clarke Rothwell, who witnessed the attack, via the bbc:
'When I looked round there's a man stood there in his 50s with a white baseball cap on and a jacket with a gun, an old fashioned looking gun in his hand,'
'He shot this lady once and then he shot her again, he fell to the floor, leant over shot her once more in the face area,'
'Somebody tried to grab him, wrestling with him and then he wielded a knife, like a hunting knife, just started lunging at her with a knife half a dozen times. People were screaming and running from the area.'
Offered witness, Hichem Ben Abdallah, 56 upon suddenly hearing commotion while at a cafe next door: 'There was a guy who was being very brave and another guy with a white baseball cap who he was trying to control and the man in the baseball cap suddenly pulled a gun from his bag.
'He was fighting with her and wrestling with her and then the gun went off and then she fell between two cars and I came and saw her bleeding on the floor.' 
Subsequent to the attack, the assailant was observed 'calmly' walking away, seeking to change in new clothes before eventually being apprehended.
Offered Tommy Mair in part in a Huddersfield Daily Examiner report in May 2010 in a story of under-employed workers: 
'I can honestly say it has done me more good than all the psychotherapy and medication in the world. Many people who suffer from mental illness are socially isolated and disconnected from society, feelings of worthlessness are also common mainly caused by long-term unemployment.'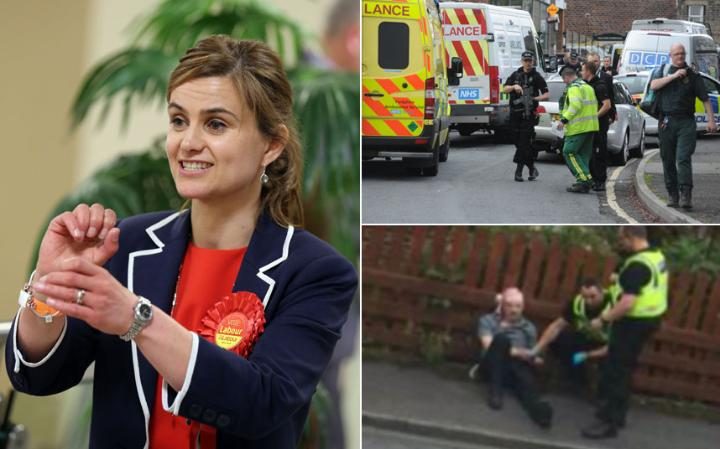 The beating comes ahead of the UK going to the polls, for Brexit, where locals will choose to stay within the EEC or not.
A report via the guardian tells of the suspect having shouted "Britain First", as a possible reference to the far-right political party, which has campaigned to see Britain's removal from the EEC.
Campaigning for the EU referendum by Britain Stronger in Europe and Vote Leave has been suspended for the day after the attack.
It is believed the attack on Jo Cox may have come because of the local MP's vocal position of Britain remaining within the EEC.
A report via AP tells of Cox being a vocal advocate for the victims of the Syrian civil war and a chair of the all-party parliamentary Friends of Syria group.
The MP abstained in last autumn's contentious vote on allowing British military action in Syria, insisting a more wide-ranging attempt at a solution to the conflict was needed.
British Lab MP Jo Cox shot twice. Suspect allegedly shouted "Britain First", could be a Far-Right extremist attack https://t.co/4eJAxtTIRZ

— maajid nawaz (@MaajidNawaz) June 16, 2016
Looks like unarmed Police arresting suspect in Jo Cox MP attack. Brave and well done. pic.twitter.com/lElvtw2YLR

— Colin Talbot (@colinrtalbot) June 16, 2016
Police apprehending the suspect in Jo Cox shooting today! pic.twitter.com/37RCPXCHY3

— aisha ali-khan (@aak1880) June 16, 2016
Responding to the attack on Jo Cox, a police spokesperson issued a statement: 'At 12.53 today, police were called to a report of an incident on Market Street, Birstall, where a woman in her 40s had suffered serious injuries and is in a critical condition.
'A man in his late 40s to early 50s nearby also suffered slight injuries.
Adding: 'Armed officers attended and a 52-year-old man was arrested in the area. There are no further details at present. Police presence in the area has been increased as a reassurance to the community.' 
Pursuant to the attack on Jo Cox, her husband, Brendan Cox, in a gesture of defiance and solidarity posted an image of her on Twitter after she was attacked.
— Brendan Cox (@MrBrendanCox) June 16, 2016
Local media reports tell of Jo Cox, being educated at Heckmondwike Grammar School and graduating from Cambridge University in 1995. Cox was first elected to the seat of Batley and Spen at the last general election in 2015.
Reports also told of MP Jo Cox having grown up in the area, before becoming the first person in her family to graduate from university.
She is national chair of Labour Women's Network, has worked for Save the Children and the NSPCC.
In the hours after the attack, the home of suspect, Tommy Mair has been cordoned off by police this afternoon. Forensic officers have been spotted searching garages behind the house.
The brutal shooting and stabbing of Labour MP Jo Cox is not the first time an MP has been attacked while holding a public surgery.
According to a report via the dailymail, former Labour Cabinet minister Stephen Timms was stabbed twice by a student who had booked an appointment to see him in east London in 2010.
And in 2000, former Liberal Democrat MP Nigel Jones, now a peer, came under attack by a man wielding a samurai sword, with the politician's aide Andrew Pennington killed while trying to protect him. 
Roshonara Choudhry was jailed for life for stabbing East Ham MP Stephen Timms in his constituency surgery in May 2010.
Utterly shocked by the news of the attack on Jo Cox. The thoughts of the whole Labour Party are with her and her family at this time.

— Jeremy Corbyn MP (@jeremycorbyn) June 16, 2016
Just heard the absolutely horrific news about the attack on Jo Cox MP. My thoughts are with Jo and her family

— Boris Johnson (@BorisJohnson) June 16, 2016
Very concerned about reports Jo Cox has been injured. Our thoughts and prayers are with Jo and her family.

— David Cameron (@David_Cameron) June 16, 2016
funny how this was clearly a terrorist attack on jo cox yet because the suspect is not muslim that word hasn't even been used once ?

— هاديه (@haadiya__) June 16, 2016
If you nurture xenophobia and casual racism it leads to this #JoCox

— Paula Ryans Stokes (@prswrites1) June 16, 2016