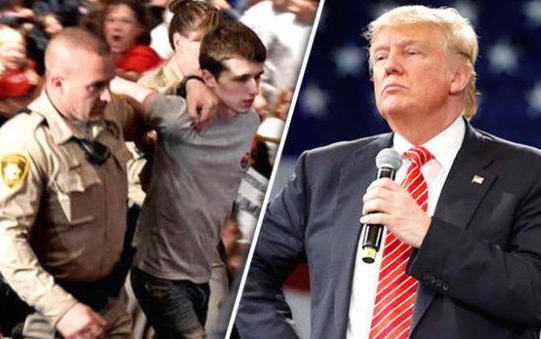 What led to Michael Steven Sandford a British man seeking to take the life of a Presidential contender? A case of mental disease, obsession or political machinations? 
Michael Steven Sandford a 20 year old British man has been arrested after attempting to grab a police officer's gun so he could kill real estate billionaire Republican GOP presidential candidate, Donald Trump during a Las Vegas, Saturday rally.
Appearing before court on Monday, the anti Trump protester conceded having gone to a nearby gun range on Friday so he could learn how to shoot.
Michael Sandford's arrest came at the Treasure Island Hotel and Casino where Donald Trump had been scheduled to address supporters according to an arrest affidavit cited by Las Vegas Now.
About 1500 people attended the rally, which was held in the Mystere Theatre inside the casino. Attendees had to pass through metal detectors manned by Secret Service, police and casino security officials.
Michael Steven Sandford, 20, did not enter a plea when he appeared before a Nevada judge & was remanded in custody until a hearing on 5 July

— NBS Television (@nbstv) June 21, 2016
Really, the solution is more guns. A good guy like Michael Steven Sandford shouldn't have to steal a cop's gun.

— make it snow (@makeitsnowondem) June 21, 2016
On the guise of seeking Trump's autograph, Sanders attempted with both hands to take a Metro officer's handgun from the officer's holster after having started a conversation with the Las Vegas officer.
Other officers also assigned to provide security at the event were quickly able to detain Sandford, with authorities saying there were no further disruption to the event according to a report via cnn.
At the time of his arrest, Sanford had a United Kingdom driver's license with him. A report via KSNV told of Michael Steven Sandford had been living out of his car in California for a month.
Of note, it was also revealed that Sandford was diagnosed with Asperger syndrome. A regard of wikipedia associates the mental psychiatric disease with some of the following symptons:
Delayed social maturity and social reasoning.
Difficulty making friends and often teased by other children.
Difficulty with the communication and control of emotions.
According to Sandford's mother, her son had spent time in a hospital at age 14 where he was treated for anorexia and had once broken out of that hospital before he was detained.
During Monday's court appearance, Sandford who had been living in the US for 18 months in New Jersey, was charged with an act of violence on restricted grounds, according to a complaint filed on Monday in US District Court in Nevada.
If found guilty, Sandford could be sentenced to up to 10 years in prison if convicted.
During questioning, Michael Steven Sandford told Secret Service Special Agent Jason Swierkowski of having driven from California with the intent to kill Trump, along with visiting the Battlefield Las Vegas gun range the day before.
That visit, involved Michael Sanford firing off as many as 20 rounds with a 9mm Glock pistol in a bid to acclimate himself with using a gun. It was the first time Sanford had ever handled a gun according to the lodged complaint.
On the evening of the purported attempt on Trump's life, Sanford had approached a Las Vegas police officer saying he wanted an autograph from Trump.
There after, Sandford was arrested after graving the handle of a police officer's gun in a bid to remove it.
According to the complaint, Sandford had targeted officer Ameel Jacob's weapon because it was in an unlocked position and would be the easiest way to acquire a gun to shoot Trump.
Court papers read: 'Sandford further stated that if he were on the street tomorrow, he would try this again.
'Sandford claimed he had been planning to attempt to kill Trump for about a year but decided to act on this occasion because he finally felt confident to do it.'
The British national had lived in Hoboken, New Jersey, for around 18 months and had driven to San Bernardino in California before heading to Las Vegas on Thursday.
The youth also told officers he had been planning an assassination for about a year and was convinced he would die in the attempt.
Sandford also told investigators he had a ticket for a Trump rally in Phoenix, Arizona, for later on Saturday as a back-up. 
Not necessarily understood is whether Michael Sandford harbored personal animosity towards the politician or whether his call to action was harbored in political beliefs or deep obsession?
At present it is believed Sandford acted alone and is not part of a wider conspiracy or agency. Or is he?
Sandford's public defender had argued Sandford should be held at a halfway house in Las Vegas while waiting for his trial. The judge ordered him to be held in federal custody.
Sandford is now scheduled back in front of a Federal Judge on July 5th.