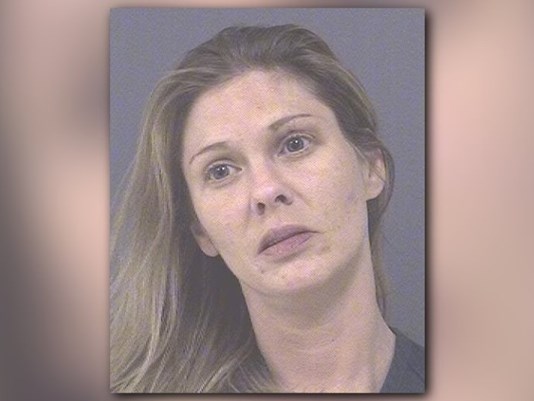 Did Katherine Schubert get off too lightly after only being sentenced to six years jail after brutally beating her grandmother Mary Driscoll to death in a part one and part two beating?
Katherine Schubert has been sentenced to six years jail after having pled guilty to manslaughter charges which saw the Toms River, New Jersey woman brutally beat up her maternal grandmother not once, but twice, leading to the May 2014 death of Mary Driscoll.
The six year sentencing comes after Schubert, 39, had initially been charged with murder but prosecutors relented, offering Katherine Schubert a plea deal given potential defense arguments after hearing from the victim's family.
A report via AP describes Schubert having been released from a drug rehabilitation program on the day of the attack, while on probation for endangering the welfare of a child by driving drunk with a minor in her car.
According to Schubert, after drinking, and getting into an argument with her grandmother, matters escalated when she then took to beating her grandmother and leaving her on the floor of their home in Brick without food or water.
Two days later, she said, she tried to put Driscoll into pajamas and into bed but then had to 'go in for round two and beat her into submission.'
Driscoll died six days later at a hospital.
Asked why she declined to seek medical assistance for her beaten up grandmother, Schubert claimed her grandmother didn't want her to call for an ambulance, so she left her on the floor of the home all weekend, without feeding her.
Of note, Laura Pierro, the prosecutor's chief trial attorney told how Katherine Schubert ignored telephone calls from people, including her mother, and had even attempted to knock the phone out of the hand of a friend who had arrived at the home to find Mary Driscoll slumped over her bed in only her underwear.
Leading into her sentencing Katherine Schubert told the court:
'My grandmother was left in my care, and this is my fault,'
'Not a day goes by that I don't think of her and miss her.'
Schubert told police that before the attack a friend she had met in drug rehab came to pick her up, but wouldn't let her in the car because she was drunk. That led to an argument with Driscoll and the first attack.
Prior to the attack, Schubert told she'd been taking sleeping pills, insisting she 'didn't remember' what happened.
Defense attorney Alton Kenney said that after Schubert was arrested in her grandmother's death, she had to be hospitalized because she was still intoxicated.
Argued Assistant Prosecutor Michelle Armstrong through the course of the trial:
'She put her grandmother at great risk by making the decision to ingest copious amounts of alcohol,'
'Instead of celebrating her sobriety in a more socially acceptable way, she decided to ingest alcohol. She decided to ingest sleeping pills.'
Al Della Fave, a spokesman for Ocean County prosecutors, told AP that 'the state felt that the plea to manslaughter was in the best interest of the family given the … potential defenses and the input from the victim's family, all of whom strongly wanted leniency for Schubert.'
The sentence has since led to commentators on the web questioning the prosecution's offer of a plea deal and how the assailant's family came to leave Mary Driscoll in the charge of an afflicted woman with deep substance and psychological issues….
KATHERINE SCHUBERT 39YR OLD FRM BRICK NJ >Sentenced TO 6YRS IN PRISON For Beating Grandmother To Death( THATS IT?) https://t.co/hqJCF49QRz

— Eric Wright™ (@therealeric916) June 10, 2016
I am not here 2make race card but Brock Allen Turner and Katherine Schubert have a lot in common with the Judiciary https://t.co/8x1OTw26Tz

— Herbmanzz (@herbmanzz) June 10, 2016
US JUDICIARY & UNEVEN PUNISHMENT ON MURDER?
NJ.KATHERINE SCHUBERT MURDERED GRANNY MARY DRISCOL94,GOT PRISON 6 YEAR? https://t.co/na7IGd6W0r

— AnamjemWAK (@AnamjemWAK) June 10, 2016