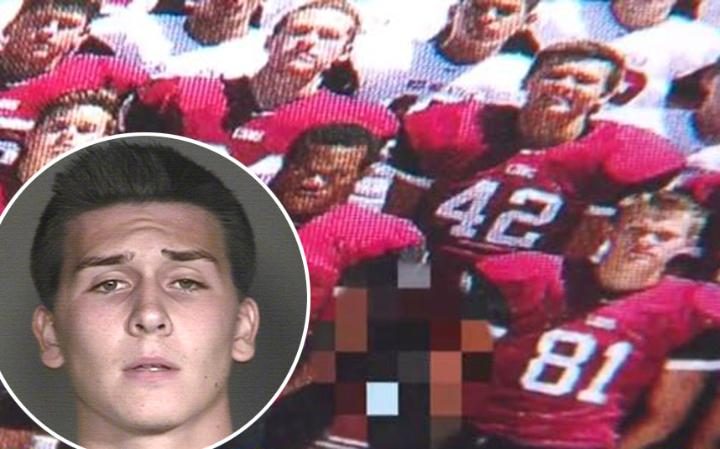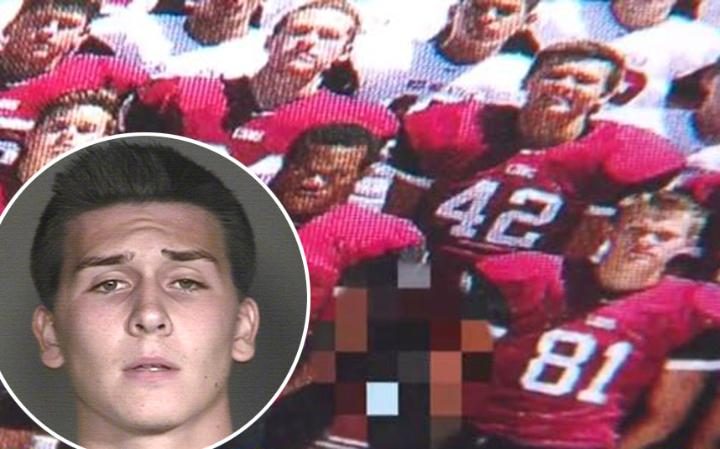 Does Hunter Osborn an Arizona student deserve the stiff charges doled out after a dare flash in a yearbook photo led to him being indicted on 69 criminal indecent charges?
Open outcry has come to the fore after revelations that Arizona student, Hunter Osborn has come to be lobbed with criminal indecent charges after a yearbook photo prank finally caught school administrator's attention.
The charges come after the varsity football football player at Red Mountain High was deemed to have gone overboard after a dare flash saw the 19 year old student exposing himself in a yearbook photo. A yearbook team photo that no one had even noticed (for months) until the image had already been published and distributed.
It wasn't until circa 3400 students bought the yearbook when the dare was brought to the attention of school officials according to a report via KPNX-TV.
Stupefied school authorities in turn notified cops who arrested the student and charged him with a whopping 69 counts of indecent exposure and one count of furnishing harmful items to minors ( a felony).
The stiff charges accounts for each person present at a photoshoot where Hunter Osborn let his private member hang out over the waistband of his football pants in a widely discredited photo.
Now forced to wear an electronic monitoring device, Hunter Osborn faces an uncertain future as public outcry has sought to have authorities reconsider their decision to charge the student who many believe had simply acted in jest.
Reaction to the charges has led to overwhelming support for the student, with fellow classmate, Zach Anthony opining: 'I thought it was kind of a dumb prank he did,'
'I don't think he deserved to have his life ruined.'
Alex Labban, the author of a Change.org petition titled Free Hunter Osborn, places blame with the school's administration for approving the photo.
'He wasn't the editor that approved it or the teacher responsible for publishing it and distributing it to students,' Labban wrote. 'The teacher responsible for the yearbook should be fired. Red Mountain High School is using him as a scapegoat instead of taking any responsibility.'
In a statement issued late Monday, Mesa Public Schools spokeswoman Helen Hollands said, 'the district is dismayed by the actions of the students involved in the photograph. Their behavior does not reflect the values of Red Mountain High School or Mesa Public Schools.'
In the interim Mesa public schools announced that it is now recalling the yearbooks to edit the photo.
He's due in court for a preliminary hearing on May 20.
And then there were these comments on the web that made me wonder, see what you think?
This guy doesn't look like he is too worried about himself. He has the grin that says oh well, no big deal. If he thinks he can get out of this mess becasue someone dared him, he needs to repeat high school.  He ruined that photo for the school,his classmates, and anyone who has exposure to the photo.
This Young Man must face the consequences for his exceptionally rude -and yes potentially harmful acts ,what if children/ young teens ( 13-17 years old) saw that photo . It is quite likely that indeed children or young teens did see the photo. It is not The Law that may ruin this Man`s Life ,it is his crude and obscene act that may ruin his life.
So if he had done it at a football game he would have been charged with 28,000 counts of indecent exposure?
Well, I can't say – since he hasn't been punished yet by the justice system. Prosecutors, as usual, are just covering all the possible bases – they have to find some spectator that actually saw the "prank."
But – on the "supplying to minors" – um, that is the school's fault. They distributed the photograph to the students under 18, not this guy.