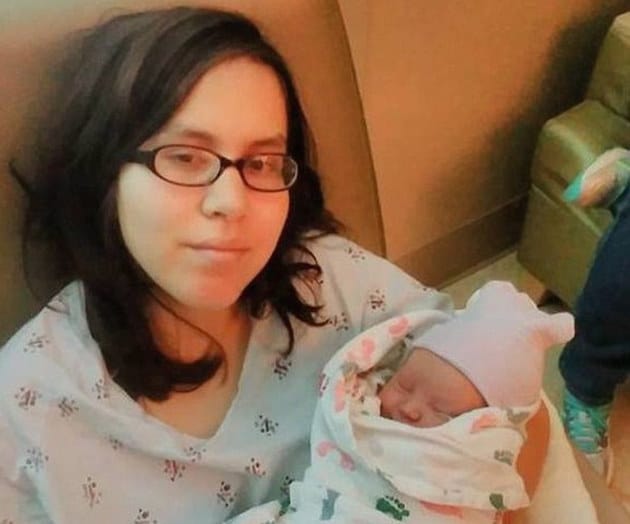 What led to Aishia Pacheco suffocating her newborn baby? Investigators believe the young mother killed her baby the evening upon returning from hospital.
Aishia Pacheco a 22 year old Taylorsville, North Carolina woman has been arrested after suffocating her four day old baby son cause he wouldn't stop crying.
Upon her arrest, Aishia Marie Pacheco was charged with second degree murder, while being held on $1 million bail according to the Alexander Sheriff's Office.
Told Sheriff Chris Bowman via WBTV: 'That she held the baby up to her chest because the baby had been crying and actually smothered the child.'
Notice of Tyler Pacheco's death came after someone called 911 just after 6am on Tuesday to report an unresponsive infant at the home. At the time, responding personnel told that the child had bruising about the face, whilst being pronounced dead by MEDIC on scene.
That said a report via the Charlotte Observer tells of authorities suspecting the baby dying on Monday evening.
Ironically the baby boy's death comes after Aisha Pacheco took to Facebook on Monday posting: 'My little boy Tyler Isaiah and I finally got to come home today. He is doing great and I love him so much.' 
'I'm learning a lot with him and I'm so proud to be his mom. Labor was tough and recovery is even tougher but I'm doing it for my son. Thank you mom and dad for helping me with everything including how to be a great mother to my son. Love you guys!!'
She earlier took to Facebook to announce the baby's birth, revealing that the infant weighed 7lbs 5oz and was born via C-section after she had already been in labor for more than ten hours. 
On her way to a first appearance in court Wednesday, Pacheco said 'It was an accident,' adding 'I'm sorry, I didn't mean to do it.'

Reiterated Sheriff Chris Bowman: 'There are lots of individuals out there that is begging for a child that can't have children.'
'It's just a crying shame that something like this had to happen.'
An autopsy is expected late Wednesday as investigators continue looking into the case.
Aishia Pacheco is scheduled to appear at Alexander County District Court on June 6.