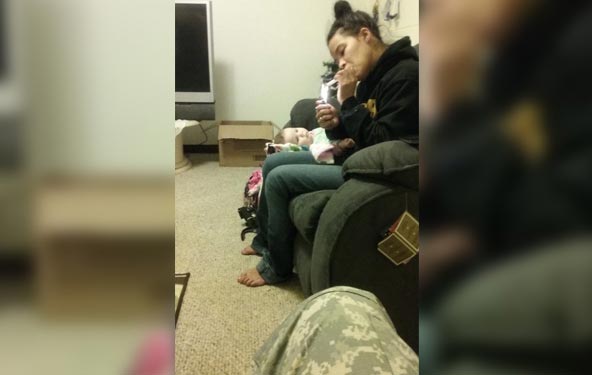 How one Missouri mother Ashley Ann Lewis' drug addiction caused her to lose custody of her daughter after a 'concerned' friend sought to help her.
Missouri mother Ashley Ann Lewis has been arrested after she was pictured allegedly smoking crystal meth in the presence of her six month old baby daughter.
The picture appears to show the mother lighting a glass pipe while her daughter lies next to her on a couch. How the photo came to be taken is not necessarily understood.
It wasn't until the photo was shared on Facebook by a 'concerned' friend and subsequently go viral that authorities sought out the 28 year old mother.
Read the original post, since taken down: 'Please help my friend Ashley Lewis and I stop using meth. We can't even stop with a baby around. We need help.'
After becoming aware of the photo (you suppose?) police located Lewis on Friday at a motel where she was living with her daughter and mother, where they found eight glass smoking pipes and other drug paraphernalia.
Authorities said the pipes tested positive for methamphetamine residue with Ashley Ann Lewis conceding that the pipes belonged to her.
Told Richmond Police Department Det. Scott Bagley via FOX 4: 'She said the picture was about a month old and she did indicate that it was her smoking meth in the picture.'
He added that she was 'obviously very upset, believing that life was over, that she was going to no longer get to see her kid.'
Whilst Lewis' mother declined to comment, she told Fox4 that her daughter made a big mistake and neededrehabilitation for her drug use.
The incident led to Lewis being charged with possession of a controlled substance, possession of drug paraphernalia and first degree endangering the welfare of a child.
She is being held on a $15,000 bond and is set to appear in court next week. If convicted, she could face up to 15 years in prison.
Meanwhile, Lewis also has a warrant out for her arrest in Lafayette County where the photo was taken, according to investigators.
Of question is what has become of the concerned friend who wrote about her need to also get clean.
Ashley Ann Lewis' baby girl is now in the custody of child protective services.