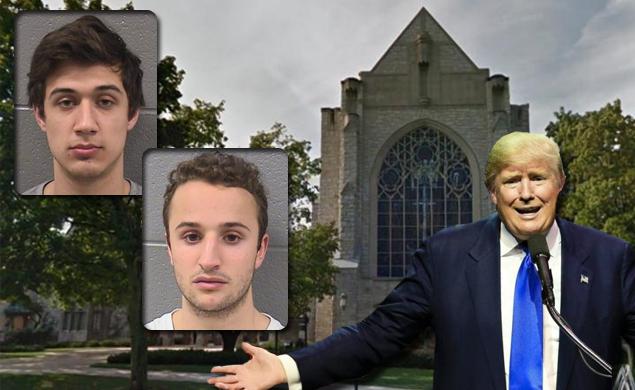 What led to Anthony Morales and Matthew Kafker violently defacing a campus chapel?
Anthony Morales and Matthew Kafker two Northwestern University freshmen face charges of vandalism after going to town on a campus chapel.
Along with graphic displays of penises, spray painted slurs, a swastika, the duo topped off their effort with the word 'Trump.'
Told University Chaplain Tim Stevens via the nydailynews: 'It's disturbing to think that someone who's been in this space would be venting some sort of rage that way.'
'I feel bad for them that they can't handle it in a more productive way.'
Since their arrest, Anthony Morales and Matthew Kafker have been held on $50 000 bail on charges of criminal damages to property, institutional vandalism and hate crime in a place of worship.
Told Cook County Judge Peggy Chiampas during Saturday's bond hearing:
'These allegations are disgusting to me,'
'I don't know if any of you know how lucky you are to be at Northwestern University.'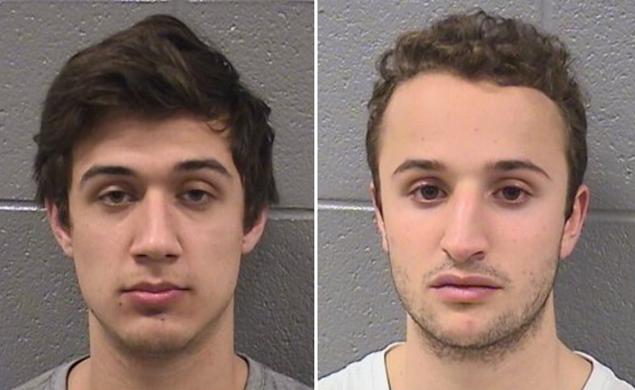 At the time of the hearing both students dressed in t-shirts and jeans remained quite with only the sounds of Morales' mother crying in the background.
According to Assistant Cook County State Attorney Brooke Shupe, both Anthony Morales and Matthew Kafker admitted to performing the vandalism via both handwritten and recorded statements to University police.
According to an arrest affidavit, Anthony Morales and Matthew Kafker entered the nondenominational Alice Millar Chapel on the school's Evanston campus around 12:45 a.m. Friday where they blemished one hallway with a slur for African-Americans and a swastika.
In another part of the chapel, the Northwestern college students wrote a slur for homosexuals and spray-painted lines over photos of Muslim students. They drew penises on an organ and over the word "God" in a hallway.
To boot, the pair are alleged to also have written the GOP presidential front-runner's surname, 'Trump' in a stairwell.
Stevens said he discovered the vandalism later that morning and reported it to administration.
A report via the Daily Northwestern quoted University President Morton Schapiro who called the defacing 'an abhorrent act of vandalism' in an email to students Friday.
'This disgusting act of hatred violates the deepest values and core commitments of our University and is an affront to us all,' he wrote.
Of question is why Anthony Morales and Matthew Kafker targeted the chapel, or how they accessed it hours after it closed, with police saying there was 'no sign of forced entry.'
At present it is believed that neither student had any ties to the chapel, as workers set about wiping away most of the graffiti over the weekend.