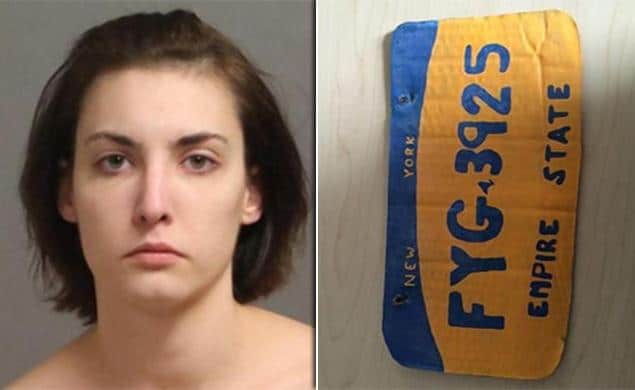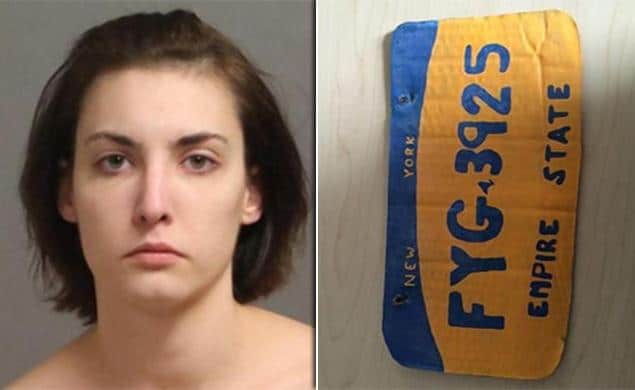 Amanda Schweickert: 'Because anyone can get away with a cardboard license plate if they try hard enough….'
Entering this weeks line up of tantalizing tabloid heroes is New York upstate woman, Amanda Schweickert who was busted driving around town with wonderful but memorable handmade cardboard license plate. License plates which the 28 year old woman wholeheartedly believed would not lead to her detection. Until it did that is.
According to the Erie County Sherrif's Office, our collective heroes arrest came after patrolling police noticed the car our vixen was driving bereft of a front license plate whilst equipped with an 'obviously fake back plate.'
Memo to self: 'Must remember to use crayons and confetti next time I lose my passport when in need of urgent on the spot replacement.'
According to cops, after Amanda Schweickert was asked to pull over ('Oh no, I knew I should have used a different highlighter ….!!!') deputies discovered the woman had a suspended license along with no insurance.
Memo to self: 'In times of suspended license and other fxck ups I must remember to resort to public transport and bite my tongue.'
The incident told the Sheriff's Office led to our collective honey dew being charged with one felony count of possession of a forged instrument, a misdemeanor count of driving with a suspended license and three other traffic infractions.
Further trivia includes the Sheriff's Office seizing the fake license plate and posting pictures on Facebook with the following caption:
'In case you are wondering, homemade cardboard license plates are NOT legal.'
Contemplated one commentator: 'I am going to make you a Vermont plate out of maple syrup and bacon.'
Latest reports tells of our collective bundle of joy holed up at the Erie County Holding Center pending payment of $400 bail.