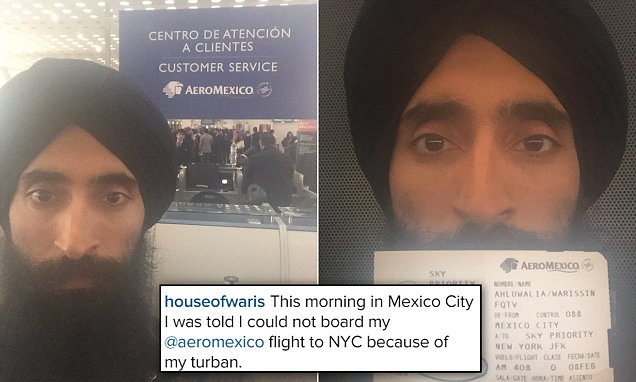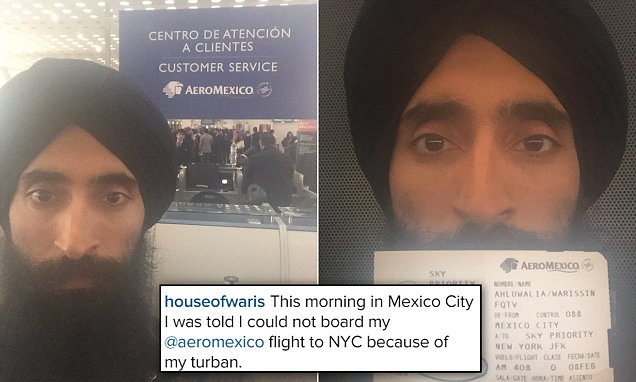 Commotion has come to the fore with the news that Indian American, NYC socialite, designer, actor Waris Ahluwalia, 41, was barred from entering an Aero Mexico flight from Mexico City bound to NYC Monday morning, after refusing to take off his turban for inspection.
The issue has once again raised the question if airlines have gone too far in screening procedures, in an effort to maintain safety features in the age of terrorism while at the same time raising questions if some sectors of society are prone to being unfairly targeted simply because of their skin, color, and religion?
According to Waris, he had been fully prepared to being exposed to enhanced security measures after receiving secondary security screening selection (SSSS) on his ticket, something the socialite concedes has become a regular rite of passage for him these days post 9-11.
Offered the NY based socialite who has become a fixture of the cool jet set via the nydailynews: 'I've had the magic four S's before,'
'I'm really lucky on my 'random' selection.'
The procedure itself involves passengers being singled out for extra inspection, including enhanced pat downs, having their possessions swabbed and tested for explosive residue along with being handed by a hand held metal detector.
Nevertheless the supposedly random selection process has found itself at the ire of civil liberties group who argue the process is ripe for potential and ethnic discrimination. Which is to wonder if most passengers subjected to SSSS are minorities or displaying overt religious motifs which might bring unwarranted attention?
After having his bag swabbed and body passed over with a wand, the socialite drew a line when he was asked to remove his turban which retains sacrament value in Sikh based Indian religion and can never be taken off in public.
Told the socialite: 'That is not something that I would do in public,'
'That's akin to asking someone to take off their clothes.'
Volunteering instead to take off his turban in a private screening room for inspection the Airlines told the man, 'You will not be flying Aero Mexico. You will need to book another flight.'
The decision to bar Waris Ahluwalia from boarding the flight left the actor and 2013 GAP model stunned, who told there had been no problem with Aero Mexico flying into Mexico who he told had invited him to fly first class.
Reiterated the spurned socialite: 'I was shaking at first,'
'That's not a nice thing to be told, that you are not allowed to fly on this plane because of something you are wearing, or because of your religious beliefs.'
Yet at stake is whether Waris was actually being targeted over his religious beliefs or was simply mandated for the sake of safety for all travelers concerned, something that unfortunately overrides the personal needs and notions and vanities of all travelers alike.
One of course can't help but also wonder if Waris story of inconvenience would have made the press tapes were it not for his society status and proclivity to the media world? Which is to wonder how often does the mainstream press get bent out of shape when an ordinary pedestrian man is barred from boarding a flight if they decline security overtures to take off their turban for inspection?
Incensed the socialite would take a selfie with his plane ticket on instagram before reaching out to the media to vent.
Told the socialite's post: 'This morning in Mexico City I was told I could not board my @aeromexico flight to NYC because of my turban" with the hashtags #FearisanOpportunitytoEducate #humanrights #dignity #lovenotfear.
The incident has led to some sympathisizing with the frequent first class flier, with one social media user, @evengelia writing on instagram: 'This is outrageous. Sikhism is not even related in any way to terrorist extremists,'
'What a sad day, a beautiful faith of love and peace in treated in such a horrible way.'
With another user writing: 'So embarrassed about the ignorance of my country.'
Whilst others instead held little tears for the socialite, choosing instead to reflect the following: 'This a Hat & just like Shoes, Hats need removed & checked to ensure there's nothing sinister potentially lurking underneath.'
'You can make prior arrangements to have a private screening if you have an issue that disrupts the security screening. But accommodating everyone so we are all safe is out of the question.'
'What's in the turban that he can't remove it? Sorry but His God should surely know why they asking him to remove the turban.'
'i have to remove my belt and shoes to board a plane… so, where is the problem?? everyone of us have to be treated equally…'
'i didn't know your belt and shoes were part of your religion.'
As of noon Monday, Ahluwalia was still in Mexico, after demanding AeroMexico apologize, as well as have them institute religious sensitivity training for their security workers.
'It's just an opportunity to create change,' he said.
AeroMexico to date has declined to publicly comment on the incident.
What do you think? A case of a socialite used to getting his way whining or a legitimate grievance with how airline security has morphed to, with the risk and potential for minorities and those with particular religious beliefs being unnecessarily singled out?