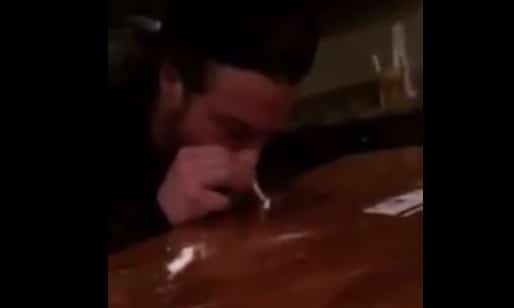 Maty Mauk snorting cocaine video: Is it game over for the infamous Missouri quarter back? 
Seems like Maty Mauk Missouri QuarterBack has some explaining to do after a video surfaced showing the footballer sniffing the good shit.
Video showing Mauk sniffing what appears to be white powder and general consensus is cocaine has led to the man being indefinitely by the school.
The suspension followed after a twitter post showed the footballer partaking in party revelry led to the school taking immediate action against the footballer. Not helping matters is the fact that the new suspension marks Maty Mauk's third suspension in four months.
According to a report via USA Today, Mauk was suspended in September for violating team policy and again in November for unspecified reasons.
Matty Mauk missing the line, just like he misses his receivers. #Mizzou #Rocktober #MattyIce @TMAFanpage @TMASTL pic.twitter.com/cAUbMqfkT8

— Ray King (@Ray56King) January 26, 2016
Despite the suspension, questions have been raised if the individual seen in the video is indeed the quarter back and whether the substance being consumed is coke? That though didn't stop the school from suspending the junior almost immediately.
Following the footballer's suspension, the school released a statement from athletic direction Mack Rhoades and coach Barry Odom about the video. See below.
Joint statement from Missouri A.D. Mack Rhoades and football coach Barry Odom regarding Maty Mauk pic.twitter.com/EBNhJ3Ho09

— Dave Matter (@Dave_Matter) January 26, 2016
The suspension comes as a rapid descent for Mauk, who was part of the SEC's all-freshman team in 2013. He was Missouri's starting quarterback in 2014, but lost his job in early 2015 for disciplinary reasons. A few days after reinstatement from a four-game absence, he was banished for the remainder of the season after his involvement in a bar fight.
In 2012, Maty Mauk was arrested on four charges, one of which was allegedly fleeing the scene of a scooter accident. Campus police said Mauk made contact with two vehicles on his scooter with two female passengers onboard just after midnight Thursday morning, then refused to pull over and ran a stop sign. Indeed.
How the above video come to land on twitter or why it infact was posted and at whose discretion has yet to necessarily be understood …
And then there were these responses from fans which caught my eye as well ….
Matty mauk gets suspended indefinitely ….hope is was some good Coke !!!! https://t.co/UZQynGR51j

— Matt Dylan (@MustangSallyzMO) January 26, 2016
How many chances is Matty Mauk going to get? 3rd chance and then a video of him snorting cocaine! Talking about ruining ur life. WTF

— Brad Reckart (@Reck_8) January 26, 2016
Between Will Grier and Matty Mauk, SEC QB's are keeping the world cocaine economy afloat

— Mikey S. (@MikeyScheer96) January 26, 2016
Maybe Matty Mauk should've done his cocaine in a "safe space" since Mizzou has them now ?

— Charlie James™ (@CharlieJames88) January 26, 2016